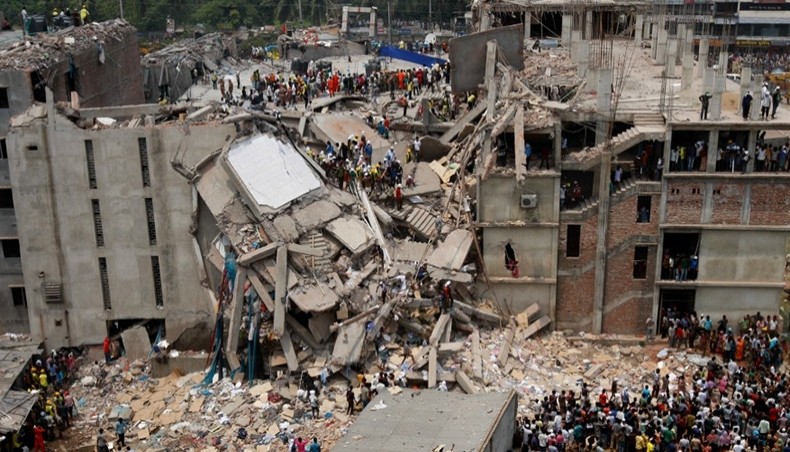 APRIL 24 marked the eighth anniversary of the collapse of the Rana Plaza building that housed five garment factories in Bangladesh. At the expense of capitalist greed in Bangladesh and worldwide, especially in the global south, garment workers are still dying. The Rana Plaza collapse was tragic not just because it killed more than 1,134 workers and injured more than 2,500, but because it could have been prevented as Bangladeshi garment workers had called attention to the cracked infrastructure of the building and made pleas with higher management to respond.
The 2013 collapse publicised the dangers garment workers in the global south face, but Bangladeshi garment workers continue to be placed in vulnerable positions. The Covid-19 pandemic has evidenced this far too well, forcing many to work without personal protective equipment, appropriate hygiene and social distancing protocols, nonexistent hazard or sick pay, or turning to other precarious jobs, as many factories and supply chains have shut down (Kabir et al 2020; Tanjeem 2020). Even during a pandemic, exploitation from elite and privileged brands and factory owners occurs with no accountability.
During the pandemic, many continue to ask the question, 'When will things go back to normal?' Rather than harbouring a desire to return to the way things used to be, we need to think critically about our desensitisation to violence. What we consider 'normal' — factories collapsing, garment workers bringing themselves and sometimes their children due to the lack of childcare to dangerous working environments, and not being adequately compensated for labour — is, in fact, not normal, but outcomes of capitalism. Working in garment factories is no longer about just producing products; it is about life, death, and self-preservation.
A further aspect of challenging what we consider 'normal' is that the decision-making process is often led by powerful local and transnational actors in the global garment industry, rather than garment workers who have been consistently striving to make their voices heard. Prior to the collapse of Rana Plaza and at present, garment factory workers have organised to vocalise their demands (Fashion Revolution 2018), but big brands, governments, and garment factory owners have been prioritising their own views about how to 'save' garment workers rather than centring garment workers' needs in their initiatives. Most concerning, they often deny responsibility for their role in the exploitative supply chain. Big brands failed to take accountability for their roles in the Rana Plaza collapse, pleading innocent since they did not place orders directly at Rana Plaza factories even though they were subcontracting from these factories (Orleck 2018). Who was there, however, were the thousands of Bangladeshi garment workers risking their lives.
Directly following the Rana Plaza collapse, big brands continued to pass off their accountability. The Alliance for Bangladesh Workers Safety, commonly known as The Alliance, a 'commitment' to safe working conditions created in July 2013, was used as a shield for the protection of the global brands. The Alliance was not legally binding and was created by big corporations, giving power and representation back to themselves. Many big companies favoured the Alliance since it prioritised their own needs rather than the demands from garment workers. By contrast, The Accord on Fire and Building Safety in Bangladesh, commonly known as the Accord, was implemented just one month after the Rana Plaza collapse in 2013 and aimed at providing a legally binding agreement to ensure safe working conditions. Many argue that the Accord successfully collaborated with trade unions and centred the immediate needs of Bangladeshi garment workers. Rather than denying their role in the exploitative supply chain, big brands need to think about the price they are paying for outsourced labour, specifically during the Covid-19 pandemic.
In addition, the Bangladesh Garment Manufacturers and Exporters Association and the Bangladesh government at large are complicit in hiding exploitation through coded language and policies. In a 2020 video, the former president of the BGMEA, Rubana Huq spoke on behalf of the 4.1 million Bangladeshi garment workers and urged suppliers to continue their support during the pandemic. She emphatically stated, 'Do not give us up at this time', implying her direct connection to being on the frontlines of the garment industry. Rather than centring the voices of the millions of garment workers, Huq takes the stage for the fight in garment factory organising, lumping herself into a synonymous 'we,' thereby displaying her commitment to the problematic 'we are all in this together' approach, even though factory owners hold a significant amount of power and control over garment workers.
Although the policies, regulations, and pleas from the former BGMEA president and the Bangladesh government were created to be beneficial, they disregarded the direct needs that garment workers continue to organise around, with one being a comprehensive approach for accountability that addresses exploitative brands, governments, and factory owners simultaneously. Since the garment industry has many complex layers and systems, accountability cannot come from just one key player, such as brands, governments, or garment factory owners. Rather than using the 'Spotlight Approach' that many organisers fall back on (Kabeer et al 2019; Tanjeem 2020), responses need to address root causes of exploitation and analyse how systems of oppression, involving capitalism, neoliberalism, patriarchy, and other forces, continue to marginalise garment workers. Not only do large, privileged businesses need to be challenged and held accountable for their contributions to international exploitation, but so do consumers.
Since consumers in the global north are not on the frontlines of the garment industry, there is little to no connection with the daily struggles, vulnerabilities, and resiliencies that Bangladeshi garment workers face. Too often, solutions to restructuring the garment industry fall on large brands to change their ways — which they should work on — but consumers' unquestioning subscription to the expectations set by the fast fashion industry, such as a wide selection of inexpensive products, needless purchasing practices, and an overall lack of interest in purchasing ethically sourced products continue to keep big brands in the business, allowing them to remain steadfast in their exploitative capitalist practices. Although the phrase 'there is no ethical consumption under capitalism' is true, as evidenced by the excessive consumption that has contributed to exploitative practices and a drastic impact on the environment (Minhaj 2019), consumers have the ability to reduce purchasing unneeded products in excess and access affordable, ethically sourced products — perhaps from thrift stores — to avoid fast fashion.
As we reflect on the eighth anniversary of the Rana Plaza collapse, we need to remember that as long as there is a demand created and promoted by the fast fashion industry, there will always be an exploitative supply chain allowing powerful businesses and economies to get richer at the expense of marking garment workers to be economically, physically, and emotionally vulnerable. In order to create comprehensive and multifaceted solutions, we need to look at short-term and long-term plans responding to the immediate and long-term needs of garment workers. We need to focus on the pressing need of addressing safe working and living conditions, livable wages, and victim compensation for garment workers, as well as criminal charges against factory owners who deny safe working conditions. We also need to address systemic changes and ways to combat the exploitative practices that capitalism breeds locally and globally. Systemic changes include changing our capitalist consumerist practices inspired by the fast fashion industry to a more sustainable, ethical reconsideration of our everyday consumption practices. We also need to foster a global mechanism for redistribution of wealth within and across countries in the global north and the south.
Stephanie Weber is an undergraduate student at Lesley University in the United States.
Want stories like this in your inbox?
Sign up to exclusive daily email
More Stories from Opinion