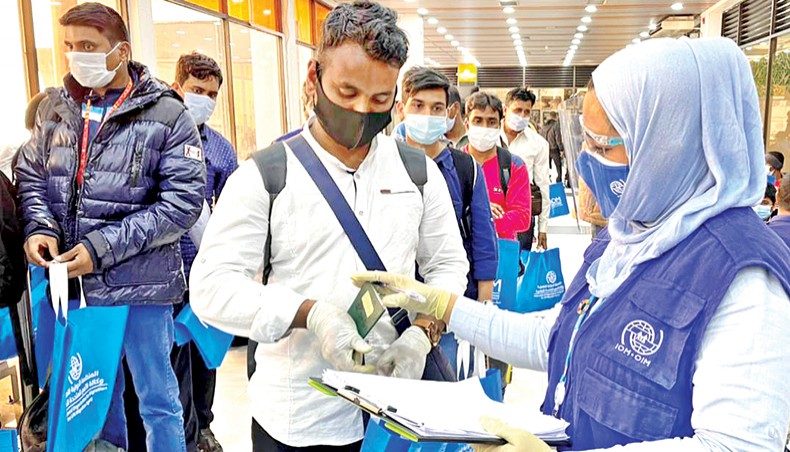 A total of 160 Bangladeshi migrants, including a female, returned home on Wednesday from Libya on a charter fight.
The Bangladesh government brought back the migrants from Benghazi in cooperation with the International Organisation for Migration, officials said.
They said that the stranded migrants could not return home from the war-torn country after they lost their jobs mostly due to coronavirus pandemic and protracted political instability.
Wage Earners Welfare Board deputy director Fakhrul Alam, who works for the welfare desk of Hazrat Shahjalal International Airport, said that one body and some of the returnees were injured.
Officials said that the migrants worked in Libya for 7 to 12 years but could not return for unavailability of international flights.
IMO in a press release said that under its Voluntary Humanitarian Return programme since 2015, a total of 2,942 Bangladeshi migrants have returned from Libya.
Prior to the departure, the returnees underwent health checks, were offered pre-departure transportation assistance, counselling services and screened for underlying protection vulnerabilities by IOM. Given the current Covid-19 situation, all returnees were also provided with personal protective equipment and took a Covid-test before their journey.
IOM Bangladesh mission chief Giorgi Gigauri said that 'Stranded Bangladeshi migrants find themselves in precarious conditions in Libya, and Covid-19 has exacerbated their vulnerabilities.'
The flight was made possible with support from the EU Trust Fund for Africa through the EU-IOM Joint Initiative, supported by the European Union, IOM said.
Want stories like this in your inbox?
Sign up to exclusive daily email
More Stories from Foreign affairs