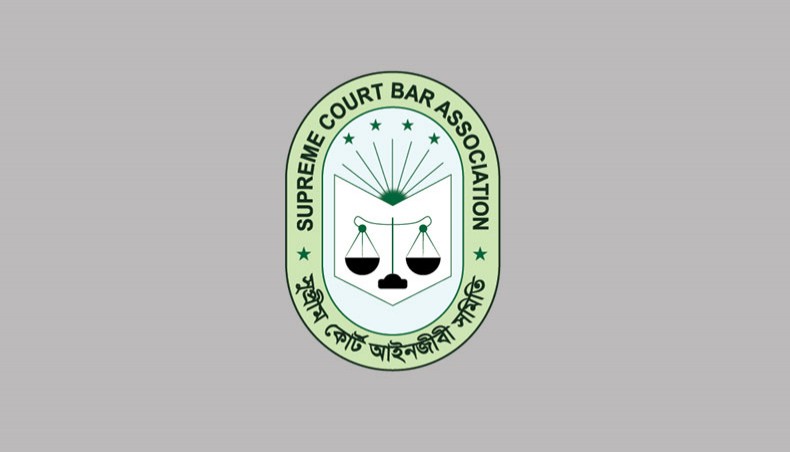 The Supreme Court Bar Association committee's BNP-backed faction members on Wednesday condemned and protested at the appointment of attorney general Amin Uddin as the association's president without holding any election.
SCBA secretary Ruhul Quddus Kazal, who leads the six-member BNP-backed faction, at a press conference on Wednesday also termed the appointment of Amin illegal and said that it was a violation of Article16 of the association's constitution.
He said that the association on Tuesday held an Emergency General Meeting to find out the way to fill the vacancy of the post of the president of the organisation committee.
The post fell vacant after the association's elected president Abdul Matin Khasru died of Covid-19 on April 14.
But, Kazal said, the association's vicepresident Shafique Ullah, who is a member of Awami League-backed seven-member faction of the committee, forcibly presided over the meeting and declared AM Amin the president illegally.
He said that the declaration came after the Emergency General Meeting was postponed amid chaos over the appointment in absence of the association's president.
Kazal said that the meeting should be presided over by the association's senior vicepresident Md Jalal Uddin.
He said that the association has 10,575 members who have the right and desire to elect their leaders through an election and for that reason Amin's selection as president without holding election was illegal.
Kazal said that the association would call the deferred Emergency General Meeting soon to solicit opinions of the association's former presidents and secretaries on how to fill the post of the president.
Shafique Ullah, who leads the AL-back faction of the SCBA committee, in a separate press conference on the day said that Amin Uddin was legally elected.
Shafique Ullah said that he was earlier assigned to preside over the emergency meeting as the senior vicepresident presided over another meeting earlier.
Bangladesh Jatiyatabadi Ainjibi Forum demonstrated on the association's compound demanding an election to appoint the president while Awami Leaguebacked Sammilita Ainjibi Samanaway Parishad brought out a procession supporting Amin's appointment.
Want stories like this in your inbox?
Sign up to exclusive daily email
More Stories from Country