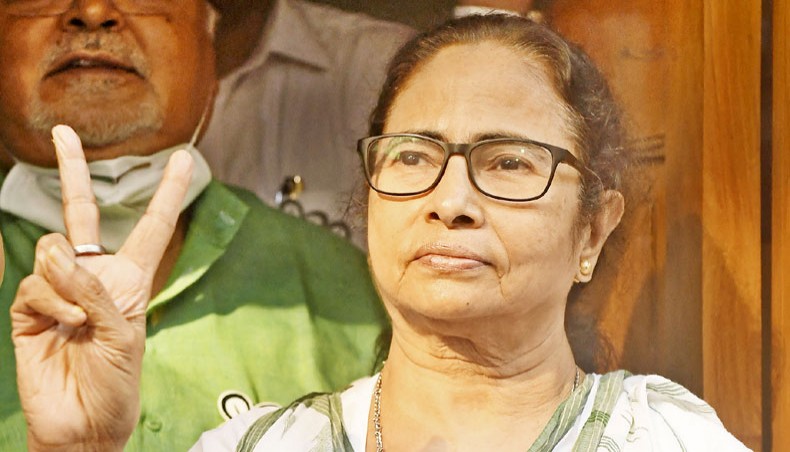 Mamata Banerjee was sworn in today as Bengal chief minister for the third time in the shadow of Covid and post-poll violence in parts of the state, reports NDTV.
Mamata, in her trademark white Sari and shawl, took oath in Bengali. The rest of the cabinet and the council of ministers will be sworn in on May 9, the birth anniversary of Rabindranath Tagore.
The oath ceremony took place with Covid protocols in place at the 'Throne Room' at the Raj Bhavan.
Mamata Banerjee won a landslide victory in the Bengal election to secure a third straight term. The Trinamool won 213 of 292 seats while its strongest rival, BJP, finished second with 77 seats.
Mamata Banerjee will head to her office Nabanna, where she will be given a guard of honour by the Kolkata Police.
She is expected to start her new term with a meeting with top officials on the Covid situation and law and order in the state.
Since the election verdict on Sunday, there have been clashes involving both the Trinamool Congress and the BJP. Both parties have traded blame for the violence.
At least 17 people have allegedly been killed in India's West Bengal state since Sunday in clashes following local elections, reports BBConline.
They were all reportedly party workers who belonged to the governing Trinamool Congress and the opposition Bharatiya Janata Party.
Violence reportedly broke out after the incumbent TMC swept to power for a third time in the battleground state.
But police are yet to confirm the deaths or what started the violence.
The BJP has alleged that TMC workers attacked its members, vanadalised offices and even looted shops run by BJP workers. But TMC has denied the charge and said seven of its workers were killed in clashes. The BJP has said it lost nine workers to the violence.
TMC, BJP and a coalition of leftist parties have all traded blame for instigating the violence.
Unverified visuals on social media show ransacked offices, burning buildings and people being attacked. It's still unclear how the clashes began.
Want stories like this in your inbox?
Sign up to exclusive daily email
More Stories from South Asia