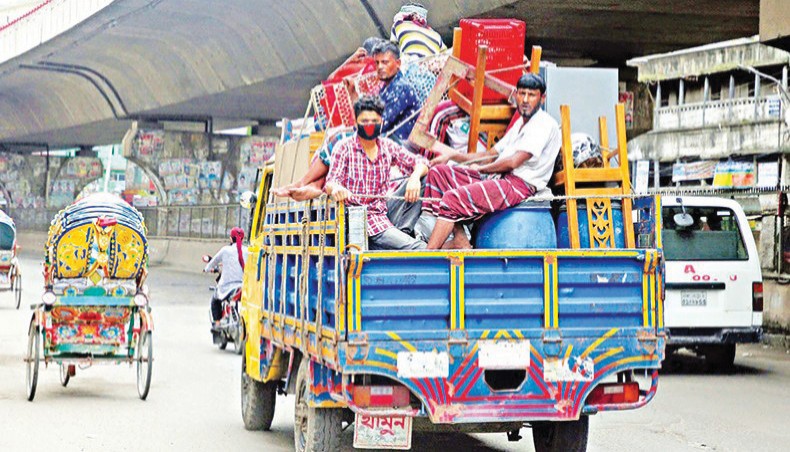 The national budget for the forthcoming fiscal year should completely be Covid fallout-focused to ensure survival of life and livelihoods and recovery of economy, experts and businesses said on Tuesday.
The government should not continue to be obsessed on the GDP growth amid the Covid outbreak, rather the focus should be on distribution of economic growth and higher expenditure as an effort to cope with the Covid fallout, they said at a virtual discussion.
Food security, social safety nets, employment generation and improvement in health services should get the utmost priority in budget allocation, they said.
They also recommended continuation of stimulus support to encourage consumption to uphold production in import substitute industry and small and medium enterprises and retain employment.
The government reduce tax burden on poor as well as businesses and increase tax rate for rich people in the budget, they added.
The Institute of Chartered Accountants of Bangladesh and the Economic Reporters Forum jointly organised the virtual discussion on macro economy: expectation from national budget 2022.
ICAB president Mahmudul Hasan Khusru chaired the webinar while its past president Md Humayun Kabir moderated the webinar.
Centre for Policy Dialogue distinguished fellow Mustafizur Rahman said that higher GDP growth was not working in the country as there were many inbuilt weakness, including lower tax-GDP ratio and lower tax-investment ratio, in the economy.
The government should revisit some tax measures taken in the last budget and reinstate the highest 30 per cent tax rate for individuals, he said, adding that the National Board of Revenue had reduced the rate to 25 per cent benefitting people with higher income.
The NBR should also discontinue the scope for legalising undisclosed money by paying only 10 per cent tax while honest taxpayers pay the tax at a highest rate, Mustafizur said.
He said that the upcoming budget should give importance to employment generation and revival of local industry and SMEs.
Bangladesh Garment Manufacturers and Exporters Association president Faruque Hassan said both export-oriented and local industry should get sufficient support in the budget so that they could retain employment and income of workers.
Seeking tax measures stable for five years for the apparel sector, he said that stability in tax policy as well as reduction in cost of doing business was vital for investors to prepare their investment plans.
Policy Research Institute executive director Ahsan H Mansur stressed effective implementation of credit guarantee scheme so that SMEs could get credit from stimulus packages.
He also proposed increasing the budget deficit to 7-8 per cent in the upcoming FY2022 from targeted 5 per cent to ensure higher allocations for sectors, such as health, social safety nets, education and SMEs.
Prime minister's economic affairs adviser Mashiur Rahman also supported an increase in budget deficit to 6-7 per cent if the major share of the deficit financing could be managed from foreign sources.
Stressing the need for carrying out necessary reforms in the financial sector and in the revenue sector, he said reforms in the capital market and bond market was also necessary to attract large-scale investors.
South Asian Network on Economic Modeling executive director Selim Raihan said that the government should look into the proper distribution of economic development rather than being obsessed with the GDP growth.
He suggested proper implementation of stimulus for SMEs and formulation of a plan for economic and social recovery from fallout of the Covid outbreak.
Metropolitan Chamber of Commerce and Industry president Nihad Kabir said that the government should look at the implementation of the budget and quality expenditure of taxpayers' money instead of figures like GDP growth rate.
SMEs should get priority for speedy job creation, she said.
There should also be a link between employment retention and stimulus disbursement, she said, adding that 8 per cent of workers in apparel sector lost job although the sector got the highest disbursement.
Business Initiative Leading Development chairman Abul Kasem Khan, Dhaka Chamber of Commerce and Industry president Rizwan Rahman, Policy Exchange Initiative chairman Masrur Reaz, Foreign Investors' Chamber of Commerce and Industry president Rupali Chowdhury, former American Chamber of Commerce in Bangladesh president AKM Aftabul Islam, Bangladesh Association of Software and Information Services president Syed Almas Kabir, former adviser to the caretaker government Rasheda K Choudhury, Bangladesh Institute of Development Studies senior research fellow Nazneen Ahmed, Prothom Alo chief news editor Shawkat Hossain and ERF president Sharmeen Rinvi, among others, spoke at the discussion.
Want stories like this in your inbox?
Sign up to exclusive daily email
More Stories from Miscellany