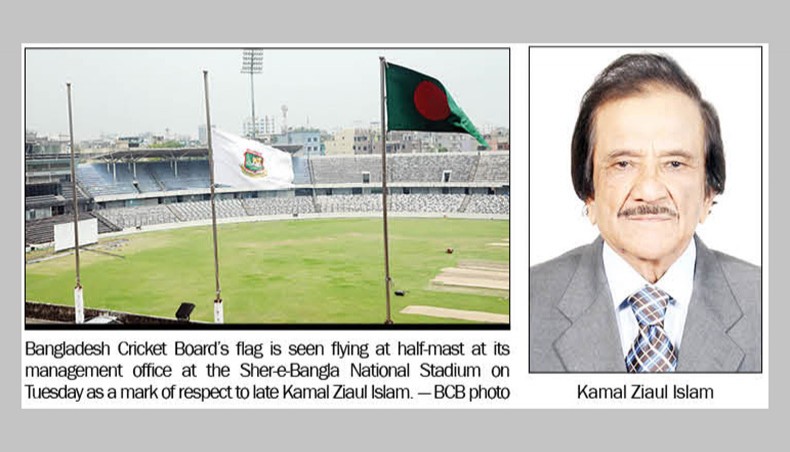 Bangladesh cricketers paid homage to late Kamal Ziaul Islam, former president of Bangladesh Cricket Board, for his visionary step of launching Nirman School Cricket Championship which helped many budding cricketers to chase their dream.
Popularly known as KZ Islam, the departed was a Chartered Accountant by profession and managing director of Nirman International, a concern involved in infrastructure development and power generation.
As a sports enthusiast and visionary leader, Kamal served as the president of BCB from January 30, 1983 to February 17, 1987 and during that period he launched a nationwide school cricket tournament under the patronage of his company which served as the breeding ground for many cricketers who later represented Bangladesh.
He also established Nirman XI cricket, mainly with the players from the school teams, which got promoted to the List-A competition Dhaka Premier League in early 1990s.
Habibul Bashar, former national team captain and current national selector told New Age how Nirman School Cricket shaped his cricketing path.
'Nirman school cricket was the stepping stone for me. I played in the Nirman XI which took part in the first division cricket league. At that time Nirman school cricket was very popular. It was widely followed among local people, especially youth. The school cricket tournament at that time helped create the craze for cricket,' Bashar told New Age.
The former captain feels that the current school cricket tournament under BCB is missing the charm Nirman School Cricket Championship possessed.
'Earlier, there was a charm in school cricket. Say Dhanmondi Boy's High School versus Wills Little Flowers School was a big match. The school authority also patronised the players. But now that charm is missing which we had during Nirman School Cricket,' he said.
Bashar also praised the visionary thinking of KZ Islam for investing in school cricket.
'School cricket is the stepping stone. You know that Sachin Tendulker first broke into the scene when he smashed records in school cricket. In Sri Lanka, school cricket is very competitive and widely followed.
'What Mr Islam thought in that time was visionary and through the tournament he sponsored a whole generation of cricketers is indebted to him. Not everybody will be a cricketer; that is the reality. But he laid the path for those who want to follow their dreams,' Bashar added.
Mehrab Hossain, former national cricketer and first centurion for Bangladesh in any international match, told New Age that it was Nirman School Cricket which made him what he is today.
'Whatever I am today is because of Nirman School Cricket. That is where my cricketing journey began. I am very grateful to Mr Islam for helping us chasing our dreams of being a cricketer,' Mehrab said.
Mehrab played for Wills Little Flower School and later for Nirman XI and shared his memories of those days.
'When we played school cricket, the board provided us lunch and match balls. Maybe burger or sandwich in lunch which was above standard at that time. Then when I started playing for Nirman XI, I received cricket kits.
'When someone had a good performance, he was gifted with a bat. At that time a cricket bat was worth more than Tk five thousand and if you take inflation into account, that's a big amount. A whole generation of cricketers is grateful to Mr Islam,' Mehrab said.
Want stories like this in your inbox?
Sign up to exclusive daily email
More Stories from Cricket