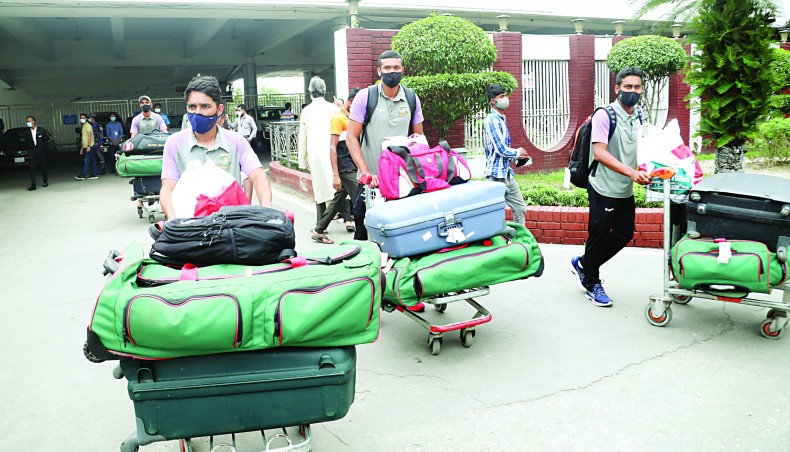 Bangladesh team head coach Russell Domingo said that he is not at all worried about his job, despite growing criticism amongst the country's cricket community regarding the Tigers' poor record under his tutelage.
Domingo was announced as Bangladesh's coach in August 2019 and since then in the 14 series across three formats under him, Bangladesh has only once managed to beat a team higher than them in the ICC rankings, which was India in a Twenty20 match in October, 2019.
In this period, Bangladesh has lost to Afghanistan in Tests, meekly surrendered against India, Pakistan and New Zealand and got clean-swept by a weakened West Indies side at home in Tests.
After failing to win a Test against Sri Lanka, the murmurs about board's unhappiness with the South African is getting louder but Domingo claimed that he is not feeling any such pressure.
'Not really,' Domingo answered when asked about if he is worried about his position with the team following the Bangladesh contingent's return to Dhaka from Sri Lanka on Tuesday.
'I'm enjoying working with the players. I'm enjoying the set-up. There's of course work to be done… Of course there have been tough results. But I have started to connect with the team well and I am confident going forward,' Domingo told the reporters at the Hazrat Shahjalal International Airport.
Bangladesh Cricket Board will send all returning players and supports staff to their residents to stay in home quarantine as per the regulations from Civil Aviation Authority of Bangladesh, said a BCB official.
'On April 30, CAAB passed a new circular where they divided the countries in three groups. Sri Lanka falls in group C, which means passengers coming from the countries listed in this group need not to go for institutional quarantine after arrival in Bangladesh,' BCB physician Debashis Chowdhury told New Age.
The Tigers' next mission is an ODI series against Sri Lanka at home, which will be part of the ICC One-Day Super League, the qualifying competition for the 2023 World Cup.
Domingo said that he is eagerly awaiting the return of Shakib Al Hasan and Mustafizur Rahman, who are currently stranded in India, where they were taking part in the Indian Premier League, which got indefinitely postponed on Tuesday after Covid positive cases in multiple IPL franchises.
Bangladesh has already suspended air communication with India and the players will have to stay in quarantine for 14 days if they arrive by road, which puts their participation in the ODI series in serious doubt, which is likely to begin on May 23.
BCB physician Debashish told New Age that they have submitted an application to the health ministry to curtail their quarantine period.
'We have submitted application to DGHS requesting to curtail quarantine for Shakib and Mustafiz, we are yet to receive any written answer,' Debashis told New Age.
However, the Director General of Health Services Abul Bashar Mohammad Khurshid Alam told the media that they have rejected BCB's plea.
'Application for exemption of quarantine for Shakib and Mustafiz was lodged but we rejected it and said that they have to be placed inside institutional quarantine for 14 days,' the DG told the media on Tuesday.
Want stories like this in your inbox?
Sign up to exclusive daily email
More Stories from Cricket