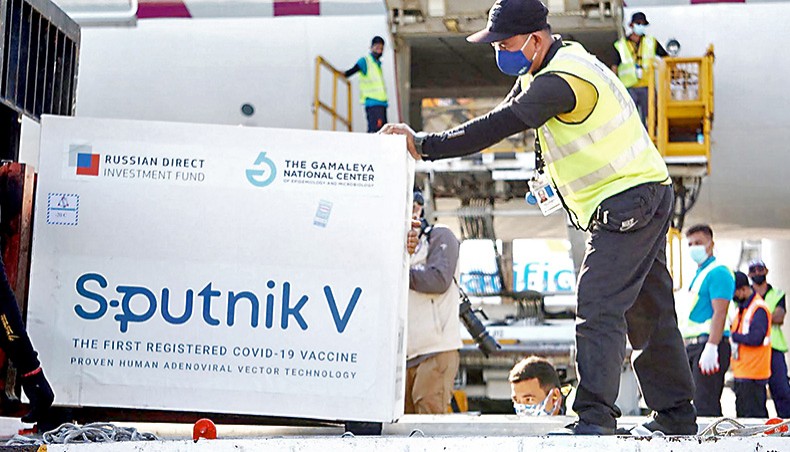 COVID vaccines have become weapons of strengthening nationalism and politics. It also works towards the fortification of diplomacy. Covid vaccine-related science and media have embarked on chauvinism across cultural and national boundaries. The capturing of market seems to be a strong motivation prodding the manufacturers. Side effects of the live Covid vaccines that include death, blood clotting and paralysis have either been hidden largely from the public scrutiny or are explained as unrelated to the vaccines.
Some counts of these events at the end have been accepted as a fair collateral damage. Canada, Australia, the United States, the United Kingdom and the European Union have booked Covid-19 vaccines two to five times their population. Except for the 27 richest countries, the vaccine has become a mirage for others. Going back on contractual obligations has put the Serum Institute of India into a real and potential legal quagmire.
Vaccination and effect on Covid cases
AS OF April 29, the fully vaccinated population in Seychelles is 59 per cent with Sinopharm vaccine; in Israel 56 per cent with Pfizer and Moderna vaccines; in the United Arab Emirates, 48 per cent with Sinopharm vaccine; in Bahrain, 33 per cent with Pfizer-BioNTech, Sputnik V and Sinopharm vaccines; in the United States, 30 per cent with Moderna, Pfizer, and Janssen vaccines; in Monaco, 30 per cent with Pfizer-BioNTech vaccine; in San Marino, 26 per cent with Sputnik V; in Malta, 21 per cent with Pfizer, Moderna, and AstraZeneca vaccines; in the United Kingdom, 20 per cent with AstraZeneca, Pfizer, and Moderna vaccines; in Serbia, 20 per cent with Sputnik V; in Hungary, 19 per cent with Sputnik V; in the Maldives, 17 per cent with Covishield, Sinopharm and Pfizer vaccines and in Uruguay 17 per cent with Pfizer and Sinovac vaccines.
All of these countries show a fall in Covid cases remarkably. Bhutan covered 32 per cent of its population with the AstraZeneca vaccine. Cases in Bhutan have started falling, however, since January, much before it started vaccination. Chile with 34 per cent of the people vaccinated with Sinovac and Cansino vaccines shows a declining trend in Covid cases with 67 per cent reduction in death from Covid-19; and Qatar with 27 percent of the people vaccinated with Pfizer-BioNTech shows a declining trend in Covid cases but the full picture in these two countries is awaited.
Sputnik V vaccination shows some noticeable reduction in Covid-19 cases in Russia, Algeria, Armenia, Mexico and Montenegro with about 5 per cent of the population of the countries fully vaccinated against Covid-19. A slight reduction was noticed in Belarus, Palestine, and Guinea despite the fact that only about 1 per cent of the population of these countries was fully vaccinated as of April 26. But a decline in Covid cases in Nicaragua, drastically since August 2020, Bosnia and Herzegovina, Lebanon, and Myanmar — cases have fallen since January in Myanmar — with a very low vaccine coverage cannot be explained.
It could be from the adoption and practice of personal protective measures effectively. A reduction in cases with the Sputnik V vaccine is to be seen in Argentina, Venezuela, Kazakhstan, and Gabon where the full vaccination rate, however, is about 2 per cent or less. But in Bolivia, Paraguay, Iran, Tunisia, Pakistan, Uzbekistan and Mongolia with less than 2 per cent vaccine coverage with the Chinese and Russian vaccines, a wave of Covid-19 cases is observed right now. It looks obvious that until the full vaccine coverage is at least 5 per cent of the population, no effect of the vaccine will be noticeable.
Emergency use authorization of Russian, Chinese vaccines
Sixty-two countries and territories, including Bangladesh, approved the Sputnik V vaccine of Russia by April 26. This is the highest number of approval of a Covid-19 vaccine.
A few countries, if any, approved only one vaccine for use. The United Arab Emirates, Bahrain, Egypt, Jordan, Iraq, Serbia, Morocco, Hungary and Pakistan have approved the Sinopharm vaccine of China. Bolivia, Indonesia, Turkey, Brazil and Chile have approved and begun to roll out the Sinovac vaccine. The other countries which provided emergency use authorisation for Chinese vaccines are Belarus, Montenegro, Azerbaijan, Bangladesh, Brunei, Cambodia, Kyrgyzstan, Laos, Mongolia, Malaysia, the Philippines, Thailand, Argentina, Colombia, Dominica, Dominican Republic, Guyana, Mexico, Peru, Uruguay, Algeria, Benin, Congo Republic, Cameroon, Comoros, Djibouti, Egypt, Equatorial Guinea, Gabon, Guinea, Mozambique, Namibia, Senegal, Seychelles, Sierra Leone and Zimbabwe.
Media role in marginalising Russian, Chinese vaccines
THE western media were ambivalent with regard to the evidence about the safety and efficacy released by the Chinese and the Russian manufacturers. In recent times, information was published in journals such as the Lancet and JAMA after independent trials on their own. The regulatory systems of many of the governments, which accorded the emergency use authorisation to the Russian and Chines vaccines are equally qualified as per western standards. In the face of major vaccine shortage and delivery delays, France, Spain and Germany are now considering an order for the Chinese and the Russian vaccines. Italy has very recently allowed Russian Direct Investment Fund to produce the Sputnik V vaccine in Italy.
The efficacy of Sinovac's vaccine in the third phase trial in Turkey was 91 per cent, in Indonesia 65 per cent and in Brazil 50.4 per cent. The last finding from Bolsanaro's Brazil made international headlines quite fast. Researchers at the Butantan Institute, the state-run centre in São Paulo that conducted the trials, said, nevertheless, at the same time, that the vaccine had scored a 78 per cent efficacy rate in preventing mild-to-severe cases of Covid-19, which however, was drowned into oblivion. A 50.4 per cent efficacy was found in fact as a test for 'stress' exclusively among health care workers who were taking care of Covi patients directly and, therefore, exposing themselves regularly to the virus. While the trials for the other types of vaccines included some healthcare workers and other high risk individuals, eg older people but not frail, the latter group was guarded religiously to prevent exposure to the virus in their post-vaccine period.
The Butantan's trial defined a 'symptom' of Covid-19 which was much broader than in the other trials. While Russia and China are accused of not revealing facts, not all facts from trials of even the Pfizer-BioNTech and Moderna vaccines have been released. The fact is that no Covid vaccine has been developed or released as transparently as a scientific invention would require. As the New York Times on February 5 stated: Russia may have botched their rollouts more than some Western companies, that does not necessarily mean their vaccines are shoddy. It also needs to be on our mind that the Russian and the Chinese vaccines are being pushed now in more than 110 countries; and hence hiding of information about their side effects would be improbable, if there were any.
Prospect of global availability of vaccines
WHILE the People's Vaccine Alliance, a coalition of organisations, is calling for a wider and fairer access to vaccines worldwide, by early December, all of Moderna's vaccines and 96 per cent of Pfizer-BioNTech's, vaccines have already been sold out. In the face of this stark reality, the raising of questions about the other types of vaccines has now been shelved, as it appears, by the media and the scientists in the west. They are now rather exhorting for approaching the Chinese and the Russian vaccine manufacturers.
The WHO trusts European countries, Australia, Canada, Japan and the United States for quality control of vaccines and medicines. For the rest of the world, it pursues a system of pre-qualification. When a medicine or a vaccine is developed and approved by a country on the WHO's trusted list, WHO relies on that assessment for stamping its approval. But for pre-qualification, the WHO conducts a full evaluation, including a physical inspection of the manufacturing facilities. Whereas the Chinese and Russian vaccines are still waiting for the WHO's approval, even though the review processes for those were initiated earlier, the WHO has, in the meantime, approved Pfizer and BioNTech; Moderna and Lonza; Oxford and AstraZeneca; and Johnson & Johnson and Janssen vaccines. Since the WHO did not approve the Russian and the Chinese vaccines yet, so the Covax initiative cannot procure the planned amount of Covid vaccines now from these cheaper sources. The Serum Institute of India, which was supposed to supply 86 per cent of the Covax requirement, is in a limbo. Without any hopes, the impasse may be solved anytime soon.
GAVI, the Vaccine Alliance WHO, UNICEF, Bill and Melinda Gates Foundation and the Coalition for Epidemic Preparedness Innovations have been able to manage by the first quarter of this year only 110 to 122 million doses from AstraZeneca and only 1.2 million doses from Pfizer-BioNTech — for the 145 countries which have signed up to obtain Covid vaccines against a target of two billion doses. Against this, 400 million Sputnik V doses will be supplied to 17 countries, Sinovac will supply more than 350 million doses to 12 countries and Sinopharm 194 million doses to 11 countries by 2021. Each of these producers expressed their ability at producing up to one billion doses by 2021. All these three manufacturers have licensed their vaccines in addition to local manufacturers in several countries. It will be worthwhile to note that of the 193 member states of the United Nations, 21 could not even initiate any vaccination yet.
Movem by India and South Africa to waive temporarily, for the Covid-19 pandemic period, the provisions of the WTO-TRIPS bindings on pharmaceutical companies in the developing world has been resisted by the western manufacturers, several wealthy countries and the Bill and Melinda Gates Foundation. This dropping of the TRIPS bar of the intellectual property right could enhance the production of Covid vaccine by a much higher amount globally.
The Pfizer-BioNTech and Moderna-Lonza are messenger RNA-based vaccines, which code for the spike protein of SARS-CoV-2 virus, the pathogen of Covid-19. Sputnik, AstraZeneca and Johnson & Johnson's Janssen are recombinant vaccines, where the carrier virus is inactivated by Human Adenovirus type 26 (first dose) and type 5 (second dose) in Sputnik V, Chimpanzee Adenovirus in AstraZeneca and HAd type 26 in Janssen vaccines respectively. Novavax has a combination of peptides, blocks of proteins, similar to the spike protein. Sinovac, Sinopharm and Covaxin of India are based on inactivated SARS-CoV-2 virus.
While different vaccines show different degrees of protection afforded to the vaccinated, the same vaccine nevertheless may show different degrees of efficacy — protection from Covid-19 infection, hospital admission and death — in different countries. This is because of the deterministic influence of human genetics, race, human behaviour — increasing or decreasing risk of exposure — and deleterious effects of old age, physical condition and habits, occupation and co-morbid conditions including obesity and smoking habits etc. How efficacy for a vaccine was measured is also a pertinent point to ponder.
Vaccine immunology
ONCE the infection or vaccine has been completely removed from the body, B lymphocyte cells (white blood cells) no longer differentiate into the plasma B cells, which produce antibody. Non-functionality leads to their decline. However, some may persist as long-lived plasma cells for many years resting preferably in the bone marrow of the femur, humerus and tibia as these bones contain large amounts of fat. Long-lived plasma cells may manufacture and release large quantities of antibodies ceaselessly, even when infection has cleared. Long-lived plasma cells ae, however, not produced invariably after an infection and neither they are indispensable for immunity. Mutations are new infections; so, they give rise to a new cycle of immune mechanism. If someone has generated memory B cells, these will recognise the specific threat when faced and some will start transforming into plasma cells to begin antibody production. But this memory function may not recognise mutants that are very different from the original virus.
There are many reasons why vaccinations or infections do not always provide long-lasting protection. Some of this is due to individual variation in our response to a given vaccine. The characteristics of vaccines themselves determine the nature of the antibody response too. It is now known that vaccines that contain live, weakened versions of pathogens rather than modified versions of the toxins produced by them produce better immunity. But the new genre of mRNA vaccines and even recombinant ones seem to produce even better immunity.
Some people may not produce good responses to live vaccines due to pre-existing immunity to the vaccine itself from a previous natural infection. However, those who do respond well tend to keep their responses for longer, partly because of the persistence of the live vaccine in the body, which encourages short-term appearance of plasma cells. It is also likely that live vaccines are better at producing long-lived plasma cells.
The rate at which antibodies decay following Covid-19 has been seen to differ by sex. How well the different forms of vaccines activate memory B cells and long-lived plasma cells, imparting long-lived immunity, remains to be seen.
What should happen now in Bangladesh with the second dose of Covishield? Whatever is the carrier virus in a recombinant vaccine, immunity develops against the spike protein of SARS-CoV-2. Right now, a study is under way to explore the efficiency of using the Sputnik V vaccine as the second dose to the Oxford-AstraZeneca vaccine. We, in Bangladesh, can wait for three months before the second dose of the Covishield vaccine, as has been advised by Oxord-AstraZeneca and practised in the United Kingdom and Australia — this gap has been found to give better protection. If by this time, the Oxford-AstraZeneca/Covishield vaccine is not available, Sputnik-V might be a safe option as the second dose.
AM Zakir Hussain is a former director, Primary Health Care and Disease Control, former director of IEDCR, DGHS, former regional adviser of SEARO, WHO and former staff consultant, Asian Development Bank, Bangladesh.
Want stories like this in your inbox?
Sign up to exclusive daily email
More Stories from Opinion