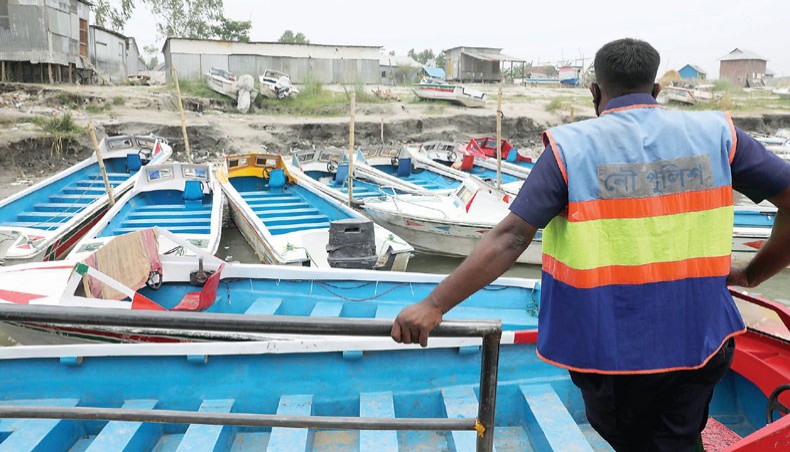 A case was filed with Shibchar Police Station in Madaripur on Tuesday accusing four people, including the speedboat owners and driver, of negligence that led to the death of 26 passengers of the speedboat after it rammed into a sand carrying trawler in the River Padma on the previous day.
Speedboat driver Shah Alam was shifted to Dhaka Medical College Hospital on the day as his condition deteriorated, police said.
Shipping department officers said that the speedboat was plying violating Covid restrictions and flouting rules and regulations by carrying 33 people, including the driver, in the 12-seated vessel.
None of the passengers had lifejackets, which increased the death toll, while the driver was driving recklessly, said officials of Bangladesh Inland Water Transport Authority.
'Kanthalbari river police outpost's sub-inspector Lokman Hossain lodged the case at about 12:30am on Tuesday accusing the speedboat driver Shah Alam, owners Chandu Mollah and Rezaul and the speedboat jetty leaseholder Shah Alam Khan, said sub-inspector Ram Proshad Chakraborty, the duty officer of Shibchar Police Station.
Shibchar Police Station officer-in-charge Miraj Hossain told New Age that they did not arrest anyone till 1:00pm on the day while the critically injured driver was shifted to DMCH.
Earlier the speedboat driver was first admitted to the Shibchar Upazila Health Complex and on early Tuesday shifted to the Faridpur Hospital for better treatment, he said.
'The river police are investigating the incident,' he added.
In connection with the accident, the Madaripur district administration, the BIWTA and the Department of Shipping formed three separate investigation committees.
Madaripur Local Government Division deputy director Azharul Islam, head of the investigation committee formed by the district administration, told New Age on Tuesday that they would visit the spot again today for further investigation.
'As the trawler was very visible on the water we are working with some ideas that if the driver was drugged or new in profession or the sunlight was low during the accident,' he said.
He further said that they would also make recommendations on the registrations of that type of vessels and on obtaining licences of drivers within the scheduled time of the submission of the report on Thursday.
From the district administration Tk 20,000 was given to the families of each victim, he added.
The BIWTA's four-member investigation committee is scheduled to submit its report within seven working days and the shipping department's three-member committee is scheduled to submit its report within 15 working days.
Want stories like this in your inbox?
Sign up to exclusive daily email
More Stories from Country