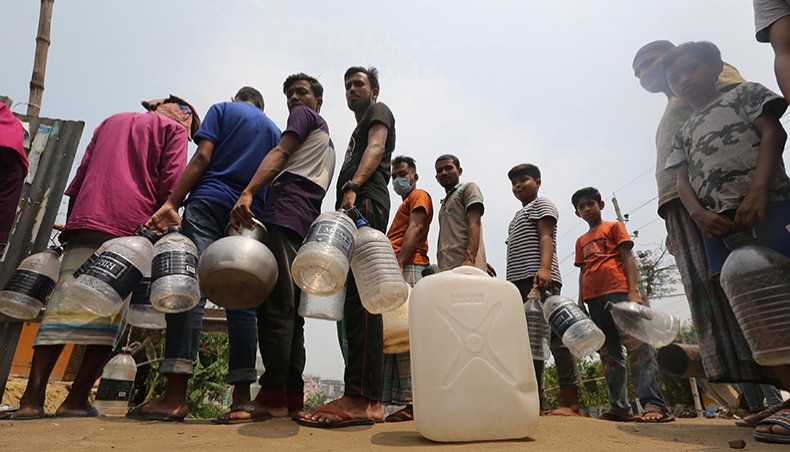 Water scarcity became acute in parts of the capital city in the dry season causing immense suffering to the residents in this time of Ramadan amid the coronavirus outbreak.
The residents of Kajla, Jatrabari and some parts of the Old Town of Dhaka complained that they were being supplied very dirty water which they cannot use for bathing, cooking and other uses.
The residents of Mirpur and Mohammadpur and Badda area said that they were getting insufficient quantity of water that it could meet their demand in this time of Ramadan and record high temperature.
'We get water for 40-50 minutes in Dhaka WASA's pipeline,' said Hasan Mia, 50-year-old caretaker of a house at Ahmed Nagar of Mirpur.
He said that as water was not available some people were not getting water for the last three days and completely depended on neighbours who have extra high-power motor to draw water from the pipeline or collect it from their own deep tube well.
The residents of the areas said that they complained to the authority time and again but the Dhaka Water Supply and Sewerage Authority was indifferent about their plights.
Dhaka WASA director AKM Shahid Uddin however told New Age that the crisis was temporary in Mirpur areas as they could not continue water supply from Bhakurta water pumps for power disruption.
While asked about Kajla and Jatrabari, he said that Dhaka WASA set a pump to meet the water demand but due to excessive level of iron the water cannot be used.
Mostak Ahmed, the councillor of Dhaka South City Corporation Ward No 62 at Kajla, said that Dhaka WASA did not replace the water supply pipeline installed 30 years back, which has been giving trouble in the last two years.
Over hundred families of Bashpotti, Sontaki and adjacent areas suffer due to the water crisis, said locals.
Md Arif, a businessman of the area, was collecting fresh water for his family members from the pump station at Agradut School with 20 other residents.
Arif said that every day he has to collect drinking water from the pump station while he has to wash clothes and take both after filtering the tap water in several phases.
'We have to cook after boiling and filtering the water,' he said adding that the water crisis made their life miserable for the past one year.
He said that locals filed complaints multiple times but Dhaka WASA did not take it seriously.
'Dhaka WASA is setting a booth called ATN Water Booth to sell fresh water at the pump station to charge extra for water that people were taking for free,' he said.
Many poor, including Al Amin Mandal, said that if Dhaka WASA set an additional price on water people are forced to collect from the pumps, life would become impossible. 'People spend two to three hours more to collect water, now slapping fees on that water is not acceptable,' he added.
Dhaka WASA, the lone water-supplying agency in Dhaka, one of the most densely populated cities in the world, pump station officials said that many deep groundwater pumping stations were not supplying enough water as the water level has declined.
But WASA director Shahid claimed that it has the capacity to supply 260-65 crore litres of water per day against its demand of 245-250 crore litres sourcing 68 per cent water from the ground and 32 per cent from the surface.
Abul Hasem Muna, a resident of Ibne Sina Goli of Badda, said that they cannot cook, bathe and cannot even perform ablution in this time of Ramadan on time as they were not getting enough water for the past five days.
'We are losing sleep over the crisis as it is at night that I need to ensure that all the buckets are filled with water,' he said.
Want stories like this in your inbox?
Sign up to exclusive daily email
More Stories from Country