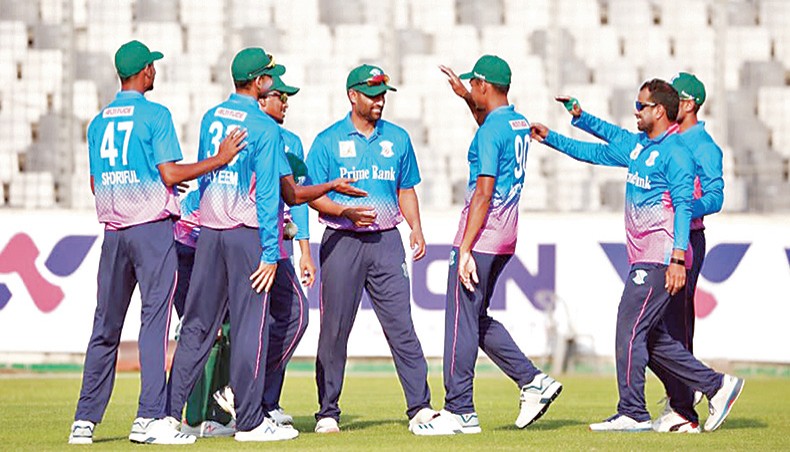 Domestic cricketers in Bangladesh are relieved with the news of Dhaka Premier League's imminent resumption but are in the dark about their payment for the season, which is likely to be truncated.
The Cricket Committee of Dhaka Metropolis informed through a media release on Saturday that the 2019-20 edition of the DPL, which has been put on halt since March 19, 2019, will make a fresh start from May 31, 2021 and will be played as a Twenty20 competition.
The announcement has been met with a positive response from the local cricketers, who are eager to again take part in the DPL, but they are still unaware about how their payment situation.
CCDM officials had said in the past that when DPL resumes the players will play for the clubs they had signed on with during the 2019 season.
Due to the clubs' poor economic state owing to the ongoing Covid-19 pandemic, the players' payments are likely to get cut, but they or any of CCDM and Bangladesh Cricket Board officials haven't informed them how much of their previous contract's money will they get paid.
Alok Kapali, who was once a regular face in the national team and has been a regular face in the country's domestic circuit for around two decades, is very happy that the DPL is finally resuming.
'It's definitely a good news for us, who are not in the national team contract. For many of us, the [Dhaka] Premier League is the main source of income, which was on hold last year,' Kapali told New Age on Monday.
'During the last few months, international cricket and some domestic cricket took place but that hardly included 50-60 cricketers. For many cricketers, the DPL is the most important tournament where they earn their livelihood,' he added.
The all-rounder who played for Prime Bank last year does not know how his former contract will be revised but he is ready to adjust.
'The club manager informed me a few days ago that a declaration of date might come in. I still don't know how my previous contract will be revised. I heard that we have to make some adjustments. For the sake of playing, we might have to do so. I want the league to get going,' said Bangladesh's first hat-trick-taker in international cricket.
Mohammad Ashraful, who still fancies another chance at the national team, is keen to play in DPL but has no clue about the financial arrangements.
'I will obviously play... I want the league to go on. But I haven't been contacted by the club and don't know anything about payment,' said the batsman who played for Sheikh Jamal Dhanmondi last year.
Off-spinner Sohag Gazi, who played for Legends of Rupgonj last year, told New Age that the date announcement made him hopeful.
'If you don't have any goal or target, you will be demoralised. But now we have a date, so I will practice hard and get ready to be back in action,' Sohag said.
Want stories like this in your inbox?
Sign up to exclusive daily email
More Stories from Cricket