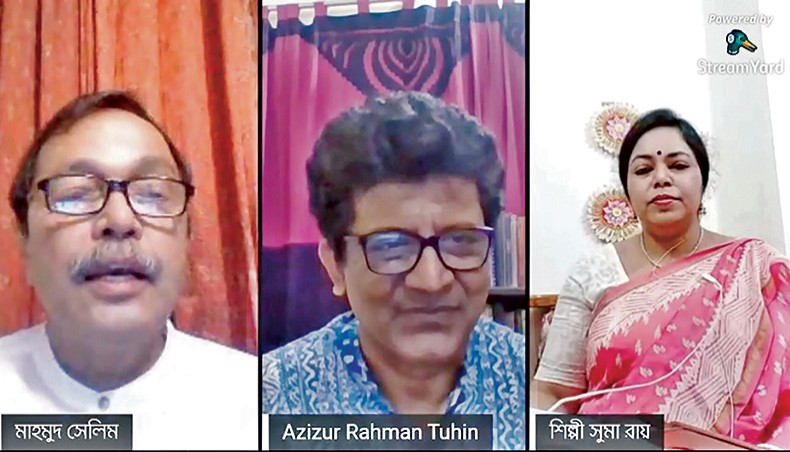 Radharaman Sangskriti Charcha Kendra organised an online programme featuring Tagore songs, which were inspired by baul, bhatiali, saree and kirtan songs, on Sunday.
The event titled 'Nagarik Palli Geeti' was arranged marking Rabindranath Tagore's 160th anniversary of birth, which will be observed on Baishakh 25.
Singers Suma Roy and Azizur Rahman Tuhin rendered songs at the programme, which was streamed live on the Facebook page of the organisation at 9:30pm.
Suma Roy rendered songs namely Amar praner manush achhey prane, Majhe majhe tobo dekha pai, Tor mora gange, Ami kan pete rai and Ja hariye jay.
Azizur Rahman Tuhin rendered Eito amar prem, Bhalobeshe sakhi nibhrite jatane, Oi asan tale matir pore, Khanchar pakhi chhilo sonar khanchatite and Era sukher lagi chahi prem.
Biswajit Roy, general secretary of Radharaman Sangskriti Charcha Kendra, also attended in the event, which was anchored by Mahmud Selim.
'We organised the programme marking the 160th birth anniversary of Rabindranath Tagore, who had penned many songs inspired by baul, bhatiali, saree and kirtan songs. I hope music lovers enjoyed the event,' Biswajit Roy told New Age.
'We are looking forward to organising programmes featuring songs of Dwijendralal Ray, Rajanikanta Sen, Kazi Nazrul Islam, Sachin Dev Burman, Jasimuddin and others in future,' he added.
Want stories like this in your inbox?
Sign up to exclusive daily email