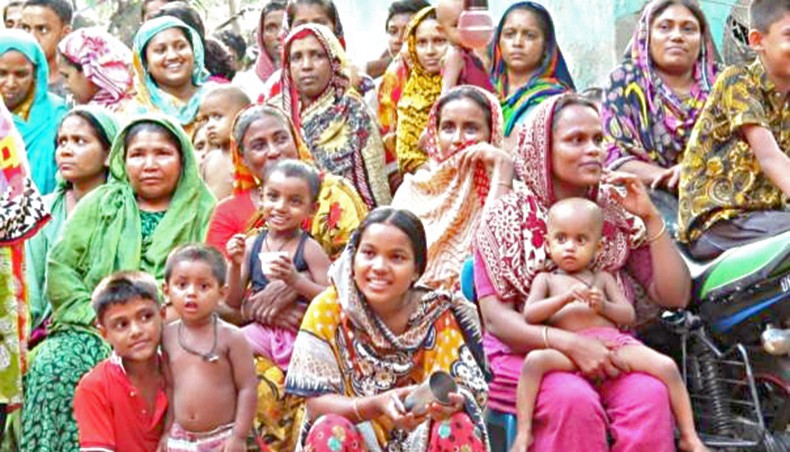 WOMEN from low-income communities have very limited access to modern contraception methods. A study conducted in the slums of Dhaka shows that more than 32 per cent women have more than two children. At the same time, 41.66 per cent of the respondents face urinary problems after pregnancy while 21.67 per cent of the respondents have other reproductive health problems including permanent labour pain.
Another area of concern is menstrual hygiene for the adolescent and women in the slum areas. Most of the adolescent use unhygienic rags. A study shows that 55 per cent slum girls are not aware about hygienic management of menstruation. Moreover, eve-teasing, sexual harassment, rape and child marriage are also very common and have increased amidst the Covid-19 pandemic.
To address these issues, the World Vision Bangladesh came out from the traditional approach to initiate innovative solutions. The non-governmental organisation, in association with James P Grant School of Public Health, BRAC University, organised urban innovation challenge in February–April 2021to have innovative solutions from the youths.
University students shared their innovative solutions to address the challenge of ensuring the access of adolescent slum girls to sexual and reproductive health services. Based on the innovativeness, feasibility and cost effectiveness, three proposals were awarded.
The champion team, named Birati and comprising of students from the Holy Family Red Crescent Medical College and Hospital, JPGPH, BRAC University and Islamic University of Technology, addressed the problem of temporary and ineffective contraception methods for the low-income communities.
They proposed introduction of modern methods, such as Long-Acting Reversible Contraceptives, known as LARC, to decline the fertility rate. The method includes intrauterine devices, contraceptive implants and contraceptive injections. Although the government has a target usage of 20 per cent for long-acting or permanent contraception, currently the use rate is only 9 per cent.
Their target group includes young girls within the age range of 12-19 who are sexually active and do not use any sort of contraceptives. They proposed to introduce app for both community health workers and the target population to keep track and surveillance. The implementation of this project will be done in three phases. First, slums and nearby garment factory workers will be identified for interventions. In collaboration with NGOs, development partners and community health workers, information about long-acting reversible contraceptives will be shared with the newly-married women.
The issue with LARC is that most women forget to take their doses, or do not know the importance and effectiveness of this. So, apart from providing necessary and accurate information, their app will help the women to keep track of their regular doses. The app will be open to both the community health workers as well as the target population.
There will also be a notification system that will help both parties. If the receiver is unable to access the app, a text message will be sent to the women before their dates. At the same time, community health workers may also let them know. For the target population, they can just log in using their mobile numbers to see their due dates, other updates regarding the LARC and some FAQs.
The expanded use of LARC will reduce the unwanted pregnancy burden at individual level. Moreover, this will help the government to reach the target and decrease the total fertility rate. Eventually, this will help Bangladesh to achieve the Universal Health Coverage by 2032.
The first runners-up team, named Paribartan and comprising students from the department of women and gender studies, University of Dhaka, targeted adolescents aged 16-19 who are most vulnerable to unplanned pregnancies, sexually transmitted diseases and have limited access to menstrual health service.
They proposed to divide the adolescents living in the urban slums in two age groups (Group 1: Age 12-15, Group 2: Age 16-19). In the pilot project, trained and equipped educators will conduct the sessions for Group 2. Eventually, adolescents of Group 2 will become peer educators for Group 1. A curriculum based on key concepts of sex, gender, reproductive health and safety will be taught for the duration of 15 classes to the members of adolescent clubs.
Additionally, a web portal (web application) will be built to assist their cause of providing sexual and reproductive health education among the target group. The cost-effective app will be accessible from all types of devices, including low-end Android phones and old Java-based phones. The web portal will have the option of integrating itself with Facebook messenger/ WhatsApp for reaching more target population; particularly who do not feel comfortable to talk on these issues openly.
Consequently, the vulnerable adolescent groups are expected to have the desired access to sexual and reproductive health services.
The second runners-up, named Pratimancha and comprising a youth group from Kallyanpur Natun Bazar slum, addressed the sexual harassment, eve-teasing and rape of adolescent in the low-income communities.
They proposed to open a youth club for reducing all sorts of mental and sexual harassment against adolescent girls and women. The youth members from club will be trained on increasing community awareness. There will be dedicated teams for reporting violence. Helpline numbers will be widely shared with all the slum dwellers for seeking support against harassment. In addition, they will establish complain box to solve the harassment issues in case someone do not wish to disclose her identity. Also, harasser youths will be engaged in constructive and cultural activities for having a positive transformation.
Combining element from all three innovative solutions, in collaboration with city corporations and other relevant stakeholders, the World Vision Bangladesh will design interventions for the low-income communities residing in Dhaka, Gazipur and Chattogram so that the adolescent do not suffer silently anymore.
Bipasha Dutta is national coordinator, Strategy, Innovation and Knowledge Management, World Vision Bangladesh.
Want stories like this in your inbox?
Sign up to exclusive daily email
More Stories from Opinion