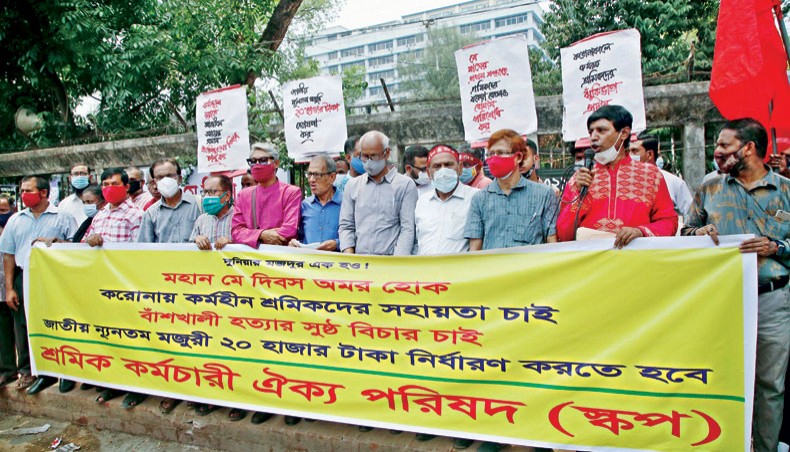 Working class people observed International Workers' Day, widely known as May Day, in Bangladesh as elsewhere across the world on Saturday amid nationwide restrictions to curb the spread of Covid-19.
Trade unions and different labour rights organisations held rallies and discussions and brought out processions on a limited scale in open spaces in Dhaka and elsewhere in the country while others arranged virtual events to avoid gathering.
Labour leaders said that workers were hard hit by the Covid pandemic as their occupational safety was not ensured in different sectors, especially labour-intensive garment sector with employment of 4.4 lakh workers.
They demanded risk allowance for workers continuing productions amid the pandemic that has so far killed about 11,500 people and infected over 760,000 since the virus was detected in the country in March 2020.
They said that the government also should set Tk 20,000 as the monthly minimum national wage of a worker as prices of essentials increased over the time.
RMG trade unions in procession and rallies in different industrial belts like Ashulia, Savar, Gazipur, Narayangaj and Chattogram demanded festival allowance by Ramadan 20 and rations for workers.
They urged that government not to cut job of any worker and demanded housing facility, health insurance and pension as prescribed by the law. They also demanded an end to oppression on workers.
Sramik Karmachari Oikya Parishad held a rally in front of the National Press Club demanding justice for the workers killed at Banshkhali power plant in Chattogram.
The trade union platform placed a nine-point charter of demands, including an end to termination, priority vaccination against Covid-19 and treatment of infected workers.
Bangladesh Trade Union Sangha, Textile Garment Workers Federation, Sramik Karmachari Federation, Textile Garment Workers Federation, Garment Workers Trade Union Centre among others bought out procession in the capital making the day.
Trade union leaders demanded freedom of trade union and other rights of workers.
The day was a public holiday.
Communist Party of Bangladesh, Workers Party, Jatiya Mukti Council, Jatiya Sramik League, Textile Garments Workers Federation, Bangladesh Sramik Karmachari Federation, Imarat Nirman Sramik Union Bangladesh, Garments Workers Adhikar Andolan, Tannery Workers Union, Jatiya Sramik Federation, among others.
Safety and Rights Society, Bangladesh Legal Aid and Services Trust, Bangladesh Institute of Labour Studies and Sramik Nirapatta Forum also observed the day.
Dhaka Union of Journalists will hold a discussion marking the day at its office on Sunday.
May 1 was adopted as International Workers' Day by socialist delegates in Paris in 1889 marking the 1886 uprising of workers at Hay Market in Chicago for their rights, including eight-hour working day. Several workers were killed in police firing.
Want stories like this in your inbox?
Sign up to exclusive daily email
More Stories from Country