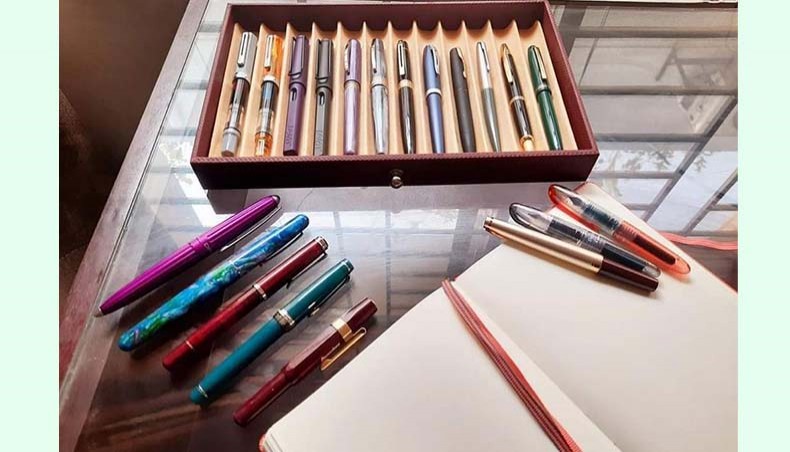 Writing with fountains was normal. The cheap price and convenience of ballpoints have completely thrown fountain pens out of the equation. Like fine watches, fountain pens are making a comeback around the world. Bangladesh fountain pen enthusiasts are also joining the trend. A few businesses are already operating to cater to the Bangladeshi fan base. Talking to some hobbyists writes Nahid Riyasad
Let us be clear about this first, the smoothness of a fountain pen on quality paper is way soothing than a ballpoint pen on some random paper. The convenience and availability of a ballpoint pen have made it the quintessential type of writing tool.
However, fountain pen hobbyists around the world have been using fountain pens and pursue this as their passion. Bangladesh has also one such group of young fountain pen users who indulge themselves in the premium feel of nibs dripping vibrant inks on good paper.
Fountain Pens Bangladesh is a Facebook group were nearly seven thousand pen enthusiasts gather to share their experience about writing with fountain pens. People share ink samples, writing samples and pen calligraphy.
There is evidence that renaissance mastermind Leonardo da Vinci designed and made prototypes of usable fountain pens. Some of his surviving journals' handwritings show characteristics of fountain pens. None of his pens survived but several working models were reconstructed in 2011 by artist Amerigo Bombara.
Fountain pens are fundamentally different from ballpoints in terms of how they function. A fountain writes through a nib, rather than a ball. The body of the pen holds a certain amount of ink in a barrel and ink is transferred to the nib through a feed.
The earliest datable surviving fountains pens are from the early 18th century. However, the earliest patents for fountain pens can be dated back to the beginning of the 19th century. From then on, in a process of inventions and trial and error, fountain pens are more or less perfected.
New Age Youth talked to a few fountain pen hobbyists, many of them happen to run a related business to cater to the fellow communities' need. Their understanding of the hobby will help the reader to get a perspective of the Bangladeshi fountain pen community.
Atiqur Rahman started to grow a fascination for fountain pen 3-4 years ago. He also had few other hobbies and those hobbies have online-based communities. 'However, there was no such platform for fountain pen enthusiasts to express themselves. Furthermore, necessary tools to practice the hobby — branded fountain pens, inks and quality paper — were not available. In simple words, the premium stationery market here was non-existent,' he said.
As he was already importing business, bringing some better-quality fountain pens and inks could help others keep their hobby alive. 'I brought some pens from some of my foreign friends. Then I saw a business opportunity here and that is how BD Pen is borne. BD Pens is the retail outlet of fountain pens for enthusiasts,' said Atiqur.
His business got a response from old hobbyists as well as young enthusiasts. This leads to the formation of the group Fountain Pens Bangladesh. 'This group is a bridge between seasoned hobbyists and recent enthusiasts. We organise two competitions every year — a handwriting contest in February and a calligraphy competition in November.
Atiqur later added that fountain pens are becoming a very popular gift item. Euromonitor's market research firm reported in 2016 that the sales were continually rising and the market his one-billion-dollar mark that year. So, the wave hits Bangladeshi fountain pen enthusiasts too.
Novera Anwar's journey as a fountain pen enthusiast is rather different. When her father passed away in 2015, his everyday tools were divided among the children for their attached memory. Novera got his writing kit which consisted of a Parker 45, now discontinued and a sought-after fountain pen by the enthusiasts.
'That pen lit my passion for fountain pens and I started to look around to source fountain pens to pursue the hobby. My online searches revealed that there is a non-existent market of fountains here leaving new hobbyists like me nowhere. By that time, I was a regular in different international fountain pen groups. Also, Goulet Pens Youtube channel's informative videos taught me a lot,' she said.
She and few like-minded collectors of Bangladesh, before the pandemic started, ordered a shipment from the USA. It reached safely. This presented Novera with an opportunity to start a business. Kalir Dowat is now taking orders regularly to bring fountain pens, inks and good quality notepads from Goulet Pens.
Ziaul Asif has been using fountain pens for more than 15 years. His first pen was a parker vector that he bought with his father from the New Market. After a few years, by 2015, he experienced that there are only a few shops selling fountain pens at exorbitant prices and authenticity was questionable.
'In 2018, when we were in the hunt for a fountain pen, my wife suggested I take on this non-existent market. As a result, I started Pen Galaxy BD, we are the authorised dealer of German Lamy pens,' he said.
Parallel pen calligraphy by Tanvir Hussain.
Tanvir Hussain is a pen calligrapher by passion and a teacher by profession. 'I have been using fountain pens since 2010. Now it is unthinkable for me to use a ballpoint. My first interaction with fountain pens was with my father's collection. It was a humble collection. I took a parker vector from that collection and started using it. However, I took calligraphy quite later,' he said.
While describing his love for the sensation of the nib on good paper, Tanvir told New Age Youth, 'I became a regular viewer of some Youtube channels that do pen calligraphy. From 2018, I started practising, however, during the COVID-19 health restriction, we got a substantial amount of time at home and I invested most of that time in calligraphy.'
A young group of fountain pen enthusiasts are reviving the hobby of fountain pens and vibrant inks. So are using these premium stationaries as a form of digital detoxification, few are reviving their old hobby and many simply love the smooth gliding of the nip on the paper.
Whatever it is, writing on papers with fountain pens are back.
Nahid Riyasad is a member of the New Age Youth team.
Want stories like this in your inbox?
Sign up to exclusive daily email