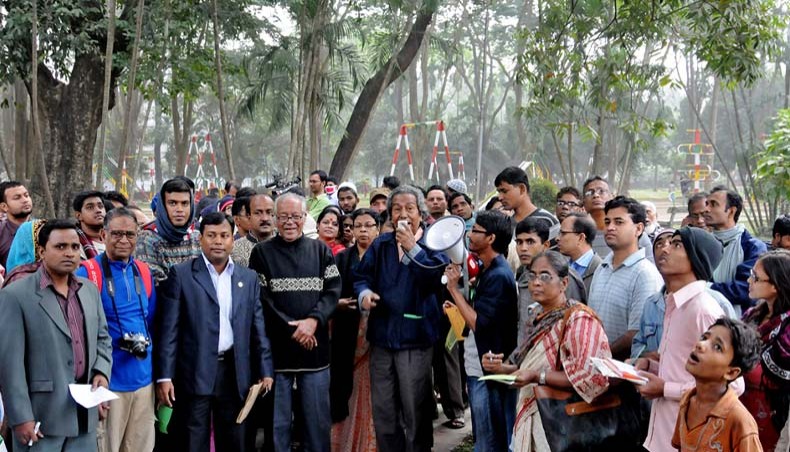 Environment and nature study organisation Tarupallab is trying to protect the ecological heritage for living beings and future generations. Mokaram Hossain writes about the organisation
IT WAS a winter morning; the whole city was covered in fog and I was heading to the Ramna Batamul. Suddenly my phone rang and it was from an unknown number. I looked at my watch, it was 8:40 am and I received the call.
'Is Tarupallab hosting any tree-learning programme today? We few people have already arrived.'
I said, 'We are almost here, wait for a few minutes please.'
In the meantime, hundreds of nature-lovers have already gathered at the Ramna Batamul in Dhaka. Novelist Bipradash Barua and bird specialist Sharif Khan came early and then came professor Dwijen Sharma. They came here to show trees and birds. Before starting the main event, everyone stood in a circle.
Professor Dwijen Sharma remembers the late Noazesh Ahmed to start the proceedings. He was in the very first programme of Tarupallab. To show respect to his memories, by observing a minute of silence, Tarupallab's third tree-learning programme starts.
Ramna Park was decided for tree-learning which started on December 5, 2008. All the tree lovers gathered and move forward from Batamul to Ramna's specific trees. It was a treat to watch. The front line of the gathering was filled with nature lovers and behind them, there was the present generation. Different age, different type, different occupation but everyone's destination was the same.
Tarupallab is an organisation of tree lovers. One of the main work of this organisation is to make people know more about trees. With the invitation of many educational institutions, Tarupallab officially arranged a few tree-learning programmes. Primarily in Dhaka but gradually they organised programmes in divisional cities. Just by using emails, SMS, phone calls, newspaper advertisements, they approach people to learn about trees. And they got a huge response from the people.
To make tree-learning easy, the park is being categorised for every programme and they create a short note for it. The trees included in that particular note is being acknowledged by everyone. After passing the culvert, everyone stood under the Anjan tree.
A volunteer brings the mike and Bipradash Barua started to describe the tree. Then they moved under another tree. The mountain tree was near and there was a lot of talking while standing under the tree. By the time, the fog was cleared. Dwijen Sharma now brought up the reality by pointing that it was real 'Madhobi'. The 'Madhobi' which was popular among people was actually 'Modhumaloti'.
Everyone present learns about 'Madhobi' with high interest. In the note of Tarupallab, 30 trees were mentioned and gradually people go through every tree and learn about them. At the end of the programme, they all went in search of the ancient 'Mohua' tree which has been here for more than 100 years. The position of the tree is in the middle of the park. Already the clock was hitting noon, everybody then stood under the beautiful tree named 'Bileti Gab'. Finally the organisational secretory of Tarupallab, professor Debashish Biswas sang the song 'Akash Vora Shurjo Tara'. Then successfully the program ended by thanking everyone for coming.
Years have passed by then. In March 2021, the 31st programme of Tarupallab has been placed in Shardarpara, Munshiganj. Why this initiative has been taken?
Just only by reading books or watching television, it is not possible to get close to nature. A person cannot identify birds, flowers, or other elements of nature unless he or she is close to nature. Therefore, nature lover, writer and researchers such as Dwijen Sharma, Noazesh Ahmed, Bipradash Barua, Sujan Barua, Mokaram Hossain and many more took the initiative to run Tarupallab. The present generation struggles to recognise birds, trees, and flowers. To teach them, only write-ups were not enough but an organisation like Tarupallab can help the young generation in a good manner.
Life with everything green was the main concept of Tarupallab and it all started from doing small things. The organisation is already registered by the government. Tarupallab's campaigns are open for all. If anyone wants, then they can gather more information from the website dedicated to Tarupallab and it is available on Facebook also. If anyone wants to become a permanent member then there are a few terms and conditions.
For those who work with tree seeds in different nurseries, Tarupallab arranges a workshop for them. There they were taught how they can increase the seed quality and how they are going to do that is being taught practically. To teach or to guide the workers, experts are always there.
Tarupallab's magazine has been published every three months which is an environmentally friendly journal named 'Prokritipotro'. In total, 25 issues have been published so far.
The trees which are rare and vanishing from our surroundings, Tarupallab collects those and then plant them in a safe place. Moreover, Tarupallab has gone through almost all the major places in Bangladesh to plant trees.
In summer, 'Jarul, Shonalu, and Krishnochura blossom. Jarul is violet, Shonalu is yellow and krishnochura is red. Combining these three flowers with help of IDLC finance and Green Campus, for the first time in the country has seen a colourful garden which is in Jatiya Kabi Kazi Nazrul Islam University, Mymensingh.
Climate change has been a serious issue for the seaside districts, and it is a real threat to the people. To prevent disaster, Tarupallab has submitted a demo for planting trees which are useful to prevent disasters. Other than that, few more plans have been taken for making everything better.
Tarupallab and its team are working against tree cutting, deforestation, and any kind of similar activities that are harmful to the environment. Starting from public gathering, Tarupallab always tried to aware people about the importance of trees around themselves. Besides, in different parks, Tarupallab helps to identify trees by putting a name tag on each tree.
Tarupallab has so many thoughts about nature that they expect nature lovers, and the present generation will form a close bonding with them.
Mokaram Hossain is the secretary of the environment and nature study organisation Tarupallab.
Want stories like this in your inbox?
Sign up to exclusive daily email
More Stories from Initiative