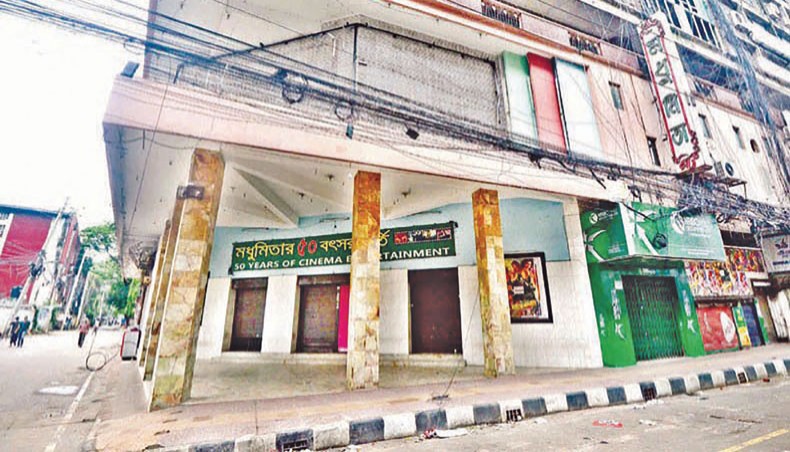 The country's film industry has been suffering for years due to the lack of quality films and the poor environment the cinemas offer to the cinemagoers while as an exception every Eid comes with the promise of business as viewers across Bangladesh get ready for newly-released films.
Cinema owners suffered huge revenue losses as cinemas remained closed during both Eid-ul-Fitr and Eid-ul-Azha in 2020 due to the coronavirus situation.
Cinemas across the country were shut down on March 18, 2020 due to the emergence of the COVID-19 outbreak and they reopened on October 16, 2020, following the Covid health safety guidelines, including running at half capacity.
Industry insiders said that they are now indecisive about the situation and are clueless about whether new films will be released or not even if the country's overall Covid situation improves.
'A total of 18 films were released after October 16, 2020. Most of them failed to achieve anything in terms of business,' they said.
Bangladesh Film Producers' Association president Khorshed Alam Khasru, also a member of Bangladesh Film Censor Board said, 'A total of 18 films were released after October 16, 2020 till today. Most of the films even failed to ensure the return on their deposit. However, the government has not issued any directives to stop screening films during the ongoing restrictions.'
'Many films are in the pipeline. However, many producers are not showing interest out of fear of suffering losses as they think people will not go to cinemas amid the coronavirus crisis,' Khasru added.
Bangladesh Film Exhibitors' Association chief advisor Sudipta Kumar Das said that many cinemas have shut their doors and the country's Covid situation is not so good.
'Many cinemas remain closed during the month of Ramadan. They are looking forward to making preparations for releasing films this Eid. If the Covid situation does not improve, many producers will not release their films in fear of losses. They did not contact us regarding film release. If they want to release films, we will allow those to be screened,' said Sudipta Kumar Das.
Mesbah Uddin Ahmed, senior marketing manager of Star Cineplex said, 'We can now open our cinemas as the government has already given permission to open shops and shopping malls maintaining health safety guidelines. We have no bars to screen films, but we are not screening films now.'
'We are waiting for Eid Films as it draws more viewers. If we get good local or foreign films, we will screen those. We will not reopen without new films as people like to watch new films during Eid, which also creates more revenue for us,' Mesbah added.
He said that producers did not contact Star Cineplex about releasing films.
'We are hoping for the best as we have some time till Eid. I cannot say anything concrete about the matter,' he added.
Iftekhar Uddin Nawshad, owner of Madhumita Cinema said, 'We did not open our cinema since March, 2020. We are going through an uncertain situation as the country's Covid situation is worse than in the past year. If we get new quality films, we will reopen our halls. We were not able to do business in the two major festivals in the past year.'
'I hope that many producers will show interest in releasing films if the government eases restrictions,' Nawshad ended.
Want stories like this in your inbox?
Sign up to exclusive daily email