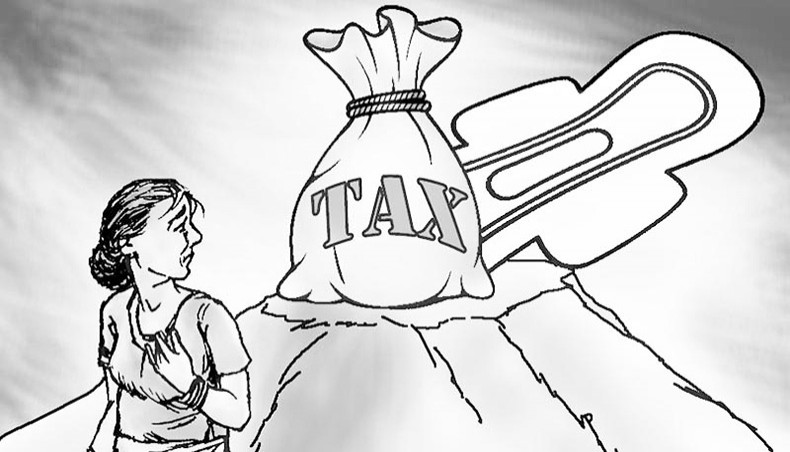 Menstrual hygiene should not be a taboo any more and policymakers should abolish period tax to make menstrual hygiene products affordable, writes Shamima Afrin
IF A woman is asked whether she feels 'good' when she is on her period, the answer anyone will get will always be a negative one. This makes period tax an unfair burden imposed on women irrationally. According to the National Board of Revenue, menstrual hygiene products come with a total tax incidence of 130.19 per cent. Menstrual hygiene products are charged 15 per cent on the customer level like many other unnecessary luxurious goods which is a complete indication of not considering women's menstrual hygiene a right that women's groups are fighting for.
Period poverty refers to the lack of access to sanitary products, menstrual hygiene education, toilets, handwashing facilities, etc. More than 500 million women and girls are suffering from period poverty around the world. In our country, only 23 per cent of women use proper menstrual products. The lack of menstrual health management and the stigma associated with menstruation both have a negative impact on gender equality and women's human rights, including the right to health. The stigma associated with period prevents people from talking about it which, in turn, averts dialogues about access to products, the period tax, etc.
A recent survey in Bangladesh finds that the poverty rate has increased by four per cent. In such a devastating situation, women from lower-income families are struggling to maintain menstrual hygiene. In addition, the Covid-19 situation has reportedly increased domestic violence and discrimination against women all over the world.
Periods do not stop for pandemics and the effort to improve access to essential menstrual hygiene products has never been more important. Therefore, Scotland has become the first country in the world to make menstrual hygiene products free of cost. The United Kingdom, Canada, Australia, Ireland, Kenya, India are some countries to have abolished period tax and Kenya was the first country to do so in 2004.
In our country, the National Board of Revenue has waived the value-added tax on the import of seven raw materials required for manufacturing sanitary napkins. Despite the removal of VAT, the total tax incidence makes the price of sanitary napkins high because of additional VAT and sales tax. Moreover, the removal of VAT from imported raw materials will be reviewed in the upcoming budget this year and this is worrying given that it may further increase the period tax which is already high.
The period tax debate became a global movement because of social media posts to end the stigma surrounding menstruation through hashtag campaigns. Countries such as Canada, India, the UK became successful in ending the stigma and making menstrual hygiene products tax free. However, in Bangladesh, most women are unaware of period tax that they have been paying for years. As a result, there is no public awareness against period tax. Many women's organisations demanded the removal of period tax in the past. In recent days, when women are facing economic hardship like they had never before because of the Covid situation, there is no concern about ending period tax.
Most of the women and young girls find it hard to manage their periods safely with dignity because they are unable to use hygienic products and facilities for different socio-economic conditions. It is because of the high cost of sanitary napkins many women and girls take the risk of using them for longer times which is very unhygienic. Poor management of menstrual hygiene products leads to reproductive and urinary tract infections. For girls from lower-income families this means they never get a chance to reach their full potentials as they miss out on opportunities significant to their growth. Emotional tolls along with the scarcity of access to menstrual hygienic products are related to poor mental health outcomes such as anxiety, stress, and depression.
According to the Humans Rights Watch and UNESCO, access to menstrual hygiene products and menstrual education should be viewed as a human rights issue. Lack of access to menstruation hygiene is part of the public health crisis in our country, but it is not addressed largely because of the stigma, taboos, and silence surrounding menstruation.
The stigma surrounding period has always refrained policymakers from talking about it in public, creating awareness, and making sanitary napkins affordable to all. When Bangladesh has come a long way with regard to achieving gender equality, issues such as menstrual hygiene should not be a taboo any more and policymakers should work to abolish period tax to make menstrual hygiene products affordable and available. Making women pay tax for being women should come to an end.
Shamima Afrin is an MBBS student at Shaheed Suhrawardy Medical College, Dhaka.
Want stories like this in your inbox?
Sign up to exclusive daily email
More Stories from Opinion