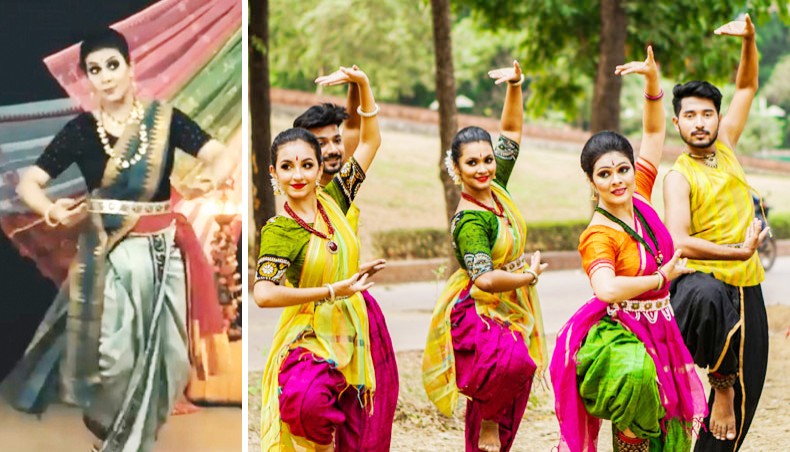 The severity of the Covid outbreak affected the celebrations of World Dance Day, which was observed on a limited scale this year on Thursday.
Many organisations, including Bangladesh Shilpakala Academy, Bangladesh Nrityashilpi Sangstha and Nrityanchal did not arrange any programmes marking the day.
However, dance troupes, namely Bhabna Nritya Dal and Dhriti Nartanalaya uploaded videos of dance productions on Facebook marking the occasion.
Bangladesh Nrityashilpi Sangstha president Minu Haque said, 'We did not arrange any programmes marking World Dance Day. We are not in a position to arrange any programmes as too many people known to us had died of Covid-19.'
'We will arrange an online programme if the situation improves. I urge all to stay at home,' Minu Haque added.
Renowned dancer Shibli Mohammad said, 'We did not celebrate the day. The situation is not fit for such an expression of happiness. Life is more important than anything else in this world. I urge all to stay at home. People should not go outside unless it is absolutely necessary.'
Bangladesh Shilpakala Academy public relations officer Hasan Mahmud told New Age that the academy did not organise any programmes marking the day due to the coronavirus crisis.
Acclaimed Manipuri dancer Warda Rihab, also founder and director of Dhriti Nartanalaya, shared a video of a Manipuri dance production titled Shiva Stuti, which is an invocation of the lord Shiva, on Facebook.
It is composed by Bimbavati Devi and is based on the tandava aspect associated with Shiva. The accompanying song says 'O Shiva, you are as vast and immeasurable as Veda, no one knows wherein your roots lie, you rule over the heart of all the inhabitants of this universe.'
Guru Lakhpati Singh was the music composer of the production titled Rudrashtakam. The lyrics were written in the 16th century by poet Tulsidas. The lyrics in Manipuri were written by Guru Thouranumisabi Devi. Babrul Alam Sony Chowdhury was the makeup artiste, Hannan Shah Hannan designed the set while Abir Haque gave visual direction of this programme, which was made by Desi Production.
'We celebrated World Dance Day in the past by organising various programmes. But this year, we are unable to arrange programmes at public venues because of the Covid situation. We are going through a very difficult time and hope to see the light soon after this dark period. I urge all to stay at home,' said Warda Rihab.
'I made the video on World Dance Day targeting an online event of the ICCR of Bali section. I hope the audience at both home and aboard will like our performances,' Warda added.
Bhabna Nritya Dal artistes presented a dance recital, synchronised with the Tagore song Amra Sobai Raja, which was uploaded on Facebook on the day. The dance piece was choreographed by Samina Husain Prema and the song was rendered by Chanchal Khan.
Besides Prema, Modhurima Dey, Mohima Shwagota, Moumita Saha Antora, Ponkaj Das and Hasibur Rahman Siam performed in the production.
Dancer Samina Husain Prema said, 'We completed the video earlier. We failed to celebrate World Dance Day at venues for the second consecutive time due to the Covid outbreak. We selected the Tagore song to remember that all men are created equal.'
She also urged all to stay at home and stay safe amid the Covid outbreak.
Want stories like this in your inbox?
Sign up to exclusive daily email
More Stories from Miscellany