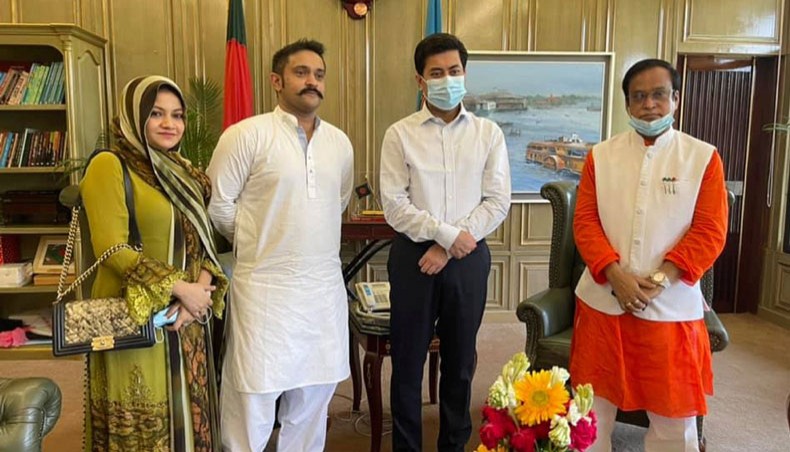 Suspended councillor of Dhaka South City Corporation Irfan Salim and his lawmaker father Haji Salim met Dhaka south city mayor Sheikh Fazle Noor Taposh at Nagar Bhaban on Thursday, a day after Irfan was released from jail.
DSCC officials said that the Dhaka-7 lawmaker Haji Salim and Irfan met the mayor at Nagar Bhaban and took part in a photo session in a friendly environment.
Erfan Salim was released from Dhaka jail on Wednesday evening after six months of his imprisonment as a number of cases were filed against him after he beat up a naval officer in the capital's Dhanmondi.
On Oct 24, 2020, the naval officer Lieutenant Md Wasif Ahmed Khan accused Erfan and his associates of assaulting him in a case filed with Dhanmondi police station.
On October 26, the Rapid Action Battalion raided Irfan's home in his father's nine-storey residential building in Soarighat and seized a pistol, an airgun, and bottles of liquor, 37 walkie-talkies and a handcuff during the raid.
RAB mobile court jailed Irfan and his bodyguard for a year.
Following the incident, the local government acquitted Irfan from his councillorship.
He was councillor of DSCC ward no 30.
Want stories like this in your inbox?
Sign up to exclusive daily email
More Stories from Politics