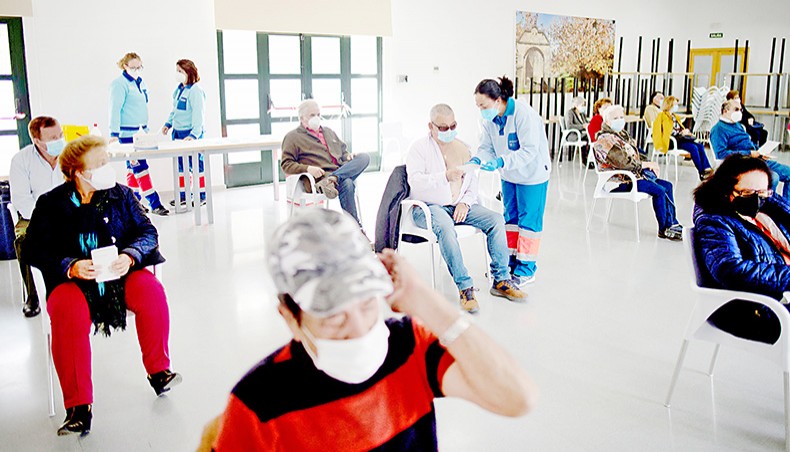 THERE is no alternative to vaccines in the fight against Covid-19. No medicine can kill the virus. The chemical elements to kill the virus in the body by artificially using vaccines create the antibody and store the weapon to kill the body's virus in future.
Is there any harm in taking the vaccine? What are the benefits of taking the vaccines then?
For those who are above 50 years of age, the body is a depot of diseases although it may not be the same for everybody. But after the age of 50 years, the ability of various systems of the body decreases quickly and there are many problems when the body is infected with SARS-CoV-2. Those problems also can cause sufferings for a long time after Covid-19. The need for oxygen or ventilators, hospital admission and, even, death can take place.
There are many more days of life where there is a chance to live where a little carelessness can lead to such consequences. It means that death from a minor condition, if infected with a virus, can go to any stage.
What is the benefit of taking the vaccine now, then?
For those who are above the age of 50 years, if they take a dose of vaccine, the chance of death will reduce by 80 per cent even if they get infected with the virus. The rate of hospital admission decreases by 90 per cent.
For those aged above 50 years who already have some diseases or problems in the body, taking two doses of the vaccine reduces their death risk by 95 per cent. They do not need hospital admission, they do not need any critical care management and they may not even need ventilators or oxygen.
But what are the problems that taking vaccines can cause? The place of inoculation may look a bit heavy, may remain sore for a few days, or hurt a little for a few days. Inoculation can make people tired quickly for a few days and people may feel weak. There may be headache; the pain may come suddenly and go away; flu-like symptoms appear; the body may feel a bit hot; and different parts of the body can ache.
The Oxford vaccine could cause a new problem — blood clotting syndrome. Blood can clot inside the body, especially in the brain or abdominal vessels. It can reduce platelets. This problem is likely to happen to one in every two and a half thousand. Like that, only four people a million could have blood clotting problems.
Only 79 out of 20 million Oxford vaccine recipients in England have faced blood clotting complications. Along with that, most of those 79 were above the age of 65 years. They had a few more complex issues before, which many thinks have increased the clotting problem. On this count, we can ignore the problem of blood clots of 79 among 20 million people.
Those who are below 50 years of age and above 30 years of age carry and spread the virus more than other groups. Although they need hospital admission less when they are infected, most of them recover from home treatment. But the post-Covid problems can keep taking place for a long time.
If someone in this group takes a dose of the vaccine, the chance of getting infected with the virus is reduced by 50 to 70 per cent. If they take two doses, it will reduce the virus infection rate in their body by 80 to 90 per cent.
Taking the vaccine can cause some common problems in all age groups, from feeling weak to headache and from body pain to slight fever. People of this age range can also face blood clotting problems if they take the vaccine. But that is exceedingly rare.
The people under the age of 30 years and above 18 years who have their immunity strong can lead to mild to moderate problems. Death is sporadic among the people of this age range after being infected. Young people in this group take a dose of the vaccine and decrease their chances of getting infected with the virus by 70 per cent. Taking two doses reduces the events by 90 per cent. The vaccine takes the post-vaccine everyday problems among of people to be mild. Their blood clotting can also be moderate than any other groups.
Post-vaccine problems are common in people of three age groups. The clotting problem can only blood affect people aged above 50 years and below 30 years more.
But how do we know that the vaccine has caused blood clotting problem in the body? The blood clotting problem can appear within 28 days after the vaccine is administered. The blood clothing syndrome can cause a severe headache and pain killer will not reduce the pain. The pain can continue and be severe when trying to lie down or to incline the neck. There could be sever pain in the stomach, vision can be blurred, leg or ankle could be swollen, nausea could be felt and the body will become very weak. People will find it difficult to speak; their breathing difficulties will increase; they can faint and they can have constant chest pain.
If the above problems take places in four weeks of getting the vaccine, people would need to immediately go to hospital.
Dr Opurbo Chowdhury is a physician.
Want stories like this in your inbox?
Sign up to exclusive daily email
More Stories from Opinion