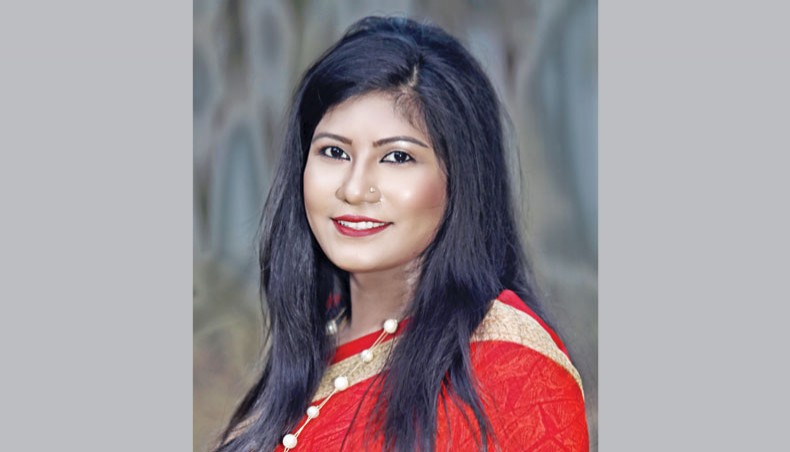 Cricketer turned actress Mishu Chowdhury said artistes should remain alert during shooting amid the rise in Covid infection.
'It is difficult to follow health directives on shooting floor. So, artistes have to remain alert while acting in front of the camera,' said Mishu, who pursued a career in acting after retiring from cricket in 2012.
'I played in Bangladesh women's national cricket team from 2005 to 2012. I retired after suffering ligament injury. I have been working as a sports presenter, actress and model since 2013. Besides acting in small screen productions, I am working as a sports news presenter at Channel-i,' added Mishu, who will be seen in Eid special teleplay Amra Amrai scheduled to be aired on Ekushey Television. Besides, Mishu-starrer drama series titled Mashrafe Junior is being aired on Deepto TV.
'I acted in an Eid special telefilm directed by Selim Reza before the government announced restrictions on public movement and overall activities to contain the Covid-19 spread. The shooting for the telefilm named Amra Amrai was wrapped up in March. I have acted opposite Selim Reza in the telefilm. I hope viewers will enjoy it,' mentioned Mishu, adding, 'Deepto TV is airing the drama series Mashrafe Junior, which revolves around children aspiring to play in national cricket team. I have acted in the drama series. I urge all to watch it and provide valuable and constructive feedback.'
Mishu tested positive for Covid-19 in November, 2020 and recovered from the illness after 22 days. She won't participate in shooting until the Covid situation improves.
'I tested positive for Covid-19 in November, 2020 and recovered after 22 days. At present, I am staying at home. I have not visited shooting floor since March. I will stay away from shooting floor until the Covid situation improves,' ended Mishu.
Want stories like this in your inbox?
Sign up to exclusive daily email