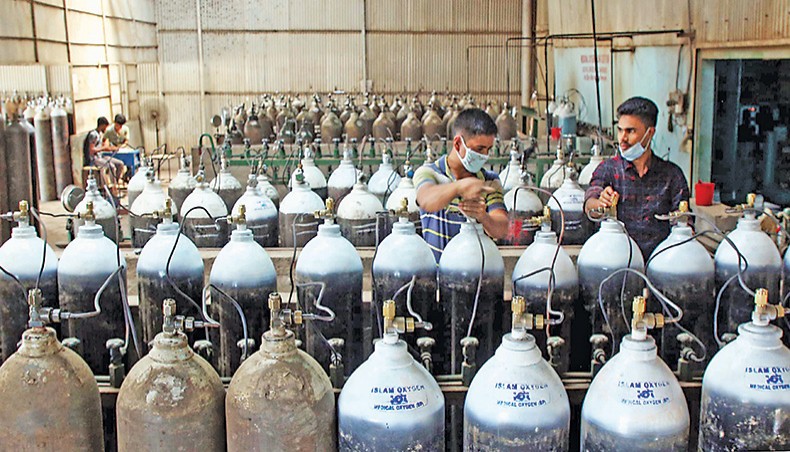 Over the past few days the government has sent despatches to Bangladesh embassies in Southeast Asia asking them to look for opportunities to import medical oxygen — either by sea or air.
In more than a year since the Covid outbreak in the country in March last year the government has neither invested in building own capacity to produce medical oxygen nor has it explored import sources.
Now health experts say that a sudden surge in Covid cases has put Bangladesh in a medical oxygen crisis, especially after India stopped its export from April 22 after the shortage of the item caused dozens of deaths over the past few days in that country.
The demand for medical oxygen far exceeds the production capacity of private companies since the second wave of the pandemic hit in March with the companies' single-source import from India tripling in April compared to February.
'Historically Bangladesh has been an oxygen-deficit country and the deficit has only increased with the Covid crisis,' Professor Nazrul Islam, a member of the National Technical Advisory Committee on COVID-19, told New Age.
The technical committee, he said, repeatedly advised the government on securing enough supply of oxygen to extend centralised oxygen service to government hospitals down to the upazila level.
'But the fact is that centralised oxygen service is still unavailable even in a third of the country's districts,' said Nazrul.
Health minister Zahid Maleque in a virtual press conference on Tuesday, however, rejected the idea that there was a shortage of oxygen in the country.
'We have no shortage of oxygen in the country and there is no reason for fear,' he said, adding that the current maximum medical oxygen demand was 150 tonnes a day.
Zahid said that the government was planning to import oxygen plants though there was no shortage in its supply.
Two days after India stopped oxygen export to Bangladesh, the government asked the country's oxygen producers to stop supplying it to industries and divert it to hospitals.
Besides, industries with capacities to produce oxygen as their raw material have also been asked to be ready to produce medical-grade oxygen for hospitals.
The three major oxygen producers in Bangladesh — Linde Bangladesh Ltd, Spectra Oxygen Ltd and Islam Oxygen Ltd — have the capacity to produce about 180 tonnes a day.
The private companies always had to import the item from India to meet the combined demand for medical and industrial oxygen in the country.
An international tool called Covid-19 Oxygen Needs Tracker on Tuesday estimated Bangladesh's medical oxygen need at 187,787 cubic metres or about 270 tonnes a day.
Data preserved at the Benapole land port shows that 534 tonnes of oxygen were imported in February but the quantity jumped to 1,450 tonnes in April. In March the oxygen import stood at 924 tonnes.
Bangladesh has imported 6,000 tonnes since July, 2020, half of it after February this year.
'We have been diverting most of our oxygen to hospitals for one month and a half now,' said slam Oxygen chief executive officer Mustain Billah, whose daily oxygen supply capacity, including import, was about 45 tonnes a day.
'Still we could not meet the whole demand,' said Mustain.
Other major producers are also said to have transferred 80 per cent or more of their output to meet the medical oxygen demand after the Covid second wave hit the country in March until recently.
The health agency's director for hospitals Farid Uddin Miah could not specify the country's daily medical oxygen requirement but said that the supply was enough to meet the demand.
'We have never felt the need to get our own plant to produce oxygen,' said Farid, adding that they have always left it to be dealt by the private sector.
Oxygen producers, however, said that a year was enough for the government to set up its own oxygen plant and that the decision to tackle a pandemic leaving everything to be done by the private sector was unwise.
As high as 80 per cent of the Tk10,000 crore special fund that the government has set aside in the 2020–21 budget for tackling the Covid situation remains unused 10 months after its allocation.
Economists said that the government failed to properly manage the pandemic with its inefficient employees who could not assess where investment was needed to improve the Covid health services.
State minister for foreign affairs Mohammad Shahriar Alam said that the Bangladesh embassies in nearby countries were asked to explore medical oxygen import opportunities not for its scarcity but as preparedness.
'It is possible to import oxygen from countries such as Singapore, Thailand and China,' said Shahriar.
'We did not think about importing oxygen before as there was no crisis but now we see the need to prepare for the worse,' he said.
Bangladesh logged 78 Covid deaths on Tuesday as its overall death toll from the disease surged to 11,228 while the country confirmed 3,031 new cases in the 24 hours until Tuesday morning.
Restrictions announced to curb the spread of Covid-19 has recently been eased with experts predicting that the number of daily cases and deaths may increase again in May.
Want stories like this in your inbox?
Sign up to exclusive daily email
More Stories from Country