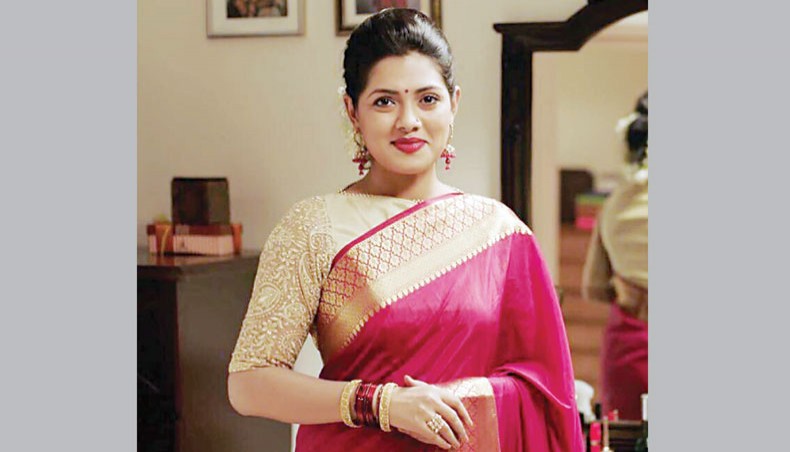 National Film Award-winning actress Nusrat Imrose Tisha said she will not attend shootings for Eid special programmes if the Covid situation does not improve ahead of Eid-ul-Fitr.
'We have been passing through an uncertain situation. We need to stay vigilant, as the virus is very contagious. I will not attend shootings for Eid programmes if the situation does not improve ahead of Eid-ul-Fitr,' Nusrat Imrose Tisha told New Age.
Tisha will be seen as the country's founding president Sheikh Mujibur Rahman's wife Fazilatunnesa Mujib in an upcoming biopic, which is a Bangladesh-India joint venture commemorating the 100th birth anniversary of Sheikh Mujibur Rahman. It is being directed by Indian director Shyam Benegal.
Tisha had recently returned from India after the biopic's shooting concluded on April 10, 2021. The shooting began on January 25 in Mumbai after its famed director was forced to postpone the shooting which was supposed to begin in March 2020.
'It has been a wonderful experience for me. Working under the direction of Shyam Benegal, I learnt a lot while shooting for the film. Around 80 per cent shooting for the film has been completed. The next part of the film will be shot in Bangladesh,' said Tisha.
'I do not know when the next part of the film's shooting will start. We were asked not to reveal any information regarding the film and my character,' said Tisha, adding, 'They have some plans about the film, and perhaps they do not want to spoil the fun by giving away the content of the film before its release by circulating information about it in advance,' she added.
While speaking about the impact of the country's TV industry amid the Covid surge ahead of Eid-ul-Fitr, she said, 'It is possible to continue shooting maintaining Covid-19 health safety guidelines. Nowadays, many are cancelling their shooting and the working scope has also reduced as people are trying to follow the health safety guidelines. We cannot make a profit all the time.'
She urged the people involved in the sector to stay alert and maintain health directives every time they plan a shoot.
'We can fight against the virus if we stay alert. We have to be cautious for the sake of ourselves and our family members. If we do not follow the health directives, the situation would get worse in future,' she observed.
Want stories like this in your inbox?
Sign up to exclusive daily email