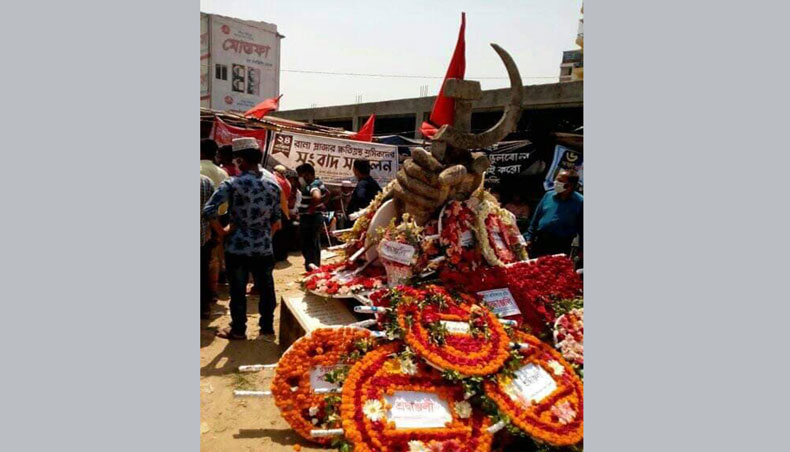 Relatives of deceased workers and injured victims of Rana Plaza collapse on Saturday remembered the dead victims and demanded justice of the incident which had killed 1,138 people, mostly apparel workers, and injured over 2,400 at Savar on April 24, 2013.
Marking the eight years anniversary of the incident Rana Plaza survivors and different labour organisations and trade union held different programme in front of the collapsed building at Savar and in Dhaka.
Injured worker Nilufa Begum at a rally in front of Rana Plaza said that she could not return to a normal life even after eight years of the incident.
'Who will give me treatment and who will give me three times meal,' asked Nilufa, an imputed victim of Rana Plaza.
Rana Plaza survivor Amdadul Islam said that eight years had passed and many workers in the meantime succumbed from their injury and sufferings but they could not see the trial.
'We want justice. We want to see capital punishment of the people who have killed over 1,100 workers,' he said.
Victims alleged that many of their injured colleagues were living inhuman life due to financial crisis that they faced after they had lost their jobs.
They demanded to allocate the Rana Plaza land for the victims immediately.
Bangladesh Garment Workers Trade Union Centre, Garment Workers' Solidarity, Garment Workers Front, Rana Plaza Survivors Association, and Jatiya Garments Sramik Federation, among others, observed the day through different events.
Trade union leaders said that still workers' rights were violated in the country and they were forced to work in unsafe condition.
Garment Workers' Solidarity president Taslima Akhter said that workers safety and proper wage was not ensured even after eight years of Rana Plaza collapse.
Want stories like this in your inbox?
Sign up to exclusive daily email
More Stories from Country