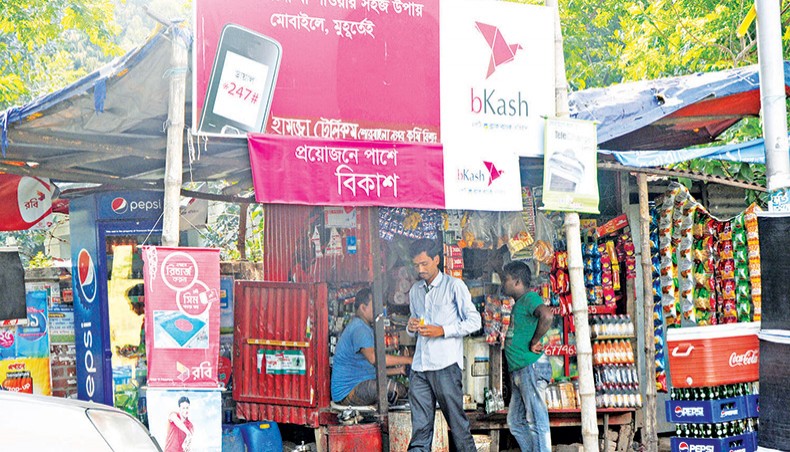 The leading mobile financial service provider in the country, bKash, incurred losses for the second consecutive year in 2020 as the operator increased its strategic investments following the launch of Nagad which intensified competition on the market.
Increased competition on the market has compelled the MFS operator to increase its commercial expenses by around two-and-a-half times in a span of three years.
However, the entity thinks that it would be possible to monetise its investments very soon.
The disclosures were made in the audited financial statement of BRAC Bank, the majority shareholder of bKash, for the year 2020. The statement also incorporated the audited report of bKash.
It showed that the country's leading mobile financial service operator incurred Tk 81.4 crore in losses in the year end on December 31, 2020. The MFS operator's losses in 2020 were Tk 18.89 crore higher than Tk 62.51 crore in losses reported in the year 2019.
After incurring losses for two years back-to-back, the operator's equity dropped to Tk 926.97 crore at the end of December 2020 from Tk 1,070.88 crore two years ago.
However, bKash's revenue increased by 8.63 per cent or Tk 208.42 crore in the year 2020.
The operator's gross revenue increased to Tk 2,624.5 crore in 2020 from Tk 2,416.08 crore in the previous year.
Industry insiders said that the launch of the government-affiliated Nagad on March 16, 2019 prompted bKash, which had been leading the market, to increase its strategic investments to retain its market supremacy although this has caused the entity to incur losses for two consecutive years.
Besides the Nagad issue, another MFS operator backed by investments from a multinational company is expected to launch its service soon, driving bKash to making fresh investments to tighten its grip on the market.
Although the central bank has issued licence to 15 MFS operators, most of the operators except for bKash, Nagad, Rocket, mCash and UCash are either less active or almost inactive on the market.
Prior to the launch of Nagad in 2019, bKash's profits in 2017 and 2018 were Tk 48.78 crore and 18.48 crore respectively.
In 2017, bKash's marketing and promotional expenses amounted to Tk 107.46 crore. These expenses increased by 142.02 per cent or Tk 152.62 crore to Tk 260.08 crore in 2020.
Speaking about the reasons behind making losses for two consecutive years, bKash chief external and corporate affairs officer Major General (retd) Sheikh Md Monirul Islam told New Age, 'MFS is evolving very fast and more and more customers are adopting the services to meet their economic and transactional needs.'
Technological innovation is a must in order to fulfil the various needs of the customers, he said, adding, 'Again, to serve a large base of customers seamlessly, the technological solutions need to be highly secure and robust.'
In order to offer the maximum possible customer-friendly products and services, bKash has made the required investments both in technological solutions as well as manpower like information technology engineers, data scientists and software engineers, among others, he said.
'Commercial benefits of such investments take a while to materialise,' Monirul said.
In spite of making losses, bKash has paid VAT or taxes worth Tk 525 crore and Tk 638 crore in the fiscal years 2019 and 2020 respectively, he said.
Speaking about the increased investments, the chief external and corporate affairs officer said, 'One needs to keep in mind that these are strategic investments that a technology-based company makes from time to time to address the market demand.'
'We hope to see the returns of the investments soon,' he said.
Incorporated as a subsidiary of BRAC Bank in 2010, bKash has four shareholders — BRAC Bank with a stake of 51 per cent, US-based Money in Motion LLC with a stake of 29 per cent, Alipay Singapore E‑commerce Private Limited with a 10.1-per cent stake and International Finance Corporation with the remaining 9.9 per cent stake.
Apart from their shareholdings in bKash, the Bill and Melinda Gates Foundation and Alipay hold 32,530 and 55,433 convertible preference shares in the entity respectively.
Want stories like this in your inbox?
Sign up to exclusive daily email
More Stories from Banking