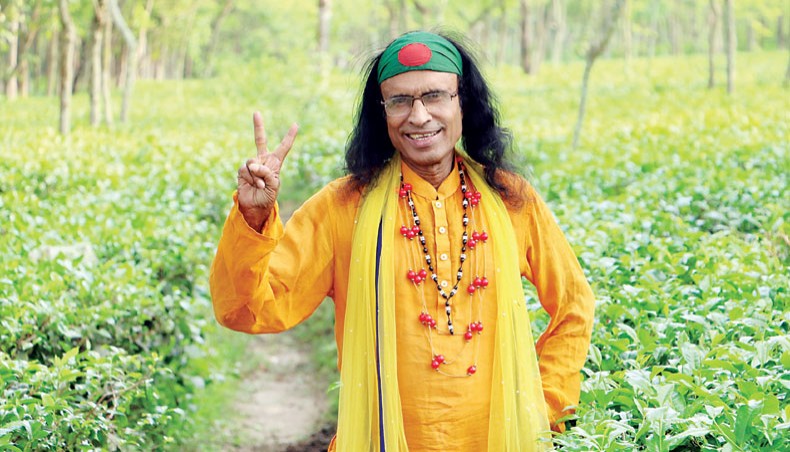 Renowned folk singer Abdul Kuddus Boyati said that more songs are needed to raise awareness about Covid-19 among the people to mitigate the spread of the viral disease.
'Music is a universal language and it can be used to change people's mind-set. Songs carrying the messages of Covid prevention directives will inspire the masses to follow the health directives. Songs can also spread hope among people. It is time for singers to take responsibility to spread awareness among people,' Abdul Kuddus Boyati told New Age.
Boyati said, 'I am working to raise mass awareness about coronavirus and other social issues by releasing songs and music videos on social media. I released an awareness-raising music video on Covid-19 with the support of BRAC in March 2020. The song titled "Jaina Cholen, Maina Cholen" has received huge response from people. But at present we need more songs that will play an important role in promoting awareness about the viral disease.'
'I decided to release music videos addressing the Covid-19 outbreak to perform my duties towards my motherland and its people. I am looking forward to releasing more songs to help people stay motivated amid the crisis. If we work together, we can overcome any crisis,' said Boyati.
Boyati has recently released a song marking the holy month of Ramadan titled Azrail on April 14 on his Facebook page and YouTube channel. The song has been viewed more than 20,000 times.
'I released a duet song with Abu Sufian, who also composed the song which was penned by Abdul Kader Hawladar. It gives the audience a spiritual glimpse of human life. Besides, I have released music videos titled "Gane Gane Dhan Kata", "Pradhanmantrir Drishti Akarshan" and others on my YouTube channel and Facebook page,' said Boyati.
When asked how he has been spending his days, Boyati replied, 'There is not a single musician who has not been financially affected by the coronavirus outbreak. I do not get paid if shows do not happen, so one need not emphasise the fact that I am struggling financially. However, I am determined to keep it together. I will not let this crisis overwhelm me. It is temporary and will pass.'
'Most folk singers live below the poverty line. They make a living by performing at music shows. At the onset of the dreadful coronavirus crisis all shows have been cancelled, as a result, they are facing a lot of hardship. Many folk singers live in remote areas. They are struggling to put food on the table for their families. I do not know how they will survive if the crisis worsens. I urge the government and all affluent people of our society to help folk singers navigate their way through the crisis,' said Abdul Kuddus Boyati.
Boyati mentioned that an estimated 20 per cent of the country's folk singers are given allowance by the government. Each singer receives between Tk 2,000 to 3,000 per month and the rest 80 per cent receive no financial support. 'Artistes have been entertaining people and lifting their spirits for many years but no one is asking folk artistes how they are doing amid the crisis,' lamented Boyati.
Want stories like this in your inbox?
Sign up to exclusive daily email