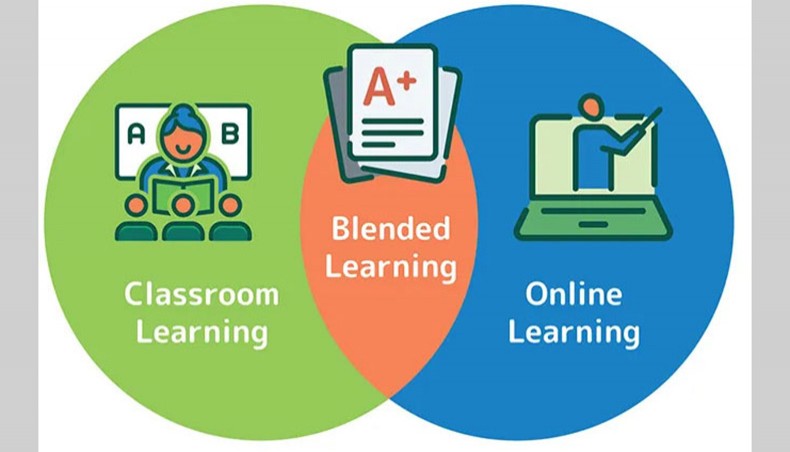 THE fatal blow of Covid-19 has challenged the whole world today. The education sector has faced the most challenges. However, regardless of the amount of loss, it has brought many benefits — an increased use of online platforms. Job registration at home and abroad, the collection of various official or government forms, the submission of tax or income tax returns, participation in tenders etc are done online. The revolutionary touch of digital technology has also come in the field of education like online business, commerce, e-document, e-procurement, etc.
The transition from traditional or face-to-face education to online has not, however, been easy for many organisations around the world. It was very difficult to adapt to institutional policies and practices such as changes in textbook knowledge, test evaluation techniques, support, etc. Nevertheless, the pandemic of Covid-19 posed many challenges in the field of education as well as created opportunities for research, exploration and exploration in higher education worldwide.
With significant reasons, in developing countries such as Bangladesh, education and trade have stumbled during this time of crisis. However, because of the unprecedented success of digital capabilities and information technology, Bangladesh has overcome all obstacles. Although for lack of internet connectivity, mobile data and necessary devices, all of the stakeholders are not able to join this journey. Yet, Bangladesh has gained a lot of skills and abilities in the use of digital technology in the education system in the past one year.
Online education has become known as an alternative medium for all students from university to college and school and urban to rural. Teachers also have transparency in teaching, audio and video recording have been included. Online class management (e-learning), admission registration, examinations, assignments, quizzes, result preparation, e-books, etc have been added. These are just a few examples of digital renaissance in Bangladesh.
Today's discussion is on offline, online and blended learning. The way the teacher-student (face-to-face) class has been conducted for a long time in the classroom is offline learning. For online, students are connected to online classes from wherever they are. There is an opportunity to record and upload digital contents of lectures. If students cannot join online classes at specified time, they can download the recorded lectures at any time or at their convenience. In the case of online affairs, students have to depend on the downloaded lectures. If not, there is no chance of a question-and-answer session. Everything is like online in blended or hybrid method and all online features are available here.
However, in this case, time, place and location, class ID or link, and specific contents are pre-determined between teachers and students. After discussing that specific contents, if students do not understand, the teacher discusses again, asks questions, gets answers, etc. Although the teachers and students are located in different places, they seem to be as participatory, interesting, interactive and lively as they are in classrooms. This means that even though the class is online, the flavour of the offline (face-to-face) class is available.
Again, some classes are taken directly depending on the time and opportunity. Such an environment born out of a combination of the offline and the online, using information technology, is called hybrid or blended learning. Writing, deleting, drawing, etc can all be done as they cold be in a direct class. Hence, experts consider it an alternative or complement to the direct class. Developed countries such as Europe and the United States have a long way to go before e-learning and the ability to conduct online education can be practised.
Covid-19 also did not do much harm to their education system, but it did us a lot of harm and taught us a lot. We need to apply these lessons in the future. Bangladesh will become a developed country by 2041. In order to achieve this goal, education needs to be modernised and up-to-date. In the system, there is no alternative to phygital — physical + digital = phygital — which is a combination of physical and digital technology.
A successful implementation of such an initiative nationally from primary to university will revolutionise the field of education. It will provide employment for many people. Village students will have access to quality education in rural areas and, thus, they will work, they will be entrepreneurs, and they will create jobs in their own places. In this way, they will transform their village into a modern city. Bangladesh will be on the list of developed world in the education system.
Covid-19 is still running and no one can say when it will end. One day it will end. It is a matter of consideration what now should be our strategies in the post-Covid education system in digital Bangladesh. However, in recent times, 'phygital education' — a combination of physical and digital education — is becoming popular and if this sector is given due importance and careful consideration, it can be considered the second largest source of foreign exchange after the apparel sector.
So how blended learning has succeeded in the developed world should be explored. A national committee of experts from the Bangladesh Association of Software and Information Services, Access to Information and the ICT Division may be formed. Public and private universities that have worked in this sector for a long time can be included as consultants. Now is the right time to take the necessary encouragement and initiative. Of course, online or blended learning is never an alternative to face-to-face learning.
Dr M Mesbahuddin Sarker is professor and director of the Institution of Information Technology, Jahangirnagar University.
Want stories like this in your inbox?
Sign up to exclusive daily email
More Stories from Opinion