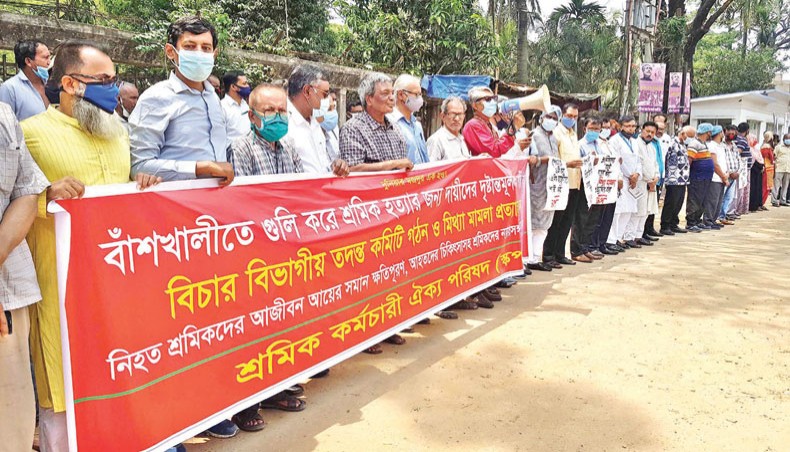 The leaders of Sramik Karmachari Oikya Parishad and Garments Sramik Odhikar Parishad on Wednesday at separate protest rallies in Dhaka demanded judiciary enquiry into the recent killing of power plant workers at Banshkhali in Chattogram.
SKOP, a combine of 16 labour rights bodies, held a rally in front of the National Press Club, where Trade Union Centre president veteran labour leader Shahidullah Chowdhury chaired.
At least five workers were killed and 18 others injured as police opened fire on a demonstration of SS Power Plant workers at Baraghona under Gandamara of Banshkhali on Saturday.
Shahidullah Chowdhury said that police opened fire on a peaceful protest programme of the workers and he called on the government to form a judiciary enquiry committee to find out the police personnel responsible for the killings.
He also demanded exemplary punishments for the killers.
Jatiyatabadi Sramik Dal president Anwar Hossain, Socialist Labour Front president Razequzzaman Ratan, Trade Union Sangha general secretary Chowdhury Ashiqul Alam, Jatiya Sramik Federation president Quamrul Ahsan, Jatiya Sramik Jote president Shaifuzzaman Badsha and others spoke at the rally.
Garment Sramik Odhikar Andolan also held a rally separately at the same venue where Garment Sramik Samhati president Taslima Akhter demanded exemplary punishment for the killers and adequate compensations for the victim families.
The rally was followed by a protest procession.
Meanwhile, two cases were filed against over 3,000 named and unnamed people over the April 17 clash during a demonstration by workers at the under-construction coal-fired power plant of S Alam Group that engaged around 3500 local workers and 853 Chinese employees.
Earlier, four villagers were shot dead on April 4, 2016 during clashes with the police when the villagers staged a demonstration against the move to construct a coal-fired power plant at Gandamara area in Banshkhali.
The 1224-MW coal-fired power plant is being constructed at the cost of $2510.2 million with 30 per cent investment from seven Chinese banks.
The government has already waived stamp duty of Tk more than 3,170 crore on land lease agreement and financing documents for the SS Power 1 Limited of S Alam Group under the Private Sector Power Generation Policy.
Want stories like this in your inbox?
Sign up to exclusive daily email
More Stories from Politics