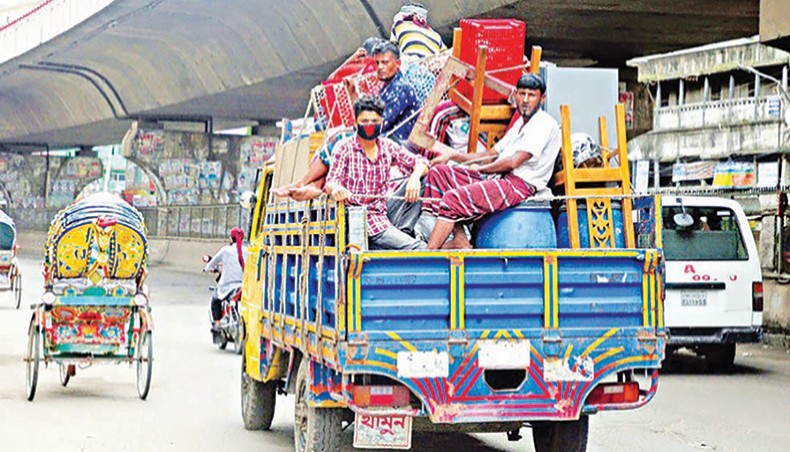 Thousands of workers across the country are now struggling to maintain their family as they have been without work after restrictions were imposed on public movement and the operation of markets and many commercial ventures on April 5 to contain the spread of Covid-19.
Day labourers or workers who are paid on daily basis in the informal economy, including transportation and construction sectors, small and medium enterprises, hotels, restaurants and other private businesses, said that they had been without earning for the past two weeks.
They said that they did not get any assistance from the government, owners of their enterprises or even from NGOs this time as they had received in the past year after the nationwide shutdown was imposed for more than two months.
The extension of the current nationwide restrictions from April 14 to 28 on Monday rendered them highly anxious over the survival of their families, they said.
'I have not been earning for the past two weeks and I wonder how my family would survive if the ban continues,' human-hauler driver Jasim Uddin from Madartek said.
Sujan Ali, who worked at a light-engineering workshop on Old Town's English Road, said that he had started selling ghugni, a local snack, on the road ahead of ifter, the income from which he said was not enough for his family's survival.
'It does not look like that business activities would resume after the Eid and we don't know when the Covid infection surge would subside and life would become normal again,' Sujan said.
Both Jasim and Sujan said that they earned about Tk 500 per day and had no savings left.
The leaders of associations of communication sector, other informal sectors and the small and medium enterprise sector said that more than one crore workers who used to earn around Tk 500 a day were struggling for survival as they lost their purchasing capacity within a week of the restrictions on movement while many others would be in the same situation if restrictions continued.
Bangladesh Road Transport Workers Federation general secretary Osman Ali said that 70 lakh transport workers, including 20 lakh garage workers, had had no income for 13 days since April 5.
'Only city services were allowed to operate for three days amid public demand. All of their workers are wage earners like day labourers and are now struggling to survive,' Osman said.
According to National Association of Small and Cottage Industries of Bangladesh executive officer Mahmudur Rifat Khan, over 50 lakh workers engaged in informal sectors across the country have become jobless as the government has suspended the operation of the light-engineering sector, small factories and others.
Small and Medium Enterprise Foundation managing director Md Mafizur Rahman said that more than 36 lakh workers and artisans working for local fashion and other small businesses were finding it difficult to survive for being jobless or as they had not been getting wage for more than a month.
'The sector faced a huge setback after the Pahela Baishakh celebrations were cancelled amid the Covid infection surge in the country. And the entrepreneurs are not in position to pay them,' Mafizur Rahman said.
Imarat Nirman Sramik Union Bangladesh general secretary Abdur Razzaq said that the life of an estimated 38 lakh construction workers, including masons, painters, carpenters, rod binders, mosaic workers and plumbers, were heading towards financial hardship though the government agencies continued their construction activities and the private sector was also allowed to continue construction.
'Construction activities under the private sector have lost momentum for the scarcity of construction materials due to restrictions on movement,' Razzaq said.
Bangladesh Hotel Restaurant and Sweetmeat Workers Federation general secretary Anwar Hossain said that many of the 25 lakh hotel and restaurant workers did not receive wage in March.
'Restaurant owners will not pay them as they are counting huge losses due to the Covid outbreak,' Anwar said.
Bangladesh Dokan Malik Samity president Md Helal Uddin said that they would not be able to pay wage and bonus to the estimated 2.14 crore workers of shops and markets unless the government allowed the markets to open from April 22.
Bangladesh Road Transport Workers Federation general secretary Osman Ali also threatened to start protest programmes unless the government allowed movement of the public transports from April 22 and distribute rice at a subsidised rate of Tk 10 for the transport sector workers.
'We are no beggar that we will depend only on relief,' Osman said.
In an online briefing road transport and bridges minister Obaidul Quader on Monday said that the government was considering easing the 'lockdown' before Eid-ul-Fitr for the sake of people's livelihood.
'The lockdown may be relaxed for homebound people during the Eid. Prime minister Sheikh Hasina's government is considering it,' he also said.
State minister for disaster management Md Enamur Rahman said that the prime minister on Monday declared that Tk 2,500 would be disbursed to each of 36.25 lakh poor families and Tk 5,000 to each of one lakh listed peasants.
'The money will be directly sent to the beneficiaries through mobile banking,' Enam said.
'Under the gratuitous relief programme, we will distribute Tk 500 to each of the 24 lakh poor families through the local government representatives,' Enamur said further.
In addition, Enamur said, each of the 1crore and nine thousand beneficiaries under the Vulnerable Group Feeding programme would get Tk 500 soon.
Want stories like this in your inbox?
Sign up to exclusive daily email
More Stories from Miscellany