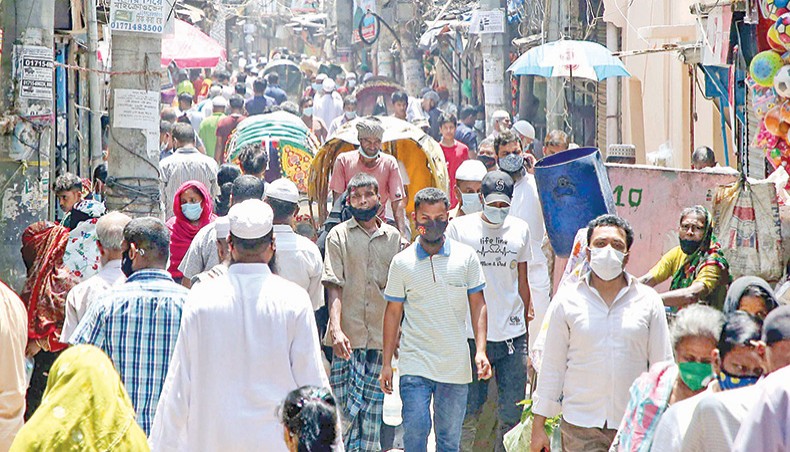 IN THE last few days, we are seeing new records being broken. The upward trend of the new strain of novel coronavirus is wreaking havoc. People infected are very quickly reaching a state where they need emergency access to intensive care unit? Hospital beds are becoming a rare commodity. The second wave has come at the wrong time. Our death rate, case detection rate is rising sharply. Indeed, an agonising moment. So, what the government could do in this moment?
The rate of vaccination is not fast enough. People who have taken the first dose of the vaccine are feeling carefree. This audacious attitude has spread the virus before any immunity could come into play. Reluctance in wearing mask is still evident. There has to be one solution in this situation when we have our backs to the wall. Lockdown can be the saviour? If we remain separated for three weeks, the virus will wane. The lockdown means all confined to one place not moving anywhere without an emergency. Unlike last year, the lockdown must be strict. We cannot afford to move carelessly, as if it's a holiday. If we can contain the contagion for 14-days, it will die. And, this is our last resort.
Expert opinion suggests that after 14-days of strict lockdown, we will begin to see a downward trend in new incidences. Our testing facility has evolved. We are capable of conducting RT-PCR test. Bangladesh has no choice but to go with WHO recommendation and test as many as possible. Alarmingly, Bangladesh has more deaths compared to new case detection rates, one of the highest in the South Asian region. Staying home for a prolonged period is psychologically taxing, but the month of April is crucial for us in terms of containing the contagion. This will be suicidal if we chose to ignore the health safety rules for Covid-19.
The possible decision to keep NGOs and industrial units open can bring havoc. All offices except for emergency services must be closed and that is the correct decision. It is our only option. The out-patient departments at hospitals are open, but we must know the health care workers are super spreaders. They should be open for a limited period of time. Lockdown in the form of general leave, will not serve the purpose, rather it will jeopardise the noble purpose. Major cities are considered the hotspot for the spread of virus. Therefore, major districts such as Dhaka, Narayanganj, Chattogram and Gazipur must be under surveillance. If we can isolate patients, quarantine them, the virus will die and the pockets could be identified.
Increasing number of frontline workers such as doctors, nurses, hospital staff, and police officers are getting infected. We have already lost a relatively large number of physicians. The declaration to give two months basic salary to front liners could raise their moral. They need access to proper protective equipment.
The lockdown measure needs to be tightened. Law enforcement agencies alone cannot ensure effective lockdown. We, as the public, need to play a proactive role. There is a saying 'When I transforms into we, illness becomes wellness.' We shall have to act as responsible citizen. Total lockdown is an attempt to slow down the spread of coronavirus. The government has shut down everything from shops and malls to universities and courts. We know that the lockdown will continue for seven days, after which the government will decide the next course of actions. However, it will perhaps be wise to extend the lockdown for another seven days. At the same time, it will be unwise to expect the threat from the novel coronavirus will seize to exist after the lockdown and it will be easy to lift the lockdown, we are terribly mistaken.
Experts say that social isolation only slows down the spread of the virus, but it cannot completely stop the transmission. Nearly 30 per cent people who are infected do not experience any symptoms, but silently spreads the virus at the community level. Therefore, social isolation helps, but only in terms of slowing down the velocity of new cases. If social isolation and lockdowns do not stop coronavirus, then what other choices we have? How long can we afford to keep people away from work, the economy at a standstill? After a few weeks of lockdown, even a prosperous country may go into a very precarious economic situation. How will it continue to pay government workers, keep essential services and hospitals running, and the population fed when nobody goes to work for months?
If the country is kept shut down for months, more people may die due to lack of food, basic health necessities such as sanitation and access to treatments for chronic diseases. The national economy will be in serious distress and the government should have a contingency plan for such a situation. Therefore, what options do we have other than lockdown. One possibility is that the majority of the people would develop their immunity to the disease. However, Bangladesh is far from attaining herd immunity. It will take almost eighty per cent people to be immunised before herd immunity can be achieved. With the mass level antibody testing, the government can find out the community level antibody. All things considered, we can say that we are in an extremely uncertain situation and we cannot afford an ineffective lockdown.
Dr Zubair Khalid Huq is a family medicine, gerontology and public health specialist.
Want stories like this in your inbox?
Sign up to exclusive daily email
More Stories from Opinion