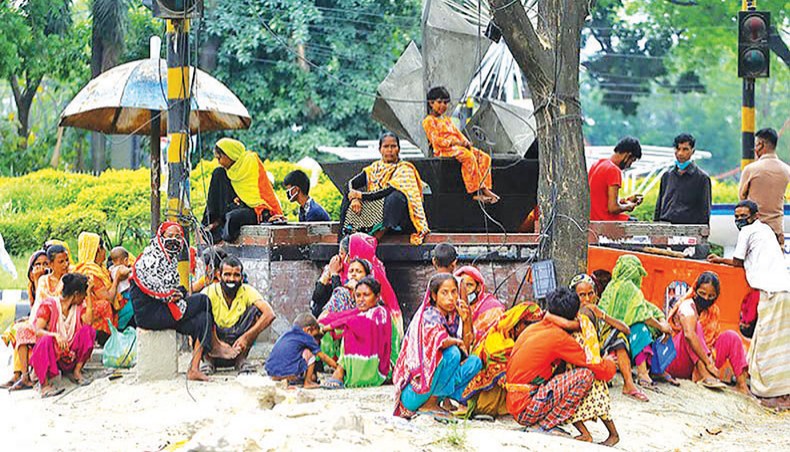 A total of 2.45 crore vulnerable non-poor people or 14.7 per cent of the country's total population have slipped into poverty due to the fallout of the Covid-19 outbreak, according to a survey report.
Extreme poverty rate has increased, savings have dwindled while debt has almost doubled across all groups, said the survey titled 'poverty dynamics and household realities'.
The Power and Participation Research Centre and the BRAC Institute of Governance and Development jointly conducted a three-phase rapid telephonic survey between April 2020 and March 2021.
The findings of the of the third-round survey conducted on 6,099 rural and urban slum households across the country in March 2021 were released at a virtual press briefing held on Tuesday.
'Despite some recovery between June 2020 and March 2021, national estimate of new poor still stands in March 2021 at 14.75 per cent which translates into a population of 24.5 million,' the survey report said.
New poor phenomenon is more prevalent in urban areas, it said.
The new poor constituted 21.2 per cent of the national population in June 2020.
Recovery from the economic shock of April-May, 2020 remains very fragile, it said.
The rate of extreme poverty has also increased by 4 per cent since the beginning of coronavirus outbreak in March 2020, the survey found.
According to the findings, per capita income is still 7 per cent, 14 per cent for urban slums, below the pre-Covid levels in March 2021 compared to February 2020.
Income still below pre-Covid levels for all occupations except agriculture, it said.
PPRC executive chairman Hossain Zillur Rahman said that the income of the vulnerable non-poor — the group above the poverty line but below median national income — recovered at the slowest rate.
The income of 50 per cent of the vulnerable non-poor dropped below the poverty line, he said.
The income of 72 per cent of the vulnerable non-poor sank below the poverty line in June 2020.
He also said that households were facing the second wave of the virus infection with significantly depleted coping capacity as savings declined by 24 per cent and 11 per cent in rural and urban households respectively, debt burden doubled between April 2020 and March 2021 for most groups.
According to the survey, employment scenario improved from June 2020, yet 8 per cent of those who were employed before Covid are currently out of work.
Unemployment rates remain high for skilled labour, salaried jobs and housemaids at 14 per cent, 11 per cent and 32 per cent respectively.
Around 41 per cent had to move to less skilled occupation by March 2021.
The trend is particularly concerning for women — a third of the women employed before COVID have remained unemployed since June and the unemployment rate among female is five times higher than men, it said.
According to the study, the majority have moved to unskilled labour, for example, day labour, from better occupations like skilled labour, salaried jobs, and factory work.
A total of 27.3 per cent of urban slum-dwellers migrated in 2020, of which 9.8 per cent have not yet returned.
Urban non-food expenditure burden has also increased by 98 per cent with a significant rise in all items, including rent, health, transportation and utility, between June 2020 and March 2021
BIGD executive director Imran Matin said that the persistently high unemployment rate among women, caused by Covid-19, could push many women out of the labour market, a grave outlook in a country where women's labour force participation was already low.
The report said that there was urgent need for specific new and significant programmes, parallel to existing safety nets, for urban poor and new poor.
Smart lockdown is both a health and an economic priority to avoid such a new income shock, it said.
The study also calls for an urgent national cottage, small and medium enterprise recovery action plan.
Want stories like this in your inbox?
Sign up to exclusive daily email
More Stories from Country