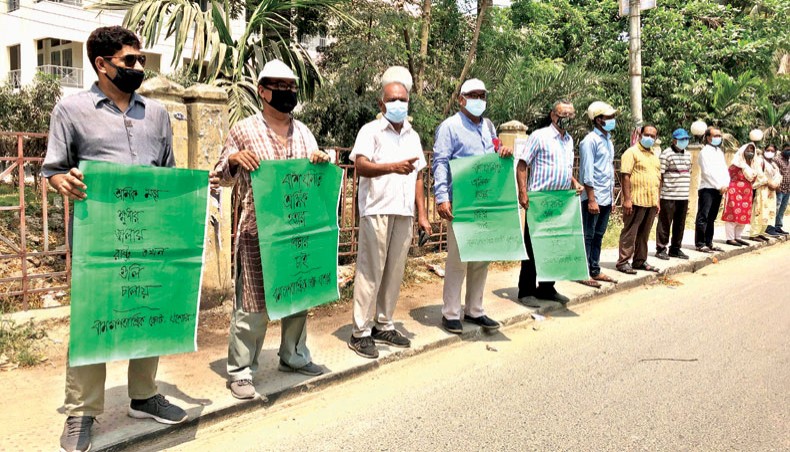 Various political parties and labour organisations continued their protests on Sunday against the death of five workers at police firing at an under construction coal-fired power plant at Banshkhali in Chattogram.
At least five workers were killed and 11 others injured as police opened fire on a demonstration of SS Power Plant workers at Baraghona under Gandamara of Banshkhali on Saturday.
The workers of the power plant, owned by S Alam Group, were demonstrating over several demands, including reducing duty time by two hours during Ramadan and payment of dues.
The Democratic Left Alliance, a combine of eight left-wing political parties, held a rally in front of the National Press Club.
LDA coordinator Bazlur Rashid Firoz presided over the rally that protested at the killings and torture.
Bazlur Rashid Firoz said that police had killed the workers who were continuing peaceful demonstration to realise their justified demands.
Firoz called on the government to form a judiciary enquiry committee that will find out the police officers involved in the incident and will ensure the processes for giving an exemplary punishment to the people responsible.
Firoz also said that earlier in 2016 the police also killed five people of the plant area who opposed the acquisition of their lands by the plant owner.
Communist Party of Bangladesh central leader Sajedul Huq Rubel, Socialist Party of Bangladesh central leader Manas Nandi, Revolutionary Workers Party central leader Akbar Khan and others spoke at the rally.
The rally was followed by a protest procession that paraded different city roads of the area.
Socialist Labour Front held a rally at the same venue protesting at the killings
SLF president Razequzzaman Ratan, who presided over the rally, demanded exemplary punishment of the killers and adequate compensations for the victims.
Labour leaders Khalilur Rahman, Saifuzzaman Badsha and Rashedur Rahman Rashed also addressed the rally.
The rally was followed by a protest procession.
Leaders of Bangladesh Sramik Karmachari Federation also held another protest rally in front of the National Press Club.
The federation's vicepresident, Manas Nandi, presided over the rally that was followed by a procession.
Jatiya Party chairman GM Quader in a statement also demanded judicial inquiry in the killing of workers.
He said that the people who are responsible for the killing should be brought to justice.
Jatiya Mukti Council secretary Faiezul Hakim in a press statement condemned the killing by the police.
He demanded the cancellation of the power plant and punishments of the killers.
Workers Party's Dhaka city unit president Abul Hossain and general secretary Kishore Roy also demanded punishments of the killers.
Want stories like this in your inbox?
Sign up to exclusive daily email
More Stories from Politics