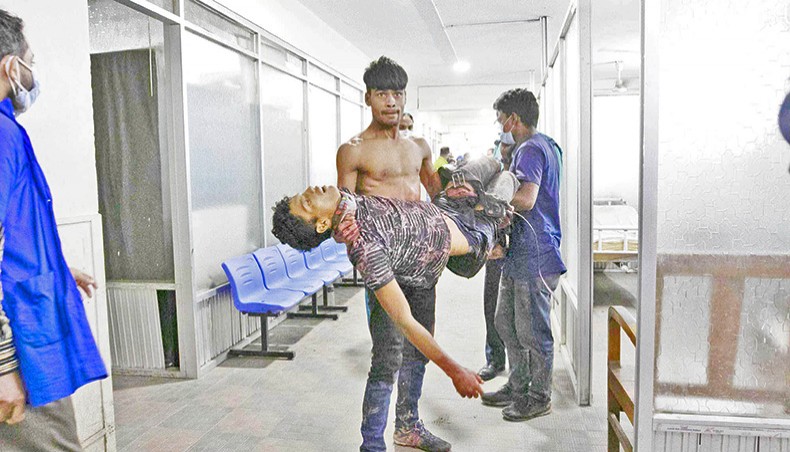 ON APRIL 17, 'at least five demonstrating workers were killed and 11 others received bullet injuries during a clash between the police and workers at an under-construction coal-fired power plant of S Alam Group (jointly with a Chinese company) at Baraghona under Gandamara union of Banskhali in Chattogram. The workers at the power plant called SS Power Plant were demonstrating at the plant from the morning over several demands, including reducing duty time by two hours during Ramadan and payment of dues.' (New Age, April 18, 2021)
The killing of agitating poor people did not happen for the first time in Banskhali, a remote coastal zone in Chattogram. In 2016, people protested against establishing the plant and fraudulent activities of the corporate group. In 2021, they were demanding arrear wages and reduced working hours. In both cases the authority responded with bullet and endless harassment. In fact this was not a 'clash', rather, it was a one-sided attack on the lives of poor people. In order to understand the context we must remind ourselves of the early phase of the project. Therefore, in this essay, I would like to briefly describe the causes of discontent from the very beginning and the role of the state and corporate nexus that used force to roll a project of mass destruction.
I first visited Banskhali in 1991. It was immediately after the deadly cyclone that destroyed the area and killed more than 100,000 people overnight. It was unbearable to stay there for even a minute. I could not walk without touching a dead body or its parts, could not see the area without signs of destruction. In this coastal area, people live and struggle with the mighty Bay of Bengal, live with its resources and also with its rage. In the time of climate change, the possibilities of more destructive natural disasters along with sea level rise are increasing.
Since people's lives are highly vulnerable here, development to them means bringing protection and safety to create livelihoods that would be less vulnerable, a life without fear and uncertainty. Instead, they are confronted with a project that carries graver risks, more fear of uncertainty. Not only Banskhali, but the entire coastal zone is selected for deadly coal projects financed by companies from India, China and Japan and their local allies.
In 2016, people in Banskhali were terrorised by the possible consequences of the coal-fired power plant and became angry as they were constantly harassed by the company men and their lies. In April 2016, they gathered to express their fear. Instead, they were entertained by killing bullet.
The horrific incidents in 2016 and 2021, both in the month of April, which I should call 'development killing' in Banskhali, are manifestations of the state-business nexus against people's interest and workers rights. With an unholy alliance between state officials and corporate groups, the killing of unarmed innocent people was an expression of their 'way of doing things'.
It centred on a 1,224MW coal-fired power project jointly owned by S Alam group, a Bangladeshi business house and two Chinese companies. In 2013, the S Alam group signed agreements with the Chinese companies SEPCOIII Electric Power and HTG to set up the plant. On February 16, 2016, the government of Bangladesh approved the deal and set a price to purchase electricity from the group at a rate of 6.61 Tk per unit. The group started to acquire 600 acres of land for this plant.
Surprisingly, all the steps were taken without any environmental impact assessment and public consultation. There was no environment clearance. Furthermore, people were sceptical and afraid because of their experience with company men of coercion and fraudulence in the land acquisition process. Lack of transparency and irregularities were very much noticeable from the very beginning of the project. The local administration showed a total of only 150 households in the project area, but in reality the area has at least 7,000 households, 70 mosques, grave yards, a technical education institution, about 20 cyclone shelter houses, one high school, eight government primary schools, two aliya madrassah, five qowmi madrassah, five markets, and one government hospital. The hiding of facts is a familiar practice used to rationalise such projects and also to ease handing over 'khas' (government) land to private companies.
Most of the people in the area are poor but hard working and involved in salt farming and various fish and agro-cultivation. As they live under the constant threat of natural disasters, they did not want to increase their vulnerability. When a good number of people were victimised by agents of the company, they were unwilling to allow it any more.
At that time, hollow promises packaged with assaults and threats had been common for months. People had tried to negotiate over the choice of the location of the plant, appealing to spare them from a deadly project. On March 23, 2016, a peaceful gathering was organised in the area with the presence of officials from the administration, in which around 30,000 people participated. They demanded to shift the project elsewhere and wanted their grabbed land back. Nobody from the government and the company cared to hear their concerns. They proceeded with coercive measures.
On April 3, 2016, police arrested seven people from the village accusing them of obstructing the company's work. This triggered discontent among the people and brought them together in a public meeting on April 4, 2016 to register their protest under the banner of 'Boshot vita rokkha committee' (committee to protect homesteads). Meanwhile, locals who were paid by the company called for a counter programme in the same location to foil the event. However, as an eyewitness described, while the angry protesters continued to gather on the spot, goons hired by the company arrived there with 30–40 motorcycles in a 'private army' style. They opened fire on the unarmed villagers. Instead of tackling and arresting the armed miscreants, police joined them. A large number of people were shot on the spot and at least five people were killed.
The people did not gather to assault anybody or to disturb peace. Their demands were simple: first, free the arrested villagers; and second, stop the harassment by middlemen and goons who were forcing them to sell land or involved in land grabbing. They also wanted a transparent hearing on the coal-fired power plant. People had arguments and facts on the possible affects of the plant in the area. They were demanding satisfactory answers and shifting the plant from their area.
Both in 2016 and 2021, the role of police and the government administration appears as clients of the company. Even after killing people, they filed cases against the villagers, continued arresting and terrorising them. In 2016, they even arrested people with bullet injury admitted in the hospital and put them under shackles. In the area, male villagers had to sleep in open places to avoid arrest and to guard the community from any terrorist attack.
With the protection of state terrorism, the work of the plant continued after all the cruel acts. This year another killing, cases, and harassment exposed the nature of the working condition in the construction of the plant. Coercive arrangements to force workers to work for longer hours, non-payment of wages continued for long, at one point the workers had no other option but to protest only to receive bullets.
We feel sad, we feel angry too. If development means people's blood, their lives, their sufferings, if development means the destruction of people's shelter, biodiversity, rivers, and forests, we will continue to oppose this, will call on everybody in the world to make this opposition stronger, will create noise to bring a real change in development thinking. We must give strength to collective voices to bring real development vision in our political agenda.
As long as assault, land grab, eviction of people, and threats continue in the name of development, discontent will prevail. The government must change their attitude of hiding, twisting and denying facts, should move fast to conduct an independent inquiry to ensure exemplary punishment for the people responsible for killing innocent unarmed people in 2016 and 2021. It should also abandon its blind alliance with greedy interest groups. Finally, the government must scrap projects of mass destruction, projects with irregularities and corruption, and projects that are a threat to human livelihoods and the environment including the coal-fired power plants in Banskhali and Rampal, and the deadly nuclear power plant in Rooppur.
Anu Muhammad is professor of economics at Jahangirnagar University.
Want stories like this in your inbox?
Sign up to exclusive daily email
More Stories from Opinion