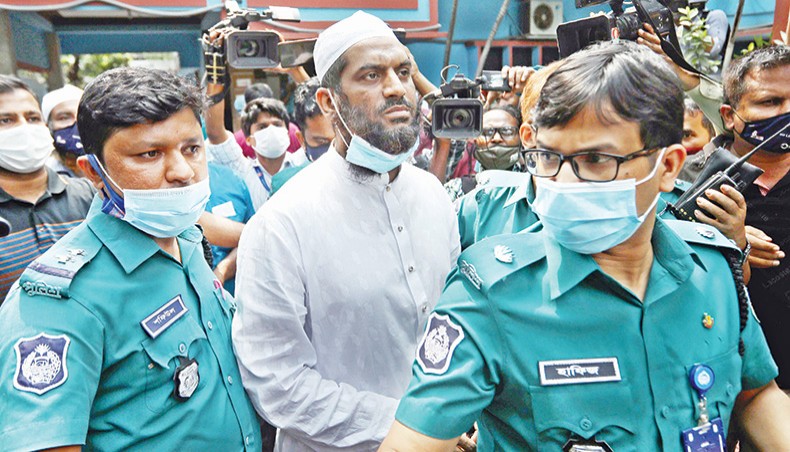 The police on Sunday arrested Hefazat-e-Islam Bangladesh joint secretary general Muhammad Mamunul Haque at a madrassah at Mohammadpur as the law enforcers have continued to detain Hefazat leaders after the violence and protests against the visit of Indian prime minister Narendra Modi to Bangladesh in March.
Mamunul, 47, also the secretary-general of Bangladesh Khelafat Majlish, was arrested at Jamia Rahmaniya Arabia Madrassah by a police team, led by Tejgaon police deputy commissioner Harun Or Rashid at about 12:45pm without any obstruction.
Harun said that Mamunul was arrested in a case filed with the Mohammadpur police station in March 2020 over violence.
Apart from the case, Mamunul has already been named in many other cases filed with the Paltan police station and other places over the recent violence and he would be shown arrested in the cases, said Harun.
Mohammadpur police station officer-in-charge Abdul Latif could not confirm the 2020 case charges.
Another official at the Mohammadpur police station Monday evening said that Mamunul was the number seven accused named in the First Information Report filed after a scuffle in March 2020.
Witnesses said that students chanted slogans when Mamunul was taken to the police custody from the Deobandi madrassah founded by his father, Azizul Haque, better known as Shaikhul Hadith, the founder of Bangladesh Khelafat Majlish.
A large number of police personnel guarded the madrassa area.
Mamunul has been accused in at least 17 cases, including some over the March 26 violence at the Baitul Mokarram national mosque over Modi's March 26-27 visit to Bangladesh.
Student activists and Islamists staged protests against Modi's visit for his role in Gujarat violence and his 'anti-Muslin stance' before and after his visit to Bangladesh to take part in the celebrations marking the golden jubilee of the country's independence and the birth centenary of the country's founding president, Sheikh Mujibur Rahman.
At least 17 people were killed in Chattogram and Brahmanbaria in firing by members of the law enforcing agencies during the protests and violence between March 26 and 28.
Over 70 cases have been filed across the country against 50,000 people and dozens of Hefazat leaders.
Mamunul also triggered controversies with his 'secret' second wife as they were confined by the police along with ruling party activists in a resort in Nayaranganj on April 3.
His conversations with his wife and others were leaked and broadcast on social media platform and media outlets.
Before Mamunul's arrest, at least seven senior Hefazat leaders were arrested and remanded in custody in various charges, including their involvement in the Shapla chattar violence in May 2013.
Hefazat demanded Mamunul's arrest along with others.
Dhaka metropolitan magistrate Shahinur Rahman on Sunday remanded three Hefazat leaders —central joint secretary general and Dhaka unit secretary general Zunayed Al Habib, central unit organising secretary Azizul Haque Islamabadi and central unit assistant secretary Jalaluddin Ahmed — for seven days in police custody in various cases.
Among them, Azizul Haque was put on a seven-day fresh remand in another case lodged over the Shapla Chattar violence in 2013.
He had been on remand since April 12 after his arrest in Chattogram on April 11.
Meanwhile, the police said that they had arrested Sonargaon municipality ward councillor Faruk Ahmed Tapan on charge of carrying out attacks on the Sonargaon resort to rescue Mamunul and his 'second wife' from the police escort on April 3.
Faruk, a former Chhatra Dal leader currently involved in the Jatiya Party, was arrested at his house in Bhabanathur area at about 12:30am on Sunday, said the Sonargaon police station inspector for investigation Khandekar Tabidur Rahman.
Want stories like this in your inbox?
Sign up to exclusive daily email
More Stories from Country