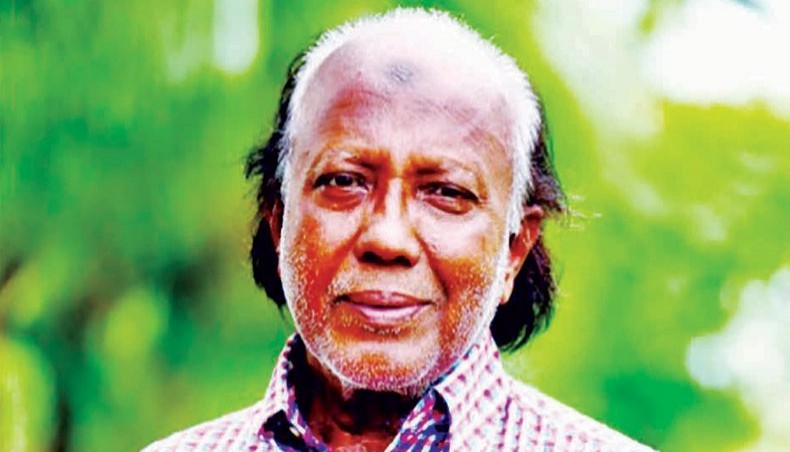 SM Mohsin dies of Covid-19
Cultural Correspondent
Ekushey Padak-winning theatre activist, actor and freedom fighter SM Mohsin died of Covid-19 on Sunday morning while undergoing treatment at BIRDEM General Hospital in the capital. He was 73.
The actor's son Rashek Mohsin confirmed the news to New Age.
'My father breathed his last at about 9:30am on Sunday at BIRDEM General Hospital,' said Rashek Mohsin.
'He was buried at Azimpur graveyard following his namaz-e-janaza at Paribagh Jame Masjid after zuhr prayer,' Rashek added.
He was buried with state honours. He is survived by his widow and two sons.
State minister for cultural affairs KM Khalid expressed deep shock at the death of SM Mohsin. Colleagues and entertainment industry insiders also recalled his contribution.
Acclaimed theatre activist Mamunur Rashid said, 'He was a skilled actor. I had a friendly relationship with him. He not only taught students at academic level but also during acting. The students he groomed are doing well. He taught us how to integrate yoga exercises into acting lessons. He was the pioneer of using yoga exercise in acting.'
'He was a good person. May his departed soul rest in peace,' Mamunur added.
Bangladesh Group Theatre Federation secretary general Kamal Bayezid said, 'We received help from Mohsin bhai at Group Theatre Federation. He was a very friendly person who never misbehaved with anyone.'
'Mohsin bhai used to act as chief election commissioner during the elections of various cultural organisations, including chief election commissioner during the Group Theatre Federation election. Though he was a talented actor, he used to lead a simple life,' Kamal Bayezid added.
Acclaimed teleplay maker Chayanika Chowdhury said, 'I worked in many productions with him in my childhood. He always greeted everyone with a smile and treated everyone with care and love. He used to give me two or three phone calls every month.'
'Many talented people in our country have passed away. I have been spending my days in anguish as 15 days ago I tested positive for Covid-19,' Chayanika added.
SM Mohsin tested positive for Covid-19 on April 5. He was admitted to Holy Family Red Crescent Medical College and was later shifted to Impulse Hospital. The impulse hospital authorities moved him to ICU. Later, he was taken to BIRDEM General Hospital when his condition deteriorated.
SM Mohsin was born in Tangail on January 30, 1948. He studied Bangla and journalism at Dhaka University.
Mohsin made his radio debut performing in a play named Padakshep. He was also involved in theatre troupe Drama Circle.
SM Mohsin was a teacher at drama and dramatics department of Jahangirnagar University. He also served as the acting director general of Bangladesh Shilpakala Academy. He became an honorary fellow of the Bangla Academy in 2018.
SM Mohsin acted in many theatre performances and TV dramas, including Atiqul Haque Chowdhury-directed play namely Rokte Bheja Shapla, Munier Choudhury-directed play Kabar and Chithi. Besides, he acted in theatre productions namely Dipantar, Subachan Nirbasane, Chup Adalat Cholchhe and small screen productions entitled Mahar Ali, Sakin Sarisuri, Garam Bhat Athaba Nichhak Bhuter Galpa, Nilambari and others.
He also acted in films namely Chitra Nadir Pare, Brihannala and others.
He received Meril-Prothom Alo Puraskar, Shilpakala Padak and Ekushey Padak.
Want stories like this in your inbox?
Sign up to exclusive daily email
More Stories from Theatre