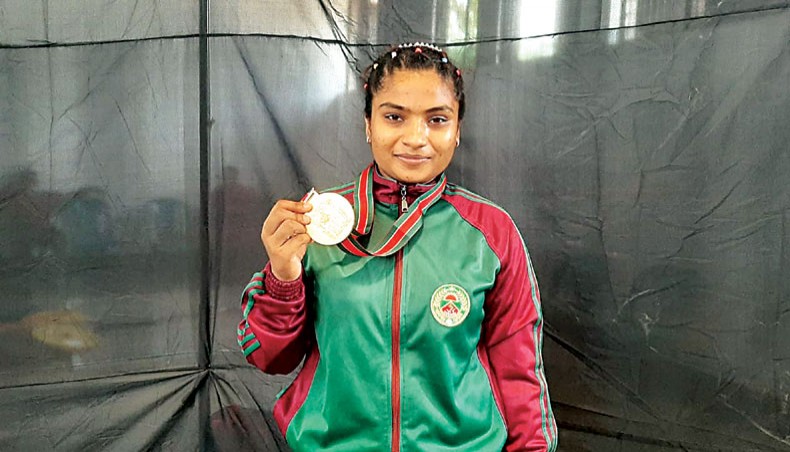 The ongoing countrywide lockdown and the subsequent cancellation of all passenger flights have thrown the country's premier weightlifter Mabia Akter's hopes of participating in the forthcoming Tokyo Olympics as a wildcard in jeopardy.
To confirm her Olympics wildcard, Bangladesh Ansar weightlifter Mabia along with Bangladesh Army weightlifters Monira Kazi and Ziarul Islam are scheduled to leave for Tashkent, Uzbekistan to take part in the ongoing Asian Weightlifting Championship which began on April 16.
The championship will end on April 26.
Mabia, who participated in the last six senior level competitions for her country, was hopeful about utilising the chance to qualify for this year's Tokyo Olympics through participating in this tournament in Tashkent.
According to the rules, weightlifters need to participate in seven consecutive competitions at senior level to avail one of the 10 wildcards and Mabia only needed to participate in this tournament to avail the wildcard chance for Olympics qualification.
Mabia is scheduled to leave home on April 19 while Monira and Ziarul are set to leave on April 23 but the ongoing lockdown will continue till April 21, making it virtually impossible for her to make the trip.
'I am working hard for it [to avail wildcard chance for Tokyo Olympics] but travel restrictions have made it very difficult,' Mabia said.
'I want to see myself there [Olympics]. That is my main goal. If I could take part in Uzbekistan, I would get a ticket to compete in the Tokyo Olympics,' she said.
While the weightlifters are stuck at home, their coach Shariar Sultana Suchi and technical officer Faruk Sarkar Kajal are already in Tashkent after leaving the country on April 13.
Bangladesh Weightlifting Federation general secretary Nazrul Islam informed that the flight schedules for the athletes and officials were determined by the organisers before the Bangladesh government imposed the travel restrictions.
'Who will fly when it was decided by the hosts country organisers…Flight tickets for all had been confirmed earlier…Mabia is scheduled to leave on April 19 while Monira and Ziarul on April 23,' Nazrul told New Age on Saturday.
'The two officials, Suchi and Kajal, could manage to go as their flight was scheduled on April 13.'
Nazrul informed that the federation is communicating with the International Weightlifting Federation general secretary Mohammed Jalood to solve the matter.
'We are trying our best for Mabia. We have already asked the IWF secretary to consider her [Mabia's] consecutive participation in the previous six competitions. He [Jalood] promised us to discuss the matter in the IWF committee meeting,' said Nazrul.
'If the travel restriction ends on April 21, Monira and Ziarul have a chance to participate… but I don't think she [Mabia] will be able to go,' he said.
Mabia, gold medallist in 2016 and 2019 South Asian Games, won gold in the women's 64kg weight category for Ansar in the ninth Bangabandhu Bangladesh Games while Monira and Ziarul won gold in the women's 81kg and men's 96kg weight categories respectively in the Games.
Want stories like this in your inbox?
Sign up to exclusive daily email
More Stories from Miscellany