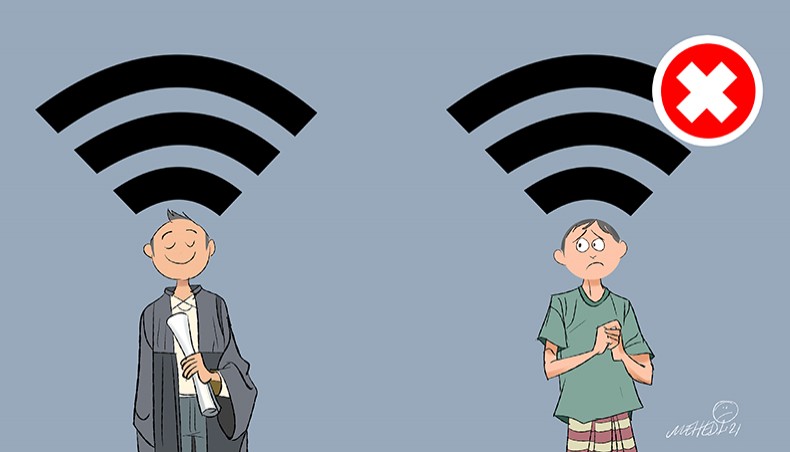 Educational institutions of Bangladesh are physically closed for more than a year and many have already opted for distance learning methods. Many institutions are yet to start the journey mostly due to a lack of available resources and high-speed internet. The economic background has become a major factor for the students to get the benefits of technology. Syed Laden argues that the situation is widening the digital divide
THE COVID-19 pandemic has forced educational institutions all over the world, including Bangladesh to close. Since March 17, 2020, educational institutions in Bangladesh have been closed. As a result of the crisis, countries all over the world were implementing remote learning strategies, depending heavily on online classes or distance learning. Bangladesh, on the other hand, has had a different experience. Although some schools and colleges have chosen to offer online classes and tests, others have not. There are questions about technological availability and affordability for conducting remote learning.
Bangladesh's current government has declared a goal of creating a 'Digital Bangladesh' by 2021. The word 'Digital Bangladesh' refers to four interconnected elements — digital government, digital education, digital business, and digital citizen. Data literacy, as well as availability and usage of computers and digital devices, are critical components of Digital Bangladesh, which necessitates reorganising the educational system to ensure equitable access to high-quality education.
Since the coronavirus started, the country's educational institutes have been closed for over a year now. As the pandemic stayed, the authorities were forced to regularly reschedule the reopening of schools, colleges, and universities, just like the rest of the world.
In the meantime, educational development is being hampered by the lack of remote learning facilities, especially for students in primary schools, high schools, and those from low-income families. It also reflects the country's technological disparities which will lead to greater educational disparities among students based on their access to remote learning facilities in the future.
The lack of remote learning facilities demonstrates that the country's education system has yet to fully embrace digitalisation. As a result, many students around the country are now without access to education, potentially leading to greater inequality in the future.
Talking about 'Digital Education', this concept was based on attractive e-learning environments in schools, as well as distance learning through television, radio, mobile, and by using the internet. The government outlined a vision for 'Digital Bangladesh' in its 'Vision 2021 Masterplan,' in which information and communication technology will be used in education, healthcare, and socioeconomic growth. Since the vision's establishment in 2009, Bangladesh has introduced policies to digitalise education.
The government's policies have resulted in the digitalisation of education in classrooms. The digitalisation of education, on the other hand, has not been expanded outside the classroom. This restriction arises from the fact that most households lack the devices necessary for digital education, such as computers, smartphones, and internet access. There is also a scarcity of training on how to effectively use such devices at home to obtain digital education.
As a result, the complete digitalisation of education was unthinkable. As a result, the implementation of remote learning in Bangladesh has been hampered during the current pandemic when students and educators must remain at home.
Many complaints were raised nationwide by the students pointing to the policymakers. Students from kindergartens to high schools in urban areas adapted to the online teaching strategies to continue their education as the pandemic progressed and the lockdown lasted for months. However, difficulties shifting to a fully digitalised version of education occurred quickly.
Hasina Akter, principal of Angelica International School, shared her struggle with New Age Youth, 'Teachers encountered challenges in tutoring students who did not have access to traditional schooling.'
In the middle of March 2020, many interested officials have begun to consider alternatives to the traditional classroom as a means of resuming higher education. E-learning emerged as a viable option for overcoming social barriers. As a result, the University Grant Commission has granted conditional permission to offer online classes and exams. Online courses were introduced at private universities.
In early May 2020, the University of Dhaka, with a reputation for being a first mover, declared that it would be unable to offer online classes. DU, like other public universities, does not lack qualified students or qualified teachers to conduct online classes rather access to digital technology and knowledge of how to use relevant materials in online classes has been the most significant major obstacle to the introduction of e-based education in higher education. This was a common occurrence at most of the public universities in Bangladesh.
Aside from the rural-urban divide, children from low income and lower-middle-class families are unable to enrol in online classes. This disparity in student access to online learning facilities has sparked a new debate on social media about what we call the digital divide — a phenomenon that is not new either.
These two counter scenarios in Bangladeshi higher education illustrate the widely used phrase digital divide in which one group advances while the majority lags due to technological disparities. The overall inequity in Bangladesh society is reflected in this technical imbalance or inefficiency. The reluctance of public universities to step forward in e-learning indicates how unprepared we are for Digital Bangladesh 2021.
Firoza Akter, principal of Debottor Government Primary School, echoed the same while sharing her difficulties in adapting to the new teaching methods, 'Teachers and students both struggle with the connectivity and devices to conduct distance learning as the school area was placed in a remote place.'
Many households in Bangladesh lack some of the basic equipment needed for conducting online classes. Many households, especially those outsides of Dhaka, lack access to computers, the internet and even television. When it comes to owning computers, there is also a divide between the poor and rich.
On the one hand, Bangladesh has the cheapest per GB mobile data internet in whole Asia and ranked 8 in the whole world in 2021 for providing the cheapest rate, according to Cable.co.uk report. The Bangladesh Bureau of Statistics' Multiple Indicator Cluster Survey 2019 shows that only 37.6 per cent of households in the country have internet access. It also found that only 5.6 per cent of households have a computer.
Sohrab Hossain, principal of Bilbilash High School, while talking to the New Age Youth said that these data backed his experience. 'In response to challenges such as our students' limited access to digital equipment and technology, we started delivering lectures online nonetheless,' he said.
The COVID-19 pandemic, on the other hand, has boosted the case for universal internet access, encouraging a strong consensus that keeping anyone offline is too expensive. The crisis has created a new window of opportunity. The pandemic has told us that having simple internet access is insufficient. Its useful features, such as video calling and live streaming, require the highest form of internet access to perform online classes. Unfortunately, students in Bangladesh's remote areas lack sufficient bandwidth to make online education realistic.
Students from low-income families, as seen in the study, face the greatest barriers to digital education throughout this pandemic. Such obstacles have been caused by a combination of equipment and internet connectivity. Students from higher-income families, on the other hand, have access to digital education during this period. As a result of this imbalance, students from economically solvent backgrounds could benefit from the pandemic and become more skilled than students from economically marginalised backgrounds.
Inequality does not exist only on the student side. While teachers in schools and colleges have received basic ICT training, they may have difficulty using technology for conducting online classes, such as web conferencing software. Teachers in urban areas can use learning opportunities provided by schools and colleges to hold online classes. Rural educational institutions and teachers, on the other hand, may lack access to technology in the first place. Therefore, even though the teachers have the necessary qualifications, they might not be qualified to teach the classes.
To address such a situation, the government should make use of existing technologies that are readily available in many households to provide children with digital schooling. Online education is not only a valid option to teach during the pandemic, but it is the future.
The overall experience in the last year is a testament that digitisation of the country is empty rhetoric of the ruling party that they have been using for the last decade. When the time comes to test what they have done in the last decade to lead a digital revolution, it is revealed that economic class is the determiner of availing digital opportunities. Without a contextualised and inclusive digital policy, the commoners of Bangladesh will not be benefitted.
Syed Laden is a student of Independent University Bangladesh and an intern at New Age Youth.
Want stories like this in your inbox?
Sign up to exclusive daily email