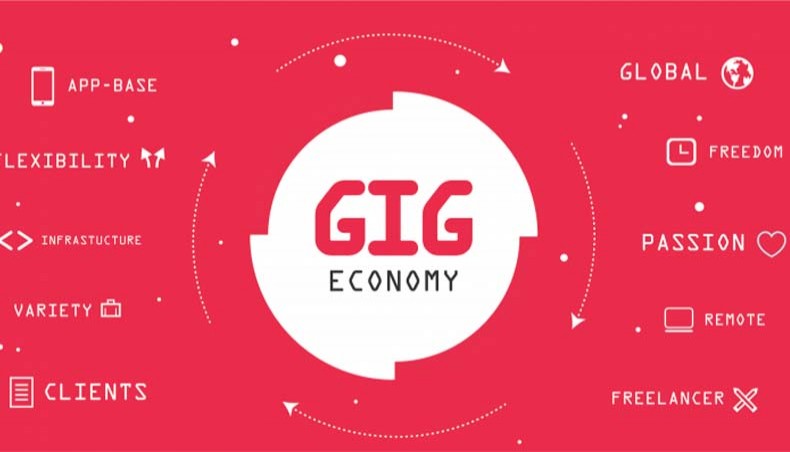 Not all jobs get equal respect in society and respect is often dependent on the pay-checks that the job generates. With the rise of the gig economy, a lot of youth are earning from the different platforms and many of these jobs are not getting proper respects. MD Talebur Islam Rupom writes about the social stigmatisation of certain jobs
Rahman from Panchagarh is a second-year university student in Dhaka. He belongs to a middle-income family. Nevertheless, he also wants to contribute to his family by doing a part-time job as a deliveryman. His family, friends and relatives have come to know about his job and they disapproved his working as a deliveryman. They think he is doing a low-level job.
Riya is in Dhaka since childhood and is pursuing her undergraduate studies at a private university. She requires support for her tuition fee. Hence, alongside her academic degree, she works in a ride-sharing service. However, she faces a somewhat similar situation to Rahman and additionally gender-based stigmas too.
Likewise, millions of people encounter such social stigma in their lives that Rahman and Riya face. They face sharp comments from their friends, relatives and families. Most of the young expatriates from Bangladesh do such jobs alongside their study or even as full-time work while pursuing their academic degree abroad.
Economically developed countries somewhat socially accepted the importance of all sorts of jobs. However, it is extremely tough in Bangladesh to do such a daring and self-esteemed step for chasing a better life here. Because there are people to demoralise someone with typical social stereotypes and stigmas.
So, elitism or the tendency of elitism comes into the discussion.
There are numerous reasons behind such social stigmas happening in Bangladesh as well as in South Asia that consider particular works in a very humiliating way and worship some particular professions. It impacts an individual's mental wellbeing and eventually, their livelihood. It does not stop there; it keeps affecting our economy.
In Bangladesh, as high as 85 per cent of employment (92 per cent for female and 82 per cent for male) are informal by nature. Six million or three per cent of the population are freelancing. Bangladesh is the second-largest supplier of online labour (16 per cent), according to the Oxford Internet Institute report of 2017. However, online labour supply from Bangladesh increased in recent years, especially in creative and multimedia, but declined in sales and marketing support as per the International Labour Organization report in 2021. One of the reasons behind decreasing the sales and marketing involvement from the people is that it necessitates direct contact of a person in work apart from required skills. We take the platform economy as an example.
The platform economy, also known as the gig economy, refers to ride-sharing, online freelancing, food delivery et cetera, among other independent gig-based works and has been growing fast in Bangladesh. Already, Foodpanda, Shohoz, Pathao, Uber, HungryNaki, Truck Lagbe, et cetera have touched millions of lives. With the evolving nature of work, it is often dubbed that the future of work is the sharing economy or the gig economy. It provides flexible work opportunities to workers, ideally letting them control their work hours and how they are paid.
A 2019 report says that already 3 per cent of our population is engaged in gig work in Bangladesh. The gig economy, especially the workers, operate within an informal setting. It is growing very fast and comprises services like ride-sharing, outsourcing, e-commerce and delivery services, food delivery, et cetera.
Recruitment in the gig economy is easier than other orthodox employment where a fresh graduate is expected to have few years of experience in an entry-level job alongside the hassle of lobbying. It seems ridiculous to look into the conventional recruitment process. When the same person works somewhere during studies to gain experience, society tries in every possible way to make obstacles to stop them. Some youth provide tuitions to others which are considered as decent work. Whereas ride-sharing, delivery or data collections are taken as low-level works.
Since Bangladesh has a tremendous unemployment rate, it is hard to find work. So, many passionate youths try to manage something and earn the gig economy.
I lived in Indonesia for few months with a scholarship. Even though Indonesia is a developing country and having a religious mindset like ours, I found them respecting every work — no matter what as long as it is ethical and honest. It is normal for them to work anything to support themselves or their family and also to gain experience.
Indonesia has a significant unemployment issue with religious conservativeness, but their youth and people can still work anything they want to do for their reasons. Social elitism plays a crucial role in such a mindset.
Here, people are judged by the way they use English. These stigmas exist in every social and economic class here. Our society is not ready to accept diversity — either they worship some profession or throw a particular group away.
Such social stigmas prevent a country from going forward. It is high time that these stereotypes need to be stopped for the sake of the progress of individuals and the nation. It bars an individual to grow personally and professionally throughout their life. Alongside, their family also pay the price for such loss. It is always beneficial as a whole to utilise the existing resources without being judgmental about specific works.
MD Talebur Islam Rupom is a contributor to the New Age Youth team.
Want stories like this in your inbox?
Sign up to exclusive daily email
More Stories from Mindspeak