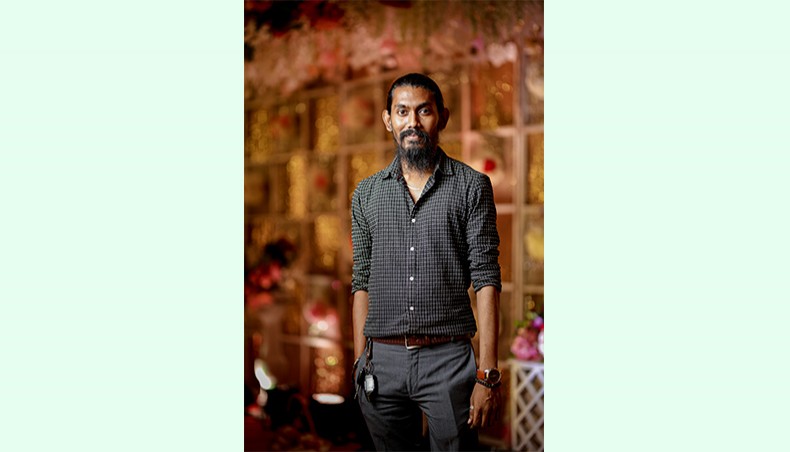 Many academically trained young individuals are finding their formal education redundant and pursue a completely different career. Shafayet Hossain, a young professional photographer proves that focusing on your passion can generate a career. He writes about his experience
WHEN I was young, life was very difficult. Sometimes it felt like I was living my life from my parent's perspective. My life was full of restrictions and barriers where I was not able to think of anything on my own.
Every event of my life was under the surveillance of my family. The conservative trait of my family kept me in a position where they only cared about what others will say or how society will judge.
So, I had to think in a certain manner to be a good boy and it was the greatest achievement of my life. But it did not make me feel special because at the end of the day I was not following my dream.
I was fortunate enough that I got the opportunity to learn music because it was also my family's wish that I will sing for them. It was more like that they were fulfilling their wish by making me do which they could not do on their own. Anyways, I started liking music and I kept practising it from the very first day.
I had few school friends who were also fond of music and we used to listen to music and shared almost the same taste in music. So, we give it a thought of forming a band where we all are going to stick to each other through music. We had a vision of forming a career in music because we had that potential and we were following our passion.
But then again, I was not lucky enough to run my band because half of my band members went abroad to pursue higher study. I was left alone with no wish to start or run my band again without them. As I have been uncertain about what I should do next, my university life has already begun.
I started my university with a major in environmental management without even knowing my work field or job opportunities. By the time I started to build up a connection with my major and I was dedicated to working for the environment. I was an explorer at that particular age and I wanted to capture every moment I spend with the environment. But I was suffering from the lack of practising music on my own as it was my only passion back then.
Passion took no longer to extend my priority towards the camera. I clearly remember it was in 2011, my cousin had a professional camera and I was very curious about this advanced technology of the camera.
After a year, in 2012, I brought a professional camera for the sake of taking photos of environmental studies where I could get all the details and store the memories I've been working with. But soon things started to fall apart because I had to change my major to business studies because of my father and lost two years of my life and research. This made me lost interest in my academic career.
I got myself involved with music again and started to spend time participating in musical events. Let's not forget that I own a professional camera at that time and I carry it with me whenever I go to a musical event.
The love for the musicians encouraged me to capture photos to keep memories of my happy times. By the time I was getting used to my camera and my hand was getting free to capture more and more lively photos. Then I started to share my photos on social media and I got noticed by the organisers of the events. Slowly but I started to get offers to work with those organisers to cover the whole event. Even I got offers from those bands whom I used to dream about that one day I will become like them. In that time, I became one of the band's official photographers which is one of my greatest achievements. Then I got one invitation as a guest from an emerging clothing brand.
Though I was invited as a guest, I still carried my camera with me to capture some moments of the event. At one such event, some top-level fashion designers noticed my work and one of them invited me to his ongoing exhibition. Not only that but also, he offers me to work with him after the exhibition. Then I started working with him as a professional photographer and my first photographs were published in a very renowned daily newspaper.
Then slowly I started to work on festivals like Pahela Baishakh, Eid, and Puja. After that, I got an offer from some fashion houses to capture their new collection for Eid and Puja.
In 2015, in that same season, my works were featured in a renowned 32-page magazine where 24 of the pages were filled with my work. After this achievement, I don't have to look back because, at that time, I was highly noticed by prominent fashion designers and makeup artists of the fashion industry.
After getting the response of the industry and the fame I have managed to get, I started to make money out of it. Then I created an event photography team of my own with the help of my cousin. We started to get offers and then we created some event packages to deal with the clients easily. Let's not forget that I was still a student back then.
While working in the fashion industry, I had a fashion studio named Studio EXIF in 2014. But I was gradually shifting myself to wedding photography alongside my wedding and event photography team, known as Memorio. Since the start of Memorio in 2014, we as a team got immense pressure from the clients as we were progressing day by day. Slowly the team was getting bigger and I was able to establish Memorio as an event management solution in 2018.
A fun fact about myself is I do not have to show my undergraduate degree to do any sort of work that I am doing right now. Needless to say, I did my undergraduate from North South University and I have spent two years in environmental management and five years in BBA. It started in 2010 and ended in 2017. I had to finish my undergraduate for the sake of my family but otherwise, this degree is meaningless for me because I have no use of this degree in my professional life.
It would have been wonderful if I were able to do my undergraduate in any kind of photography-related degree.
Shafayet Hossain is the owner and photographer at Memorio.
Want stories like this in your inbox?
Sign up to exclusive daily email
More Stories from Initiative