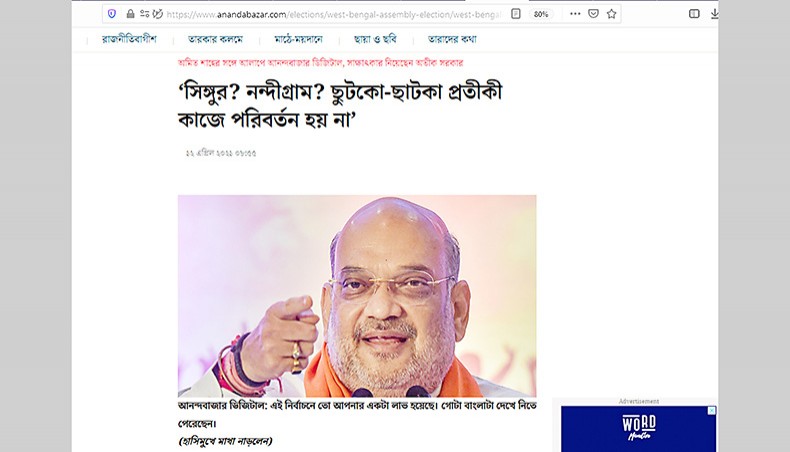 Nazbul H Khan writes on the interview of India's home minister Amit Shah with Anandabazar Digital's Aveek Sarkar
AVEEK Sarkar has interviewed the BJP's Amit Shah on behalf of Anandabazar Digital during the West Bengal elections in India, published in April 12–13. Aveek Sarkar, the chairman of the Press Trust of India, the most senior person of the Sarkar family of the Anandabazar Group, is highly successful in blending journalism and business. Amit Shah is the BJP's leader in recent power games at the all-India level, highly accomplished in bringing business into politics.
The interview is significant in judging India's politics of West Bengal. However, both of them can read each other very fast when success is their habit. Sarkar was keen to know what Shah's next career goal would be. During elections, politicians say a lot, keeping in mind the battle of votes. The question is how politely a top BJP leader speaks about his neighbouring country. India's Citizenship Amendment Act has been a significant issue in Indian politics in recent years. Any bill in India's parliament is, of course, an internal matter of India. Still, to gain cheap popularity, it is not polite to say that Bangladesh's poor people are entering India because of hunger.
In the last statement of the interview, Amit Shah did not forget to claim him to be a trader (beniya). To Amit Shah's comment, Bangladesh's foreign minister has responded in a few words while he maintained etiquette. The foreign minister is well aware that statistics of the two countries could have bee taunting for Amit Shah. But he did not walk in that direction. He just said that Amit Shah's 'knowledge about Bangladesh is very limited.' He may not have wanted to give so much importance. He knows better that Amit Shah is a trader.
In the politics of South Asia, Bangladesh once went with the flow. Bangladesh is gradually becoming a catalyst for controlling the region. Economic and social development has become more effective in this regard. Still, the foreign policy respecting the neighbours is probably the best strategy which is eventually pushing Bangladesh to play that role. And perhaps that is why the foreign minister of Bangladesh has been able to reject this heavyweight leader of the Bharatiya Janata Party in a word or two. The politics of vote is a matter of reckoning. As a trader, Amit Shah has mastered the subject very well and is pursuing politics accordingly. There is no doubt that his party's tally is increasing the number of votes for them. Hate speech against neighbouring countries is much more effective in perpetuating the sense of Indian nationalism. The politician to whom the number is all sometimes needs to target China, Pakistan and Bangladesh. It is just political misery to drag another country into one's own elections.
In December 2019, I had the opportunity to visit West Bengal. Indian politics was very heated that time. A few people had already lost their lives in the movement; roads were blocked in different places; and railway services were disrupted. In Kolkata, as an observer, I was curious to know if these demonstrations are only by a few anti-government, progressive, cultural activists in a city of culture and heritage. So much fuss about the citizenship bill? What is the matter? Why is the bill such an important issue? The respondent was a conscious and educated professional who said, "This bill was essential. Lots of people enter from Bangladesh and they are involved in various crimes. They come for work from Bangladesh. North Bengal is full of Bangladeshi Muslims. In Bashirhat, there are many colonies that central government agencies cannot even enter.' He was asked why so many people come to West Bengal from Bangladesh and where do they live. Any references or statistics? Naturally, the talk does not go anywhere — hatred, ridicule of Bangladesh by responsible government functionaries, processions, shooting, the loss of life, vandalism, disruption in train services, but there are no statistics.
Another person who was involved in politics for a long time had something to say. Many people built houses, bought flats in the suburbs during the left regime with his grace. 'Why would Muslims come?' The question was if he had helped any Muslim family to settle in the locality. So, maybe, Shah is correct — 'Bangladeshi Muslim will enter Kolkata within 10 years.'
So why not reaching out to a man from Raiganj of North Dinajpur, settled in Kolkata. The man had plans to buy another flat nearby and take his parents there. 'I have tried, but I am not getting what I want for the price.' Whether he wants to sell his land in his village? The discussion starts from a different angle. 'Why not?' a lot of Bangladeshis infiltrate border areas. There should be reasonable land prices. In response to the clue, he said: 'This is a fact. Many Hindu families from Bangladesh settled in our regions. We experienced in our childhood. But why will they come now when Bangladesh is moving forward?' It seems this man does not have faith in Shah's claim.
So let us fly to Bagdogra to find out Muslim infiltrators. Madarihat near Alipurduar. The conversation began with two members on the staff of a guest house in a place where they are original residents. Although their ancestors migrated from Rangpur decades ago, they have no idea about the villages or colonies of Bangladeshi Muslim infiltrators anywhere in the vicinity. These two Hindu women, (apologies, they are human) work for a non-governmental organisation. Their organisation works in North Bengal with ethnic minorities involved in the tea industry for generations.
The last attempt was to take refuge in a childhood friend. The friend migrated to an area near Siliguri about 20 years ago. He drove 40 kilometres with a scooty for the meeting; it was a thrilling reminiscence, seeing after a long time — the story of how the family from villages built this far-flung settlement is not unknown. Identity crisis and migration of minorities have their discourse. However, the last question was whether he knows any villages or colonies of Muslim infiltrators from Bangladesh. Amit Shah, perhaps, has statistics, but the childhood friend answered in the negative.
Naturally, the question may arise: how insulting is it for us to often know when people of Bangladesh enter India for hunger. Is it because India, the world's largest democratic country, is preparing its ground with the exact blueprint for ethnic cleansing that began in Myanmar in the 1960s. Two champions did not discuss matters to minority communities but Amit Shah's following career graph, the next challenge, counting the investment and return. Ordinary public of Bangladesh may be disturbed by the comments of this gravitational force of Indian politics. However, the statement of the foreign minister of Bangladesh is top-notch in this case. It is not easy to simplify whether the industry will enter West Bengal from Gujarat or Maharashtra. But the story of Muslim infiltration is very fruitful as an investment in ballot boxes. The trader knows well although he has no statistics of Muslim infiltrators.
Nazbul H Khan is chief executive officer of Part II and analyst of South Asian Politics.
Want stories like this in your inbox?
Sign up to exclusive daily email
More Stories from Opinion