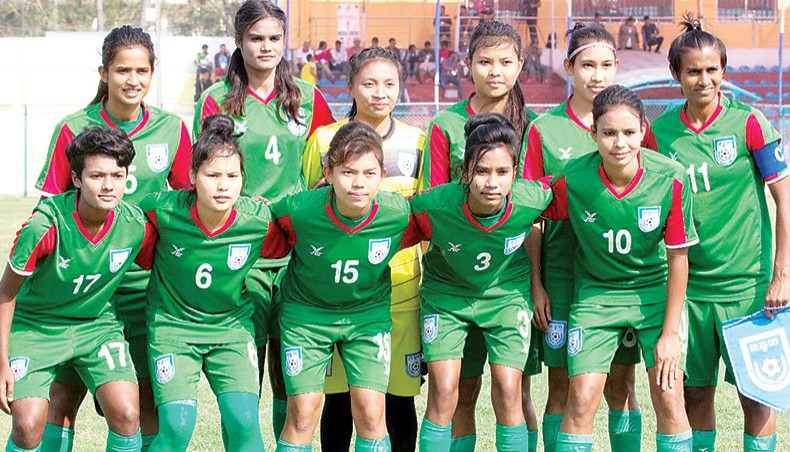 Bangladesh women's football team has been included in the latest FIFA rankings, which got updated on Friday, after the world football governing body extended the permitted-inactivity period at the international stage from 18 months to 48 months to remain in rankings.
According to the latest rankings, Bangladesh women's team ranked 137th, which is three steps down from their previous position, among 167 countries.
Bangladesh slipped to 134 from 130 in the FIFA women's ranking updated in August 2020 but then got entirely dropped from the list on December 18, 2020, due to not playing a single international game in the previous 18 months.
Considering the COVID-19 pandemic situation, FIFA extended the permitted-inactivity period to 48 months, which paved the way for Bangladesh as well as some other countries to return to the rankings.
'FIFA extended inactivity period from 18 months to 48 months due to the COVID-19 situation,' Bangladesh Football Federation's women's wing chairman and FIFA council member Mahfuza Akhter Kiron told New Age.
Bangladesh women's team played their last international match on March 20, 2019, where they suffered a 0-4 defeat against India in the semi-finals of the SAFF Women's Championship in Nepal.
The BFF was hoping to regain the place in FIFA women's rankings by utilising FIFA's next international window in September-November through participating in an invitational tri-nation tournament in Nepal.
'We were trying to play in Nepal in September-November window to regain the place in rankings,' said Kiron.
Kiron informed that during her visit to Nepal during Bangladesh men's team's campaign in the tri-nation tournament in March, the All Nepal Football Association president Karma Tsering Sherpa proposed BFF to participate in a women's tri-nation tournament.
'We got a proposal from ANFA president to participate in a tri-nation tournament and agreed as we needed to get back into FIFA rankings,' said Kiron.
'Yes, it is good news, but we must stick to play in Nepal as our girls need to participate in competitive games,' she continued.
'We got the place in FIFA rankings and now our target will be to move up in rankings. We want to win the title in Nepal to move up in FIFA rankings,' added Kiron.
Hosts Nepal and Kyrgyzstan will be the two other participating teams in the women's tri-nation tournament.
Want stories like this in your inbox?
Sign up to exclusive daily email
More Stories from Cricket