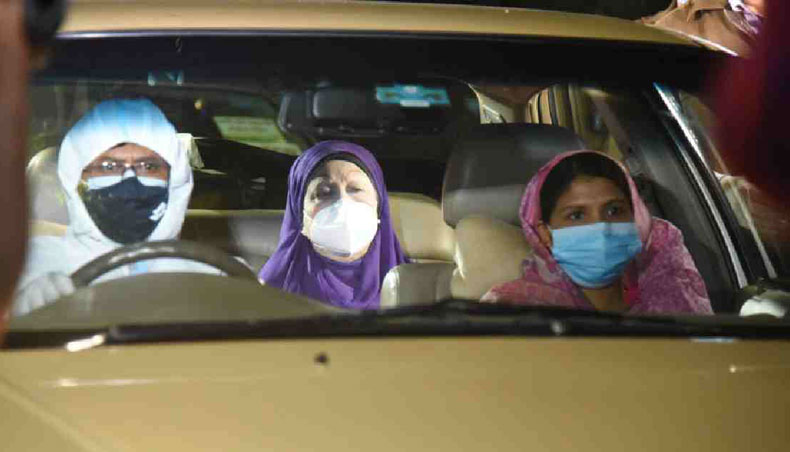 The CT scan has detected a very nominal lung infection in opposition Bangladesh Nationalist Party chairperson Khaleda Zia, according to a medical test report on early Friday.
Khaleda had the CT scan on Thursday night, six days after she had tested positive for COVID-19.
'We got the CT scan report at midnight and reviewed it. Another medicine was included in her prescription and she is under close observation,' said BNP vice-chairman AZM Zahid on Friday.
He told New Age that BNP acting chairperson Tarique Rahman and his wife Zubaida Rahman were informed about the development in the night and Zubaida also analysed the CT scan report.
'Khaleda's condition is still stable and the infection is very nominal and negligible,' he added.
He said that the former prime minister sough blessings from the country people.
Khaleda went to the hospital at about 9:40pm on Thursday for the test as per her physician's advice.
She left the hospital for her Gulshan residence after the test at about 10:25pm.
A BNP leader said that the medical team will visit Khaleda again today.
On Thursday, after visiting Khaleda at her Gulshan residence, Firoza, at about 4:30pm, Professor Dr SM Siddique, leader of the medical team, told reporters that the medical team treating Khaleda had decided to do a CT scan of her chest after her temperature had risen on Wednesday night and Thursday morning.
Khaleda has been staying at her Gulshan house since she was released from jail by the government for six months on an executive order on March 25, 2020, after the emergence of the novel coronavirus outbreak.
She was initially jailed on February 8, 2018 for five years in the Zia Orphanage Trust graft case.
On October 30, 2018, the High Court doubled her five-year jail term in the case.
Khaleda was released from Bangabandhu Sheikh Mujib Medical University's prison cell on March 25, 2020, suspending her conviction, on conditions that she would take medical treatment from home and would not leave the country.
The time of suspension of her conviction was extended for another six months on September 25, 2020.
The suspension of her conviction was extended for six more months for the third time on March 15, 2021 on the same conditions.
Khaleda was also sentenced to seven years in jail in the Zia Charitable Trust graft case on October 29, 2018.
She has been granted interim bail in all but the two cases related to Zia Orphanage Trust and Zia Charitable Trust.
The BNP has termed all the cases against Khaleda as false and fabricated.
Want stories like this in your inbox?
Sign up to exclusive daily email
More Stories from Politics