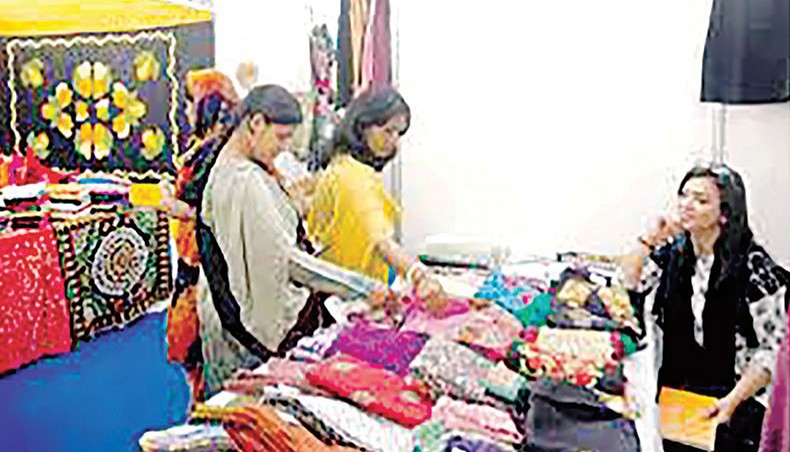 Almost 59 per cent of women entrepreneurs in the cottage, micro, small and medium enterprise (CMSME) sector has not heard of the government stimulus packages for the sector, according to findings of a study conducted by the Centre for Policy Dialogue.
Among the 58.6 per cent who had heard about the packages, only 7 per cent applied for loans under the packages, said the study titled 'Impact of COVID-19 on Women Entrepreneurs: A Rapid Assessment from Bangladesh'.
According to the study, 87 per cent of women entrepreneurs in the CMSME sector think the government's stimulus packages are not able to benefit their business operations.
The CPD revealed the findings of the study at a virtual dialogue titled 'Socio-Economic Recovery Measures of the Government: How Much Women Have Benefitted' jointly organised with UN Women.
CPD executive director Fahmida Khatun presented the findings of the study at the webinar.
She said that 93 per cent women entrepreneurs did not apply for loans under the stimulus as some thought the process was lengthy while others did not have information regarding where to go, what to do and how to apply for loan.
Banks officials also discouraged women entrepreneurs from applying and even created extra hassle for them.
Many women entrepreneurs did not apply for loans over concerns about repayment as their incomes had fallen and their businesses had contracted, she said.
As part of the study, the independent think-tank conducted a telephonic survey on 70 female entrepreneurs from 34 districts covering eight divisions of the country.
Fahmida said that the government's COVID-19 liquidity support and fiscal stimulus packages had not been fully successful in addressing women entrepreneurs' special needs during the pandemic as the packages were not designed keeping women in mind.
Most women were unaware of the packages while those who were aware of the packages were still reluctant to apply for loans, she said.
'Women need cash handouts more than loans due to the economic downturn and the uncertainty regarding the future,' she said, adding that fiscal measures would be more effective in easing the burden of the pandemic on women than monetary measures.
According to the survey, 41.4 per cent respondents said that they had to completely shut down their businesses while another 10 per cent entrepreneurs had been forced to reduce space or relocate their businesses to a smaller or cheaper site after the start of the pandemic.
Some 44.4 per cent entrepreneurs could not manage to pay rents regularly while 50 per cent could not manage to pay all government taxes and utility bills, according to the survey.
The survey also found that 37 per cent entrepreneurs either fired or laid off their employees because of COVID-19 while 35.5 per cent reduced salaries of their employees at varying rates.
As part of the study, the CPD also conducted key informant interviews (KIIs) with government officials, gender rights activists, bank officials and leaders of women chambers and commerce and trading associations and held expert group meetings with representatives from public and private sectors.
CPD found from the KIIs that the cases of rape, domestic violence by partners, violence against women, burden of unpaid care and domestic work and child marriage had increased during the pandemic.
It also found that women's burden of unpaid care work had increased significantly during the COVID.
Some 80 per cent women said that the burden of unpaid care work had increased during the pandemic and the burden had increased dominantly in urban areas where 73.3 per cent women reported an increase of unpaid care work.
She stressed on providing training for women entrepreneurs and improving women's access to finance.
Planning minister MA Mannan, UN Women Bangladesh country representative Shoko Ishikawa, Bangladesh Bank former executive director Lila Rashid, BRAC Bank managing director and chief executive officer Selim R F Hussain, Manusher Jonno Foundation executive director Shaheen Anam, Persona CEO Kaniz Almas, Bangladesh Mahila Parishad president Fauzia Moslem and Desh Group of Companies director Vidiya Amrit Khan, among others, spoke at the dialogue presided over by CPD distinguished fellow Rounaq Jahan.
Want stories like this in your inbox?
Sign up to exclusive daily email
More Stories from Trade & Commerce