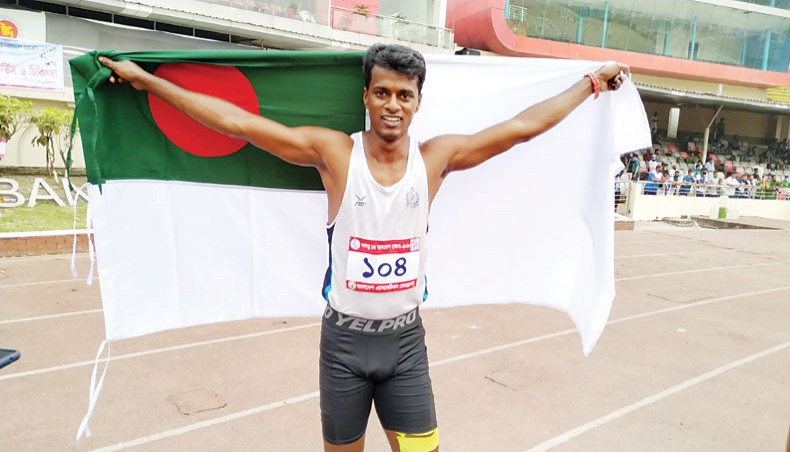 Country's fastest man Mohammed Ismail blamed lack of regular training for his failure at the international stage after his dismal show in the just concluded Iran's first International Imam Reza Cup Athletics Tournament.
In Iran, Ismail finished in bottom eighth in the final round of the men's 100metre sprint event by clocking 10.91 seconds (electronic timing).
He took 41 seconds more in Iran than his timing 10.50 seconds (hand timing) in the ninth Bangabandhu Bangladesh Games on April 3.
Earlier in the 13th South Asian Games in December 2019, Ismail clocked 10.70seconds (electronic time) and finished fourth.
'Look the main reason behind failure is that we do not get training all the year round. I had only three months of training before the SA Games and clocked 10.70seconds in electronic time,' Ismail told New Age.
'Another reason for failure is that we always compete in home in hand timing but compete at international stage in electronic timing. So it becomes difficult to judge my actual timing.
'Moreover, I could not concentrate on training for completing formalities before having a 27-hour journey, including transit in Qatar, before the competition in Mashhad [Iran].
'I can promise you, if we get regular training we can do well at international stage because there was not much physical difference between me and the gold winner (Hussein Ali Al Khafaji of Iraq, clocked 10.44 seconds), in this event,' said the Bangladesh Navy sprinter.
The athlete informed that he had a chance to qualify for the Tokyo Olympics through success in Iran but now only have chance through wild card.
However, Ismail could not complete his participation in the long jump event as he suffered a hamstring Injury in his first try in the competition held on April 11 and 12.
Ismail is now in a 14-quarantine after returning from Iran and was recovering from injury.
The two other Navy team athletes — high jumper Mahfuzur Rahman and long jumper Al Amin finished ninth in their respective events.
Mahfuz, who bagged gold in Bangladesh Games by clearing 2.05-metre, cleared the same height in Iran while Al Amin, cleared 6.99metre to finish in ninth place among 12 participants.
Al Amin cleared 7.28metre for bronze medal in the Bangladesh Games on April 4 when Ismail bagged gold clearing 7.51metre.
All the three athletes of Navy team returned to Bangladesh on April 13.
Want stories like this in your inbox?
Sign up to exclusive daily email
More Stories from Miscellany