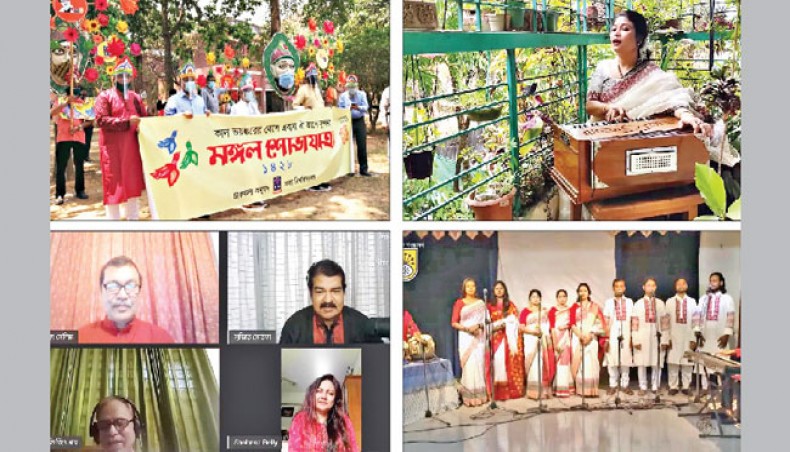 Cultural organisations celebrated Pahela Baishakh, the first day of Bangla year 1428, on Wednesday arranging online and symbolic programmes featuring discussions, songs, recitation and others.
On April 7, the government asked all organisations and institutions not to celebrate Pahela Baishakh organising outdoor programmes due to a surge in COVID-19 cases.
Chhayanaut, Faculty of Fine Art of Dhaka University, Bangladesh Shilpakala Academy, Bangladesh Sangeet Sangathan Samannay Parishad, Bangladesh Ganasangeet Sammany Parishad, Muktodhara Abritti Charcha Kendra and others organised programmes marking the day.
Chhayanaut has been organising a comprehensive programme at Ramna Batamul in the capital to celebrate Pahela Baishakh every year since 1967. The organisation did not arrange the programme in 1971 during the War of Independence while in 2020 and 2021 the programme was cancelled at the venue due to the COVID-19 crisis.
Chhayanaut made a video compilation featuring the speech of Chhayanaut president Sanjida Khatun, compilations of chorus songs from the previous years' programmes and some videos made this year by its artistes at indoor venues. The video was aired on different TV channels at 7:00am on the day and it was also uploaded on the organisation's YouTube channel.
'We are celebrating the golden jubilee of our motherland this year. We have been organising programmes at Ramna Batamul every year since 1967. We could not organise it in 1971 during the War of Independence. We had to organise online programmes in 2020 and this year due to the COVID-19 outbreak,' said Sanjida Khatun.
'We hope that the new year would bring light which would emerge out of the darkness. The new year will also bring a good message for everyone. The light must come,' Sanjida added.
The programme commenced with Yousuf Ali Khan playing Sarod with Rag Alap.
The programme included the presentation of solo songs and recitation, which were recorded indoors by Chhayanaut artistes this year, while chorus songs and the rendition of the national anthem were included from programmes held in 1422 and 1425 at Ramna Batamul.
The chorus songs included Tagore song Purbagaganbhage dwipta hoilo suprabhat, Nazrul song Elo re elo baishakhi jhar and a lalon song Sab loke koy lalaon ki jat sangsare.
In solos, Abdul Wadud rendered Tagore song Ondhakarer utsa hate, Sejuti Barua sang Tagore's Ami bhoy korbo na, Khairul Anam Shakil rendered Nazrul song Gagane parlay megher mela, Rezaul Karim sang Nazrul's Swadesh amar janina tomar, Farzana Akther Sharli sang Mohammad Moniruzzaman's Amar desher matir gandhe, Nasima Shahin Fanci sang Joydeb Sen's Ei Banglar matite mago and others. Recitation artiste Bhaswar Bandyopadhyay recited Rabindranath Tagore's poem Suprabhat.
The video compilation ended with the rendition of the national anthem.
Dhaka University authority brought out a symbolic Mangal Shobhajatra on a limited scale maintaining social distancing and health safety guidelines on the premises of the Faculty of Fine Art on Wednesday morning.
The symbolic event was led by state minister for cultural affairs KM Khalid and Dhaka University vice-chancellor Md Akhtaruzzaman.
Renowned artist and dean of fine art faculty of Dhaka University Professor Nisar Hossain, Dhaka University pro-vice-chancellor (Education) ASM Maksud Kamal, DU treasurer Mamtaz Uddin Ahmed along with a few teachers and students of the university attended the event.
Besides, the university authority also made a video compilation for TV channels on the eve of Pahela Baishakh, which included speeches by Md Akhtaruzzaman, KM Khalid and Nisar Hossain along with some footages of Managal Shobhajatra.
Bangladesh Shilpakala Academy held an online programme to celebrate the Bangla New Year 1428.
The programme featured discussion and cultural programme.
Bangladesh Shilpakala Academy director general Liaquat Ali Lucky, former cultural affairs minister Assaduzzaman Noor, writer Professor Syed Manzoorul Islam and others were present as guests.
Artistes of Bangladesh Shilpakala Academy rendered chorus song at the programme.
Singers Khairul Anam Shakil, Zinia Zafrin Luipa, Lili Islam, Fariha Khaldun and others rendered solo songs.
Besides, recitation artistes Dalia Nowshin, Hasnuzzaman Kallol, Shawkat Ali and others recited poems.
Bangladesh Ganasangeet Samannay Parishad organised an online programme titled Naba Anande Jago Pahela Baishakh 1428. It featured discussions and songs.
It was attended by Bangladesh Ganasangeet Smannay Parishad president Fakir Alamgir, Sammilita Sangskritik Jote president Ghulam Quddus, cultural activist Manzar Chowdhury Sweet, poet-lyricist Tapan Bagchi, singer Abida Rahman Setu and others.
Bangladesh Sangeet Sangathan Samannay Parishad held an online programme at its Facebook page marking Pahela Baishakh.
Renowned singers Mahmud Selim, Sujit Mustafa and Shahnaz Beli were present as guests at the programme, which was anchored by the organisation's general secretary Biswajit Roy.
Want stories like this in your inbox?
Sign up to exclusive daily email
More Stories from Miscellany