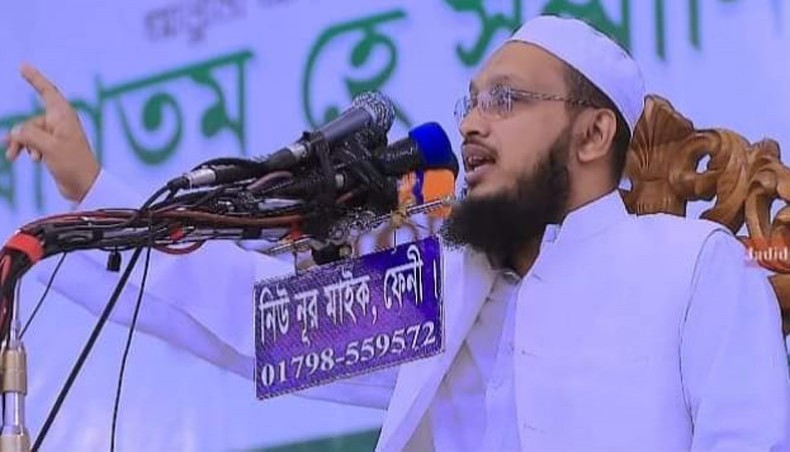 Hefazat-e-Islam Bangladesh assistant secretary general Sakhawat Hossain Raji was arrested at his Lalbagh house in the capital on Wednesday in a case of violence during protests against Indian prime minister Narendra Modi's March 25-26 visit to Bangladesh.
Sakhawat, also an Islami Okkyo Jote leader, was picked up few hours before iftar on the first day of Ramdan by the Detective Branch of police, said Hefazat publicity secretary Zakaria Noman Foyezi.
Dhaka Metropolitan Police joint commissioner for the Detective Branch Mahbub Alam said that they arrested Sakhawat in a case filed with Paltan police station.
He said that operation was on and more to be arrested by the night.
On April 4, at a press conference, Sakhawat alleged that many conspiracies continued following the protests against the Modi visit.
'Had we wished, we could have gathered five lakh people in Dhaka in a few-hour notice,' Sakhawat said.
Two cases were filed with Paltan police station against Hefazat leaders and activists on March 29 and April 6.
On April 6, an Awami Juba League leader filed a case against 17 Hefazat leaders, including its secretary general Nurul Islam Jihadi and joint secretary general Mamunul Haque, and 3,000 unnamed people for violence at Baitul Mukarram national mosque in Dhaka on March 26.
On March 29, the police filed another case against 32 Hefazat leaders.
Want stories like this in your inbox?
Sign up to exclusive daily email
More Stories from Country