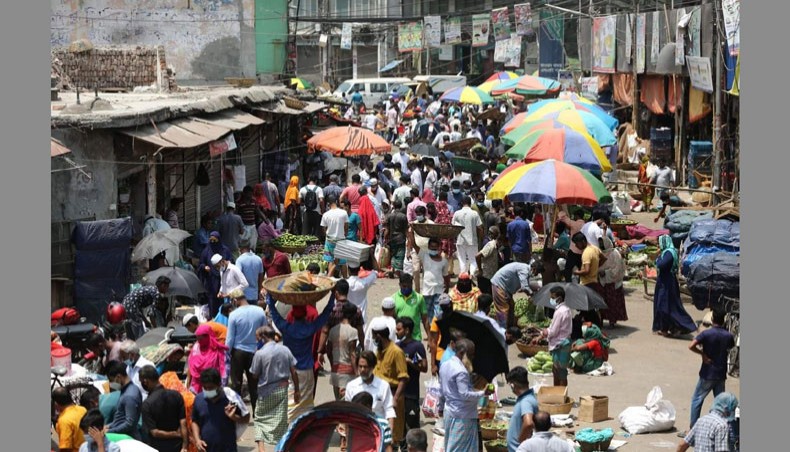 Fresh restrictions on public movement and overall activities imposed by the government for eight days to contain the spread of COVID-19 came into effect at 6:00am on Wednesday with the nation welcoming the Bangla New Year without any outdoor celebrations.
No public transports ran on the city streets while some people were seen using cars, rickshaws and auto-rickshaws for movement. Police installed checkpoints for the enforcement of the movement restrictions.
Most shops and shopping malls were shut. People, however, crowded kitchen markets and shops selling essentials on the being of the first day of Ramadan, the month of fasting for the Muslims, as the authorities were yet to shift the kitchen markets to open spaces in keeping with the health guideline.
For the second consecutive year, Bangla New Year is being celebrated without outdoor events while only a few people mostly Dhaka University teachers staged a token rally on the fine arts faculty premises in a symbolic programme attended, among others, by state minister for cultural affairs KM Khalid and Dhaka University vice-chancellor Md Akhtaruzzaman.
Police checkpoints were found at different points including Farmgate, Bijoy Sarani, Shahbagh crossing and FDC Signal on the day, also a public holiday on the occasion of the Pahela Baishakh.
Police officials said that people involved in emergency services, including journalists, were being allowed to move during the restrictions.
Tejgaon police additional deputy commissioner Rubaiyet Zaman, who was leading a checkpoint at Farmgate in the morning, said that like other divisions of Dhaka Metropolitan Police Tejgaon division was operating three checkpoints at Farmgate, Karwanbazar and Jahangir Gate to impose the movement restriction.
He said that a number of people were turned back home as they went out for very casual activities like buying goods, meeting friends or colleagues while those who went out for serious cause like going to hospital were, however, allowed.
Visiting kitchen markets at the city's Karwanbazar, Mohammadpur, Mirpur and Hatirpool, hundreds of people were seen gathering in the markets violating health guidelines, apparently in the absence of agency to impose the restrictions there.
Dhaka South City Corporation and Dhaka North City Corporation officials said that they had no plan to relocate kitchen markets to other open places.
DSCC chief estate officer Rasel Sabrin said that the city corporation was working to ensure health guidelines on spots.
'We will conduct mobile courts to impose government restrictions,' he said.
The government on Monday announced closures of all government and non-government offices for eight days, imposing further restrictions on public movement and overall activities from April 14.
Operations of all modes of public transports have been banned during the period.
Want stories like this in your inbox?
Sign up to exclusive daily email
More Stories from Country