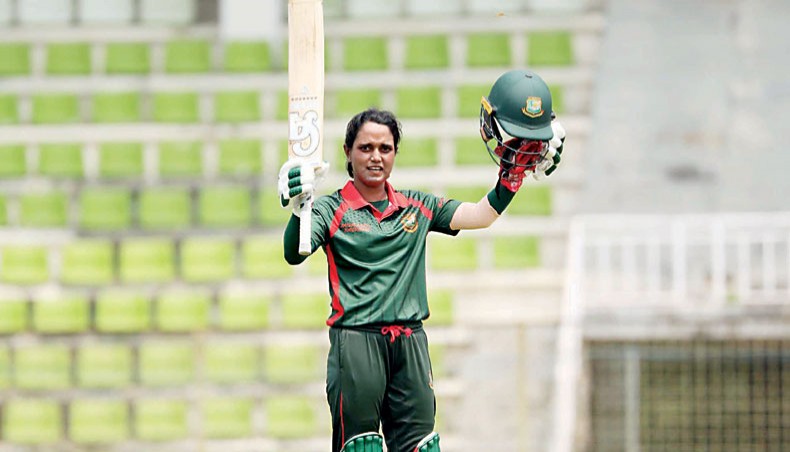 Nigar Sultana seems to be on her way to emulate her idol Mushfiqur Rahim and become the 'Ms Dependable' of the Bangladesh women's cricket team.
The wicketkeeper-batter of the women's team smashed two unbeaten hundreds against the South Africa emerging women's team in the recently concluded home series, where she led the side to a 4-0 series win.
Nigar said that the foundation for her stellar showing was laid during last year's lockdown period.
'During the lockdown period, I stayed at home and followed various guidelines from the BCB. That time I made up my mind that I have to make it big, I need to up my game. So I made my mental setup accordingly and then in the training sessions I followed that,' Nigar told New Age.
Nigar began her international career in 2015, but like her idol, she also was a late bloomer at the highest stage.
Nigar first showed a glimpse of her abilities in the 2019 South Asian Games in Nepal, where she became the first Bangladeshi to hit a century in a women's Twenty20 match, smashing an unbeaten 113 against the Maldives.
The women's team has been without a permanent head coach since Anju Jain's departure following Bangladesh's disappointing showing in the ICC Women's T20 World Cup in India in 2019.
The local coaches have been training the girls ever since and Nigar credited a number of them for helping her move to the next level.
'Our coaches, Dickens sir [assistant coach Faisal Hossain] and Shanu sir [interim head coach Shanewaz Shaheed] helped me a lot. They had faith in me. Even when I was out for small runs, they backed me up and trusted my game. I could not be here if they did not support me,' she said.
'Before this series, the camps we had and during the triangular series for the Bangladesh Games, these coaches helped me a lot to better my game, she added.
Nigar also revealed that she is an avid admirer of Mushfiq, who is often touted as the Mr dependable for his consistent run-making, and aspires to play the same role in her team.
'My idol is Mushfiq bhai, even before I started playing cricket I liked him. He is Mr dependable; he is the wicket-keeper batsman. I also do the glove work and I want to be like him,' said the 23-year-old.
Among the women's cricketers, Nigar sees Salma Khatun as a big inspiration.
'I started playing cricket after seeing Salma apa playing. She is a big inspiration for me.'
Want stories like this in your inbox?
Sign up to exclusive daily email
More Stories from Cricket