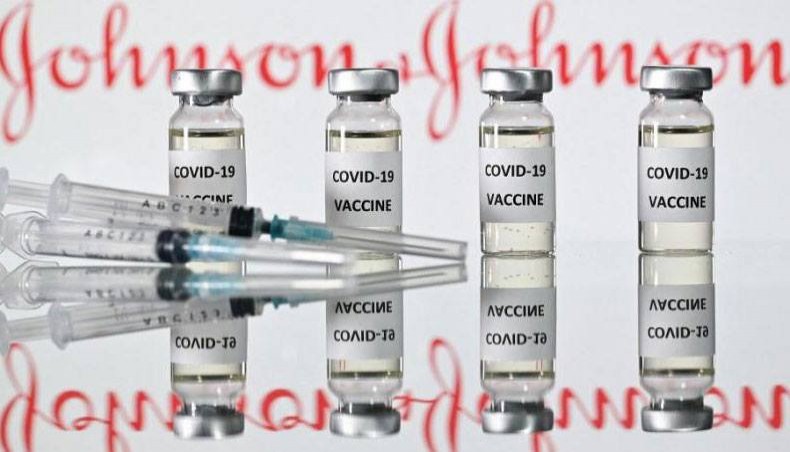 One US patient died from blood clotting complications after receiving the Johnson & Johnson COVID vaccine while another is in critical condition, a senior scientist for the Food and Drug Administration said Tuesday.
Overall, six women aged between 18 to 48 developed a rare form of brain blood clotting with low blood platelets between six and 13 days after receiving the shot.
'One case was fatal, and one patient is in critical condition,' Peter Marks said in a call with reporters.
Marks drew a link with a similar disorder seen in Europe after people received the AstraZeneca vaccine, which is also based on adenovirus vector technology.
The illness is thought to derive from a rare immune response to the vaccines that triggers the activation of clots.
Anne Schuchat, a senior official with the Centres for Disease Control and Prevention, added that the risk was very low for people who had received the vaccine a month or more ago.
'For people who recently got the vaccine within the last couple of weeks, they should be aware to look for any symptoms.
'If you've received a vaccine and develop severe headaches, abdominal pain, leg pain, or shortness of breath, you should contact your health care provider,' she added.
Meanwhile, the novel coronavirus has killed at least 29,47,319 people since the outbreak emerged in China in December 2019, according to a tally from official sources compiled by AFP at 1000 GMT on Tuesday.
At least 13,65,68,060 cases of coronavirus have been registered.
On Monday, 8,924 new deaths and 6,13,712 new cases were recorded worldwide.
Based on latest reports, the countries with the most new deaths were Brazil with 1,480 new deaths, followed by India with 879 and Poland with 645.
The United States is the worst-affected country with 5,62,533 deaths from 3,12,68,132 cases.
After the US, the hardest-hit countries are Brazil with 3,54,617 deaths from 1,35,17,808 cases, Mexico with 2,09,702 deaths from 22,81,840 cases, India with 1,71,058 deaths from 1,36,89,453 cases, and Britain with 1,27,100 deaths from 43,73,343 cases.
Europe overall has 10,02,448 deaths from 4,66,02,694 cases, Latin America and the Caribbean 8,35,455 deaths from 2,63,48,972 infections, and the United States and Canada 5,85,865 deaths from 3,23,34,418 cases.
Asia has reported 2,87,129 deaths from 1,98,42,634 cases, the Middle East 1,19,442 deaths from 70,37,376 cases, Africa 1,15,974 deaths from 43,61,623 cases, and Oceania 1,006 deaths from 40,348 cases.
India has authorised the emergency use of Russia's Sputnik V COVID-19 vaccine and will fast-track approval for other shots already passed by other major countries, authorities said Tuesday, as infection rates soared to a new record high.
The government has faced mounting calls to approve more vaccines during the surge among the 1.3 billion population and a slower-than-expected mass inoculation drive.
Sputnik V is the third drug to be approved by India after Oxford-AstraZeneca's Covishield and Covaxin, which was developed by Indian firm Bharat Biotech.
The SEC expert panel said the Russian vaccine should be authorised 'in emergency situations' and this has been accepted, the health ministry said in a statement.
GV Prasad, co-chair of pharmaceutical company Dr Reddy's Laboratories, said his firm was 'very pleased to obtain the emergency use authorisation'.
'With the rising cases in India, vaccination is the most effective tool in our battle against COVID-19,' he added.
Surging cases in many parts of the world overshadow the start of the Muslim holy month of Ramadan, with festivities curtailed by contagion fears.
The German government agrees on controversial changes to a national infections control law, handing Berlin more power to impose tougher measures such as night-time curfews to halt the raging pandemic.
Britain says it has met its target to offer by April 15 a vaccine first dose to all over-50s, the clinically vulnerable and health and social care workers.
The English variant of the virus does not increase the severity of COVID-19 compared to other strains, according to newly published research that also confirms its increased transmissibility.
Philippine president Rodrigo Duterte says he will 'waive' his chance to get a vaccine, arguing elderly people like him should not be prioritised.
Want stories like this in your inbox?
Sign up to exclusive daily email
More Stories from North America